Android users installing fewer games, iOS users adding more
19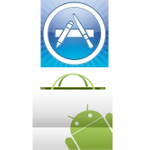 Mobile apps search company Chomp presented its first annual app search analytics report. The data comes from the more than 1 million searches conducted each month by Chomp and there is a trend in place for those using iOS and Android devices. According to the data, Android users are
installing fewer games
and are downloading more entertainment based applications like Netflix, Talking Tom, Crackle and Flixster. That compares with iOS users who are still selecting
more games than anything else
from iTunes. At the end of December for example, games represented 36.1% of apps installed from iTunes while they made up only 22% of downloads in the Android Market.
Back to iTunes, where music and fitness apps (like RunKeeper and Nike Fitness) have been picking up steam. Downloads of utility apps have been declining. What has been rising sharply on iTunes has been prices. While the costs of apps on Android have been falling, iOS apps have been
rising by 50%
. In December, the average iTunes app purchase cost 67 cents while the average in the Android Market was a mere 9 cents. Ironically though, the $3.17 average price for paid apps on Android tops the average $2.41 for paid apps on iTunes. According to the research, this discrepancy comes form the large number of 99 cent apps on iTunes. Still digging into the numbers further, only 5 out of 100 downloads from the Android Market are paid apps while 22 out of 100 apps bought on iTunes are paid apps.
Chomp also announced a Top Ten apps list for both platforms based on the number of searches that Chomp handles. Android's list included
Pandora on top with Facebook next, followed by Lookout Mobile Security, Zedge Ringtones, Advanced Task Killer, Handcent SMS, Dolphin Browser, The Weather Channel, TuneIn and GasBuddy.
The iTunes Top Ten reads Angry Birds, Facebook, Dropbox, IMDb, Pandora, Angry Birds Seasons, SoundHound, Netflix, Angry Birds Rio and Instagram.
Note how the iTunes list includes three versions of Angry Birds and very few utilities. The Android list includes the Dolphin Browser, and Handcent SMS which are apps that replace stock Android functions. We shall see next year if there is any change in what apps Android and iOS
users are installing on their respective phones.
source:
Chomp
via
TechCrunch