Android users, if you were to switch to an iPhone, which would you buy?
68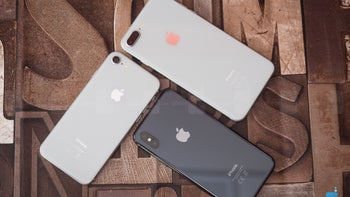 Yes, yes, the battle between Android and iPhone is eternal and there are loyalists on both sides. But let's pretend we get along for a bit and try to... put ourselves in the shoes of the other side, perhaps? More specifically — if you had to switch from your Android device to an iPhone, which model would you pick?
Apple has definitely upped the diversity in its lineup over the past few years. No longer do you have a single iPhone to pick from, available only in black and white — you can get a bunch of models, from the tiny SE, to the bezel-less
iPhone X
.
It's just that, instead of producing any sort of "mid-range" iPhone, Apple still keeps stock of the older models and prices them down, which is fair. We are often proponents of the "buy an old flagship instead of a new midranger" argument ourselves.
So, currently, you can get:
iPhone SE
,
iPhone 6s
and 6s Plus, iPhone 7 and 7 Plus, iPhone 8 and 8 Plus, iPhone X. If this befuddling amount of choice has you confused, you can scroll just under the poll to see a quick recap of each generation. If you've got your mind set already — go ahead and vote!
The
iPhone SE
, starting at $350 — a super-tiny handset with a 4-inch screen that still holds the same hardware as the iPhone 6s (minus 3D Touch) and has a camera that's definitely above average. It has the classic iPhone 5 form factor, making it compatible with years worth of accessories from tons of 3rd party manufacturers.
The
iPhone 6s
and
6s Plus
start at $450 and $550 respectively and have the commodity of featuring a headphone jack. They also have 3D Touch displays and the awesome Taptic engine for precise vibrations, so you can get the full Apple software experience from this point on. The Plus version has optical image stabilization on its camera.
The
iPhone 7
and
7 Plus
, starting from $550 and $670, may be almost 2 years old but their hardware still holds up great. Here, the small version got an OIS module upgrade for its camera, while the phablet-sized one got the telephoto lens with Portrait Mode. This generation has the faux home button and no headphone jack, but is the first one to have stereo speakers and water-resistance. It's also the latest version of the iPhone that has a metal back; from here on out, it's all glass.
The
iPhone 8
and
8 Plus
— $700 and $800 — are very, very similar to the previous generation. They add the latest hardware, of course, but also feature a glass back and
wireless charging
, plus a slight upgrade in the cameras, especially for low-light photos. But hey, you still have a (faux) home button and Touch ID.
The
iPhone X
— $999 — is the cream of the crop and the first iPhone in years to feature a different look. You've got a bezel-less design, The Notch, Face ID, and absolutely no home button. The gesture-based interface of the iPhone X is still somewhat controversial, but we've every reason to believe that it's how future iPhones will operate.