Android phone shipments reach 100 million a quarter in Q2, platform dominates the market along with iOS
14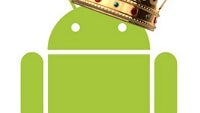 In the second quarter of 2012, for the first time Android smartphone shipments grew to more than 100 million units, and Google's platform took a commanding 68.1% market share. Apple's iPhone running on iOS also grew on the year and accounted for 16.9% of shipped smartphones. Together Android and iOS are continuing to boost their lead and dominated the market with a share of 86%.
"Android continues to fire on all cylinders,"
IDC's senior research analyst Ramon Llamas concluded mentioning both the low-end models on offer and the flagships like the Samsung Galaxy S III.
While the two leading platforms only grew their lead, this was partly due to BlackBerry and Symbian losing positions. Windows Phone on the other hand is slowly crawling forward, but still at a tempo that didn't grant it the coveted third place. At least it finally outgrew Samsung's bada (look at the Linux category) operating system. WP's rise to the third place is probably going to happen sooner or later, but right now Microsoft's platform ranked only fifth in Q2 2012.
"

The mobile OS market is now unquestionably a two-horse race

due to the dominance of Android and iOS," Kevin Restivo, a senior research analyst at IDC noted. "With much of the world's mobile phone user base still operating feature phones, the smartphone OS market share battle is far from over. There is still room for some mobile OS competitors to gain share, although such efforts will become increasingly difficult as smartphone penetration increases."


source:
IDC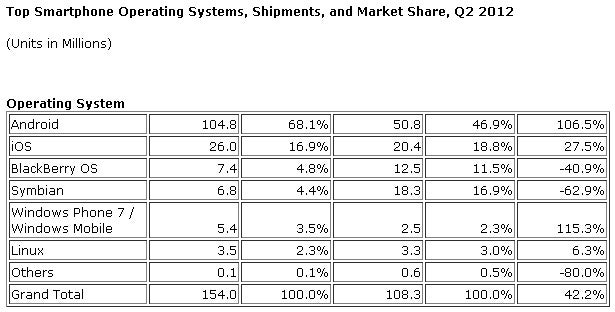 Chart: Worldwide Smartphone OS Market Share, 2Q 2012Description: Tags: Author: IDCcharts powered by iCharts
Recommended Stories