Android passes Apple for second place on list of total U.S. smartphone subscribers; RIM #1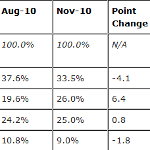 Over the three month period ending in November, Android added more than 6 percentage points since the end of August to its share of the U.S. smartphone market. This momentum enabled Google's open source OS to pass Apple and become the second most used OS among smartphone users in the U.S. The green robot had a 26% share versus the 25% owned by users of the Apple iPhone. Although it dropped over 4 percent from its August numbers, RIM remained the top owned smartphone in the U.S with a bit more than one out of three using a BlackBerry handset.
The stats, coming from metrics firm comScore, showed Microsoft fourth with 9% and Palm fifth with a 3.9% piece of the U.S. smartphone market. The numbers for Microsoft include only a small period of time for the new Windows Phone 7 OS which was launched in the States on November 8th. It will be interesting to see in the next report how 3 months of Windows Phone 7 changes the dynamic in the market, if it does at all.
source:
TechCrunch