Android hits a new high in U.S. market share during June according to comScore
26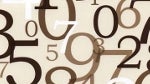 The latest report from comScore shows that as of the end of June, Android had
hit its all-time high in its share of the U.S. smartphone market
. With a gain of .6% since the end of March, Android had a 51.6% slice of the pie. While still in second place, iOS actually outperformed Android during the three-months, with its share of the U.S. smartphone market rising 1.7% to 32.4% The 2.3% gain between the two OS powerhouses was almost exactly what BlackBerry, Windows and Symbian lost during the period from March to June. BlackBerry lost 1.6% and holds on to a 10.7% market share in the States. That is followed by Windows and Symbian with losses of .1% and .5% respectively. Windows owns 3.8% and Symbian .9% of the smartphone market in the States.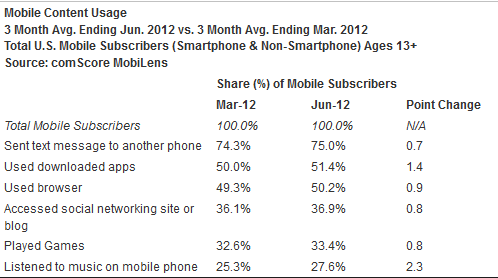 How we use our smartphones
As for manufacturers,
Samsung remains on top
with a 25.6% market share of the U.S. smartphone market. Back in March, that number was at 26%. This data was counted before the release of the red hot Samsung Galaxy S III, so you know those figures have a good shot at moving higher in the next survey. LG was in second despite losing .5% of its market share to finish June with an 18.8% share and Apple picked up some ground on the Korean manufacturer by rising 1.4% to 15.4%. Motorola's 11.7% figure represented a 1.1% decline from the previous report while HTC added .4% to 6.4%.
The scores actually represent an average of the three months ended in June versus the three months ended in March in an attempt to smooth out the data so that one freak month doesn't skew the numbers.
As for how we use our smartphones, three quarters of us text other smartphone owners which is the number one use based on the survey. The biggest jump for the three month period was
listening to music which rose 2.3% to 27.6%
, still last on the list. At 51.4% vs. 50.2%, more U.S. smartphone owners download apps than use the browser on their phone.
source:
comScore
via
Engadget
Recommended Stories