Android dev finds references to device with Samsung's A15 Exynos 5250 processor in Google's own Git repo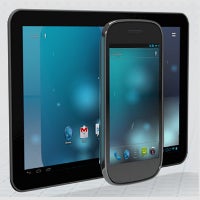 The popular Android developer Adam Green uncovered pieces of code in Google's own Git repository, that reference a Samsung device with Exynos 5250 and 1280x800 pixels of resolution. The component numbers are referenced as mali gpu (vithar), s5k4e5 camera, s5k6a3 camera, wm8994 sound soc and aS6E8AB0 display.
Vithar is the internal name of the
ARM Mali T-604 GPU
, which is in Exynos 5250, and has 5 times the graphics prowess of Mali-400 in the
Galaxy S II
, for example. And the camera? That S5K4E5 is a ¼" optical format,
5MP image sensor
for mobile devices - Samsung's first backside illumination (BSI) sensor with TSV technology. As for the sound - "
the WM8994 is a highly integrated ultra-low power hi-fi CODEC designed for smartphones and other portable devices rich in multimedia features
", says
Wolfson
, whose audio chip is in some of the Galaxy line.
Moreover, that 1280x800 resolution is now mid-range, after a few companies announced slates with Full HD resolution, but let's not forget that
the Nexus tablet is meant to be very affordable
, too. So, if this upcoming device, that will probably be the poster child of the new
Android 5 Jelly Bean
, carries Exynos 5250, it is very likely to be a tablet (still Asus made?), although we also heard rumors that
Samsung will be making this year's Nexus phone
as well, and the resolution is certainly more akin to a high-end phone.
Long story short, we are still on the fence what it would be, but in any case we might know more come
Google's I/O conference
the end of next month. The sheer fact that we might witness the announcement of the first Cortex-A15 Android device is enough for us, be it a phone or a tablet.