Google's Asus Nexus tablet might arrive in May for $199 to $249 as the first with Google Play
14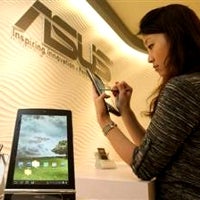 Industry sources have reconfirmed that such thing as a Google Nexus tablet is indeed in the works, and the idea was reportedly
shopped to Asus
, Acer and HTC for manufacturing consideration. HTC was afraid it will ruin its brand image with a cheapo Android tablet, and Acer had no internal R&D abilities to develop the affordable tablet.
We say affordable, since the price range quoted is between $199 and $249, which is more than reasonable and could give the
Kindle Fire
a run for its money. The Asus Nexus tablet is also said to be the first featuring the new Google Play Store in its full tablet glory.
HTC allegedly also insisted to own and guide the development of said tablet, while Asus, if you remember, already announced at CES two months ago that it has cracked the code to produce a $250 Tegra 3 7-incher - the
Asus MeMO 307T
.
Something similar to the MeMO is probably what we are going to see from the Asus Nexus tablet - $249 quad-core slate sounds great and we can't wait for May when the supposed announcement date is.