Samsung reportedly selected to make the next Nexus phone...again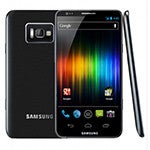 Mobile tech rumor-monger Digitimes is reporting that Samsung is in the driver's seat once again in the competition for this year's Nexus phone. While there has been some grass-roots desire expressed by Android consumers to see another manufacturer win the honor of producing the annual "Google phone", Digitimes reports that Samsung has several systemic advantages that is giving them a leg up on the competition.
Although the
HTC One
series of phones shows that the Taiwan handset maker can still produce innovative handsets with striking design flair, it's hard to argue with the fact that Samsung has been at the
cutting edge
of Android device innovation for the last year. Also cited as a major contributing factor is Samsung's ability to control its own component supply lines, which serves to hold costs down, as well as providing a steady supply of bleeding-
edge
technology to incorporate into Google's signature device for the year.
If these reports hold true it demonstrates that we were correct when we said that Google would not immediately throw the Nexus contest to Motorola (which would be a foolish way to upset competing OEMs). It does suggest that Samsung will continue to hold an edge when it comes to implementing the next version of Android, a fact that companies like Sony and LG may not be thrilled about. As we reported earlier today, HTC already appears to be reacting like a jilted lover,
running into the waiting arms of Facebook
to produce a
forked version
of Android for the social network later this year.
Two things to note: First, the image above is in no way supposed to be the new Nexus - it's simply an early fan render of the Galaxy S3 with last year's Galaxy Nexus home screen Photoshopped onto it. Second, Digitimes has a mixed track record on...everything. It could well be that Samsung is "in the driver's seat" but won't ultimately prevail, although the decision would have to be made one way or another very soon (if it hasn't been made already). Time will tell. Who do you guys think should make the next Nexus phone?
source:
Digitimes