Android Quick Start Guide for KitKat found in Google Play Books
4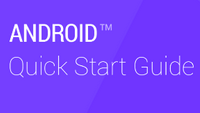 Whether you have a
Nexus 5
enroute, own a
Nexus 4
,
Nexus 7
,
Nexus 10
or you're looking for some light reading, here's a suggestion. You can download from Google Play Books the Android Quick Start Guide for Android 4.4. And no, this will not be turned into a major motion picture starring Hugh Jackman. The guide includes 53 pages of information that you can read over your Android phone or tablet.
Even if you plan on being somewhere else without internet connectivity, you can download the guide now and read it offline. Reading the reviews from Google Play Books, it seems like the guide is blocked in a number of foreign countries. However, reading the reviews from the Google Play Store, it seems that many are having difficulties loading the book on to their device.
If you do get to download the freebie, the chapters include
Welcome to Android
,
Essentials
,
Use the keyboard
,
Try some apps
,
Settings
and
Accessories
.
source:
GooglePlayBooks
via
Phandroid