And the best phone camera is... pro photogs rank Note 4, iPhone 6, Z3, Lumia 1020 and more
99+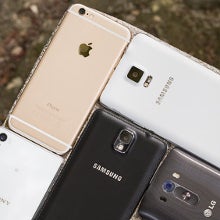 Taking a bunch of seasonal smartphones, like the
iPhone 6
,
HTC One M8
,
LG G3
,
Nokia Lumia 1020
,
Samsung Galaxy Note 4
,
Sony Xperia Z1 Compact
and
Sony Xperia Z3
, photo aficionados from Poland have snapped a bunch of samples in sunny Morocco, and then given them to professional photographers for ranking purposes.
The experiment has been a blind one, meaning that the shutterbugs didn't know which picture came from which phone, just like we often do in our comparisons. The list of experts includes prominent lecturers and even editors of photography magazines, so it is as representative as it could be when it comes to accurately judging the true quality of the snaps.
Unsurprisingly, their findings mostly coincide with what we found out during our
own camera comparisons
- that the Note 4 and Apple's iPhone are at the top of the mobile camera game at the moment. Check out the winners which took the highest preference percentage from the experts in the different categories, and visit the source link for the full-res photos if you are interested in those.