Analyst sees Apple paying as much as $9 per iPhone for Qualcomm's 5G modem chips
22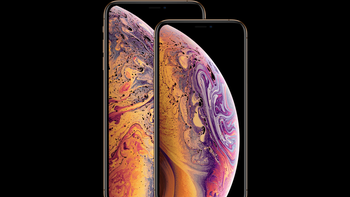 A couple of days ago,
Apple and Qualcomm reached a settlement
that covered all legal action between the two companies. As part of that deal, Apple agreed to pay an undisclosed sum to Qualcomm and entered into a six-year licensing agreement with the chip maker (with an additional two-year option). Qualcomm also agreed to a multiple-year deal to sell modem chips to Apple. Considering that Apple was upset that Qualcomm based the royalties it received on the entire price of an iPhone instead of asking for a percentage of its $20 chip, there were quite a few people curious about the deal made between both tech giants.
According to Seeking Alpha
, Swiss banking firm UBS sent out a note to clients today with its take on the deal between Apple and Qualcomm. Analyst Timothy Arcuri said in the note that he estimates that Apple will pay Qualcomm $8 to $9 per iPhone sold in royalties. Keep in mind that this is an analyst's estimate and is not based on any information from Apple or Qualcomm. In fact, both firms are being tight-lipped about the settlement; when we reached out to both companies, Qualcomm told us to refer to its press release, which said nothing about the value of the deal.
We can only assume that Apple was in a bind. Many Android manufacturers are going to be releasing 5G phones this year, and Apple was counting on Intel to deliver its 5G modem chip in time for Apple to launch a 5G iPhone by 2020. But UBS' Arcuri said earlier this month that
Apple might have to wait until 2021 to release a 5G iPhone
because Intel was far behind in developing its 5G modem chip. Apple knew that pre-settlement it couldn't count on Qualcomm, and it apparently was unable to score the chips from Samsung or MediaTek. Intel recently said that
it would be shipping its component later this year
, but the fact that it immediately shut down its 5G modem chip operations in the aftermath of the Apple-Qualcomm settlement makes us wonder about that.
Apple was apparently very desperate and Qualcomm pounced on this

Even Huawei got into the act by
offering to sell Apple the 5G modem chips it designed for its own phones
. That probably was just an empty gesture since any technology stamped with the Huawei name is considered a threat to U.S. national security. But Apple was desperate. There wasn't enough time for it to design its own chips and it didn't want to give 5G Android handsets another year without competition.
On Monday, jury selection was completed in a San Diego courtroom for the Apple v. Qualcomm case. Apple charged Qualcomm with failing to continue paying it the $1 billion incentive payment Apple had asked for and was receiving. Qualcomm stopped paying Apple after the iPhone manufacturer spoke out against the chip maker in a hearing held by the South Korea Fair Trade Commission. In addition, Qualcomm had been hearing rumors that Apple was using Intel modem chips on some versions of the
iPhone 7
. Once Apple stopped receiving its money from Qualcomm, it directed its contract manufacturers like Foxconn, Wistron, Pegatron and Compal to stop making royalty payments to Qualcomm.
When opening statements began on Tuesday, Apple wanted to point out how wrong it was for Qualcomm to base its royalty payments on the entire retail price of a phone. By doing so, Apple argued that the company was getting royalty payments based on technology that Qualcomm did not design. So Apple's attorney, Ruffin Cordell from Fish & Richardson, noted that
the iPhone can function without Qualcomm's modem chips
with the use of a Wi-Fi connection. But minutes after Mr. Cordell addressed the court, the settlement was announced. And Apple apparently needed Qualcomm's 5G modem chips so badly that it reportedly agreed on paying Qualcomm an even higher price than the $7.50 per unit it complained about previously.