Analyst predicts RIM will sell 450,000 PlayBooks this quarter, 2.3 million for the fiscal year
6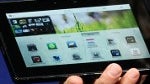 Scott Sutherland is an analyst with Wedbush Securities and his expectations for the BlackBerry PlayBook have been
lowered
. Checking retail outlets where the tablet is offered, Sutherland now expects RIM to sell 450,000 units in the current quarter that ends next month. For RIM's fiscal year that ends in February, Sutherland says that the Canadian based firm will end up selling 2.3 million of the tablets.
Earlier this month, we
reported
that Mike Abramsky, General Manager at RBC Capital Markets, wrote that RIM had sold 250,000 of the 7 inch tablets in the first month after launch. Abramsky expects RIM to sell 500,000 PlayBooks in the current quarter and 3 million for the year. His more
bullish
forecast was based on checks at 180 Best Buy locations.
Sutherland's lowered forecast was partially due to the lack of email on BlackBerry Bridge and the reluctance of carriers to support the PlayBook. The tablet is currently shipped
without
an email client, a calender or a contacts list. Despite the sluggish sales estimates, the Wedbush Securities analyst still expects RIM's device to
outsell
the Motorola XOOM. Motorola has said that it would ship more than the 250,000 units sold in its first month of sales, but would not say how many more units they expect to sell.
RIM has bristled at talk of low sales for its first tablet from BGR and pointed out how Best Buy had said earlier this month that sales of the PlayBook were well
beyond
expectations after more than a week of being offered by the big box retailer. RIM says that it would answer the question of how well the BlackBerry PlayBook is selling when it makes its next quarterly earnings report next month.
source:
electronista
Recommended Stories