RIM has sold 250,000 BlackBerry PlayBooks according to RBC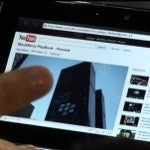 According to Mike Abramsky, General Manager at RBC Capital Markets, RIM has sold 250,000 units of the BlackBerry PlayBook since its launch on April 19th, and could end up selling 500,000 tablets in its first quarter and 3 million units for the year. Abramsky says that this "steady" sales pace beats out the early sales figures of the Motorola XOOM and points out that returns have been nominal.
According to Abramsky, "Checks at 180 Best Buys show 14% of the 16GB sold out, 71% of the 32GB sold out, and 84% of the 64GB sold out; however, 32GB/64B stockouts appear allocation-related." And while no one expects the PlayBook to outperform the Apple iPad 2, the 7 inch tablet is off to a great start, getting high marks for multitasking and web browsing.
source:
BusinessInsider
via
Crackberry