Americans warming up to virtual reality, ready to pay $250+ for a VR gizmo
11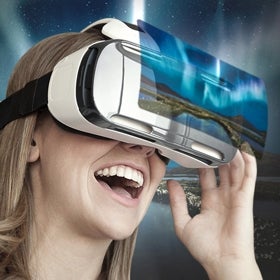 Samsung is heavily pushing its
Gear VR
headset, made in collaboration with the virtual reality grands from
Oculus Rift
, as it is giving it away with those who order a
Galaxy S7
or
S7 edge
by this Saturday, while supplies last.
This means that soon a not-so-basic VR headset will be in the hands of millions, and the competition is not sitting still. HTC saw a pretty remarkable success with its own
expensive Vive contraption
that had millions preordering it, Microsoft has cornered the upmarket with the
HoloLens
gear, and Sony is entering the fray with the most reasonably priced full-featured PlayStation VR headset.
All of these combined, together with the tens of nameless cardboard editions, are marking a veritable VR campaign, and users aren't staying on the sidelines, it seems. As you can see in the Horizon Media infographic posted today, a full 47% of the Americans surveyed express an interest in getting some kind of VR gear, while 31% are ready to pay at least $250 for it. Fun times for all involved, and we can only expect virtual reality content to grow exponentially from here.