Minecraft on Gear VR? Yes, says Microsoft
9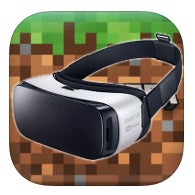 Minecraft was only recently unseated from the top of the paid titles in the Play Store, and has been unrelenting success for Microsoft ever since the team from Redmond acquired the game franchise. Soon, you will be able to play Minecraft from the comfort of your Gear VR headset, too, which will open a whole new frontier for the block-builder in you.
Microsoft and Oculus announced at the GDC 2016 event that they are working on a Minecraft port for Samsung's Gear VR. That headset has in its turn been developed in collaboration with Oculus, but uses the screens of various Samsung handsets, instead of having its own display like the Rift.
This makes the Gear VR much cheaper, and with the potential to become more popular, as Samsung has been giving its virtual reality headset away with the new
Galaxy S7
and
S7 edge
, so Microsoft might have taken note when deciding which VR platforms to port Minecraft for.