HTC shares jump more than 20% in two days as investors get on the HTC Vive bandwagon
29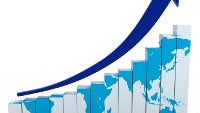 In just a couple of trading days - Friday and Monday - HTC shares soared nearly 21%, and this despite the fact that Friday saw the company announcing its lowest monthly revenue in recent history.
On Friday, HTC shares jumped 9.75 percent. On Monday, the HTC stock price increased by another 10% in just a few hours, which forced the Taiwan stock exchange to close out trading of the stock for the day, according to regulations. HTC's shares are currently priced at $99 TWD, the highest price since June 2015.
Interestingly, the revival of HTC's ailing stock appeared to be unnaffected by the fact that on Friday, the company announced February revenues of NT$4.20 billion (about $129 million USD), or the lowest monthly revenue figure in HTC's modern history.
While many primarily see HTC as a smartphone maker, it looks like the company is currently banking hard on VR and wearables. The newfound investor confidence in HTC stocks can largely be attributed to what looks like a pre-order success for
HTC Vive
. While HTC has yet to report detailed figures, company officials revealed that the first 10 minutes of pre-order availability saw
15,000 Vive units being reserved
.
Furthermore, HTC also announced on Friday that its has fully shipped its first batch of
HTC UA HealthBox
units. The connected health system, which costs $400, consists out of three components, a fitness band, a heart rate monitor, and a smart scale. The company said that it is now speeding up its shipment cycle in response to the strong market receptance.
Although this boost in stock price is surely welcome by HTC executives, the company will probably need to make its upcoming flagship smartphone, the
HTC 10
, a hit before it can hope for a complete turnaround of its financial woes. Interestingly, while HTC stocks were making impressive jumps in the market, renders of the HTC 10 started leaking online. According to rumors, the HTC 10 will be officially unveiled at some point in April and launched in the US in May.