Always On display on the Samsung Galaxy S8 vs LG G6
25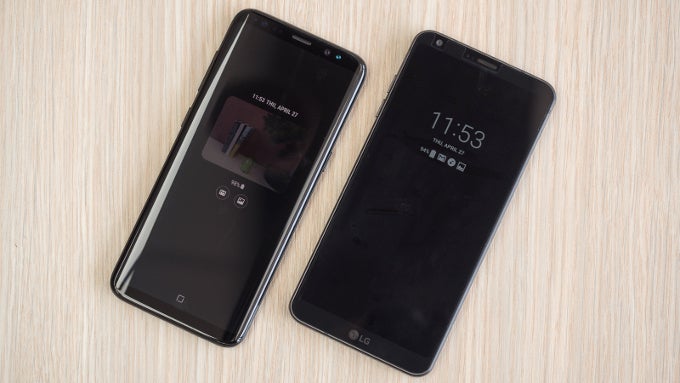 So, since last year, LG and Samsung have been offering a new feature on their flagship smartphones — an always on display. Even when your phone is sleeping, the display shows an ever-present, dimly-lit widget on the screen, giving you important information, such as the time, and missed notifications.
Over the past 12 months, Samsung built on its original concept, adding new features, and improving the way its Always on works, while LG hasn't changed much. Let's take a look at the main differences between the two!
Visibility
Sammy's phones rock an AMOLED display, while LG's devices are equipped with an LCD panel. So, while the Galaxy S8 can only light up the few pixels that it needs, and leave the rest off, the display on the G6 needs its backlight to be constantly on. So, in order to bring battery consumption down, LG needed to town down the brightness of its Always On feature.
On the G6, however, the company did add a brightness boost. So, if you find that your phone's Always On display is a bit hard to see, you can activate that at the cost of some battery life. Here's how the two phones look compared, with the G6's brightness boost off, then on.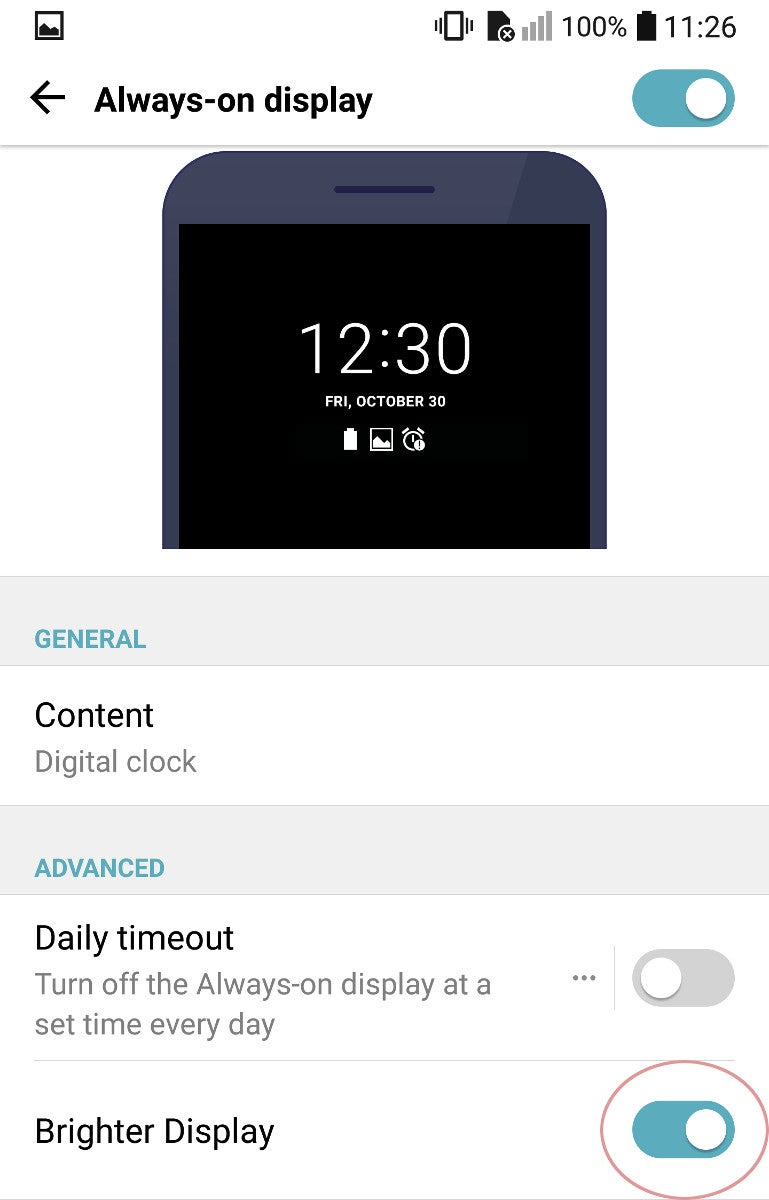 < Brigness Boost Off
Brigness Boost On >
Cosmetics
On both phones, you can change the style of the clock widget you have on the Always On display. However, it's a pretty limited choice on the G6 — you can pick a digital clock, analog clock, and a custom signature. That's it.
On the Samsung Galaxy S8, you've got a choice of digital or analog clock, world clock, a calendar, or your very own picture. Yes, you can have a photo that you took permanently present on the Always On display.
To top it off, the S8's widgets can have a small wireframe background with a custom color option. So, in terms of visuals and customizability, Sammy's option is definitely way, way ahead.
Functions
Whenever you have an outstanding notification — missed call, chat text, email, whatever else — you will see a small icon on the Always On display, representing that app. On the LG G6, this is just informational — the icons are not actionable, you need to wake your phone and tap the notification from there.
On the Galaxy S8, you can actually perform actions on the Always On display. Double-tapping the clock / calendar widget will reveal media controls, which will allow you to control your music playback without unlocking the phone. If you double-tap the notification icon of a specific app, the phone will actually go ahead and launch the app (you will need to use the fingerprint scanner, iris scanner, or PIN, if your phone is locked, but you get the idea).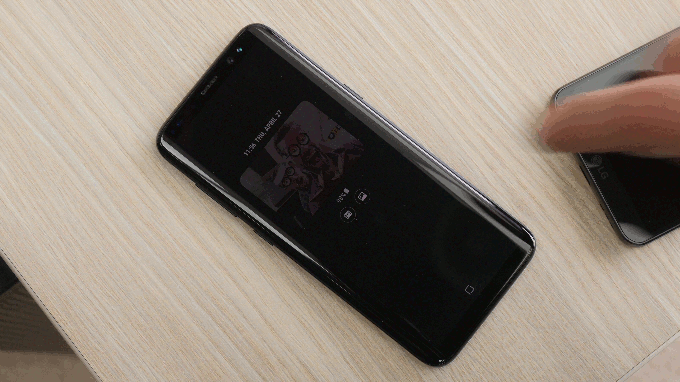 Galaxy S8 Always On actionable icons
Conclusion
The Always On display is still a feature with questionable usefulness. It's basically a permanent drain on your battery, which doesn't really offer much value in return. You can certainly get enough of a good idea about the pending notifications you have when you see your multi-color LED blinking (sadly, this has been omitted from the LG G6). Sure, it transforms your phone into a table clock, but it's much more energy-efficient to wake your phone every once in a while to check the time, instead of having it glow constantly.
That said, and assuming that there are times when Always On is useful, we'd say that Samsung did a great job at enhancing the practicality and customizability of the feature on its phones. LG's rendering of Always On is still stuck in early 2016 and feels tacked-on and forgotten.