Alphabet executive chairman Eric Schmidt caught using an Apple iPhone
99+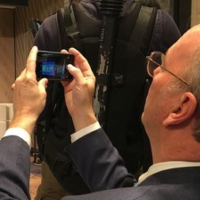 Alphabet executive chairman Eric Schmidt has been photographed in the past using a variety of smartphones. That is no surprise. After all, as the former CEO of Google, there were times over the years when Schmidt's use of an Android model before release confirmed the existence of that handset. That is what took place in July 2013 when a wire service happened to
snap a picture of Schmidt using the unannounced Motorola Moto X
. The phone would be unveiled a little more than two weeks after we passed the image along to you.
But sometimes the executive would get caught with his pants down, so to speak. In 2009,
he was photographed using a BlackBerry
. Granted, this took place months before the
Motorola DROID
would kick off Androidmania, and BlackBerry was still relevant among the corporate set. Still, two years later
Schmidt was snapped using a BlackBerry Bold 9780 at an event in Indonesia
. By this time, Android was well established.
Today, an image is circulating that shows Schmidt using an Apple iPhone in Seoul. What makes this look bad is that the event he was attending at the time was related to Google's AI system, DeepMind AlphaGo. The latter took on and defeated one of the world's top Weiqi players. This is a popular Chinese game that has been around for thousands of years.
When Steve Jobs was alive, he wanted to destroy Google, as he considered Android phones to be iPhone copies. In one famous speech that Jobs gave in January 2010 to Apple employees,
the late executive noted that Apple didn't go into Google's search business,
so why would Google go after the iPhone?
And that brings us to the pair of images taken this week, showing Schmidt using an iPhone to take photos and send the images out via email or text. Does this have any significance? Considering Schmidt's history, obviously not. Still, the images make you wonder why someone with the opportunity of using any Android phone made, including the
Samsung Galaxy S7
and
Samsung Galaxy S7 edge
, would so publicly flaunt a handset made by Google's biggest rival.
source:
Osen
(
translated
) via
AndroidInsider