Google's Eric Schmidt photographed using Motorola Moto X
55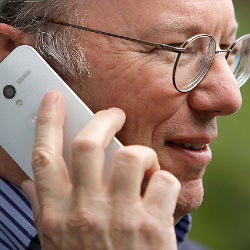 Oh hai,
Motorola Moto X
! After so many leaks, nothing gives us more confidence about your true existence than a high-res photograph of none other than Google chairman Eric Schmidt using it to make a phone call on July 10th, at the Allen and Company's 31st Annual Media and Technology Conference in Sun Valley, Idaho.
The few images right below come from a stock photography agency with actual description shedding all doubt -
this indeed is the Moto X
. The version you are seeing glued to Schmidt's ear is a white one, and it's clear that the handset will be offered in a variety of colors.
Comparing it to yesterday's leak of the black Motorola Moto X we are happy to say that
the material used on this white version looks very nice
, with a dotted pattern on the back. It still looks like plastic, but could it be possible that you can customize it down to the pattern on the back?
We've seen the black version always leak out with a matte back, and it's the first time we see such a high-res image of the white one, so we cannot be sure.
PhoneArena was first to break the news that the Motorola Moto X is expected to land on Verizon on August 23rd. This should mean we'll get an official announcement very soon. Fingers crossed.
source:
Insider Images
via
mobiFlip