AT&T video reveals expandable memory for Samsung Focus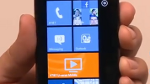 Earlier today we
informed you
about Monday's launch of the Samsung Focus. The device, priced at the gold standard of $199.99 after a signed two year contract, was originally thought to offer just the 8GB of on-board memory because, after all, Microsoft had said that there would be no expandable memory on Widows Phone 7 handsets and the cloud based nature of the OS would not make it necessary to increase storage.
Once pictures of the Samsung Focus were revealed showing that a microSD slot was part of the handset, speculation started that microSD cards could be inserted but could not be removed without hard re-setting the device and that any card used could not re-used once it was taken out of the phone's microSD slot.
But the truth might actually be more favorable for users. Today, AT&T and Samsung released a video which basically gives a tour around the Samsung Focus. At the 55 second mark, talk turns to the 8GB of on-board memory and AT&T's Product Marketing Manager Peter Ocampo says that the device has, "...expandable memory up to 32GB." Still, Microsoft's Partner Group Program Manager Charlie Kindel suggests having the carrier assist you in plugging in or out your microSD card. Paul Thurrott, author of the upcoming book "Windows Phone secrets" says that Microsoft has given the carriers the option of supporting expandable memory. If so, you might be best served by letting them do the heavy lifting just in case there is a problem.
source:
AT&T
via
WPCentral
Recommended Stories