AT&T data usage doubles every year
13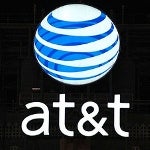 Since 2007, the year that the Apple iPhone was introduced and launched, AT&T has seen data usage over its network at least double every year. In fact, over the last five years, this growth of data usage has amounted to a
staggering 20,000%
. AT&T Senior Executive VP John Donovan wrote on the carrier's Innovation Space blog that the growth in smartphones is behind these amazing growth figures. AT&T added 8.9 million new customers in 2011 and the nation's second largest carrier set a company record with the
sale of 9.4 million smartphones during Q4
. With the new Apple iPhone 4S launched during that period,
AT&T activated a carrier record 7.6 million iPhones during the holiday quarter
.
Of course, all of this growth does have a downside. How will AT&T be able to have enough space on its network for all of its smartphone users? Donovan says that the mobile operator has
spent $95 billion over the last 5 years
trying to expand the wireless infrastructure. $20 billion was spent in 2011 alone and led to over 150,000 improvements in its wireless pipeline. Another $20 billion has been budgeted for spending on wireless infrastructure this year.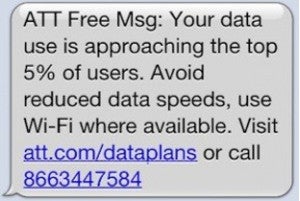 Those using as little as 1.5GB of data per month are getting this message from AT&T
AT&T has been trying to rid its rolls of those who in the past, signed up for a $30 per month unlimited data plan. While the carrier hasn't forced anyone to drop their unlimited plan, AT&T has a more devious idea. Throttling customer's data speeds back to 2G rates , AT&T is trying to make keeping an unlimited plan so unpalatable that customers are going to
want to switch to a tiered data plan
.
We recently told you about an AT&T customer who received an email
that his data was getting throttled
after showing up among the top 5% data hogs in his region despite
using only 2GB of data
up to that point. Others have been contacted after using as little as 1.5GB of data, according to the
Huffington Post
. AT&T meanwhile, now offers 3GB of data a month for the same $30 that used to cover a month of unlimited data. But by flagging those using as little as 1.5GB of data, the carrier is saying that you are worse off paying $30 for unlimited data with the risk of getting throttled, than you are to buy 3GB of data per month for the same price.
For its part, AT&T told the New York Times that going over the 5% threshold in a region
doesn't automatically slow your data speeds
. If network conditions warrant, even a bonafide data hog might not get data reduced to 2G speeds. As an AT&T spokesman said about those receiving a warning about getting throttled, "
There's a very good chance you wouldn't be slowed
."
source:
AT&T
via
TechCrunch
,
HuffingtonPost