ARM introduces Cortex A-73 chip and Mali-G71 graphics chip; higher performance, energy efficient
26
With
Android's Daydream VR platform coming in Android N
, we should see some new handsets with built-in VR capabilities launched later this year; manufacturers like Samsung, HTC, LG, Xiaomi Huawei, ZTE, Asus and Alcatel are said to be prepping VR focused handsets with some to be released as early as year's end. ARM also sees the future and the Cortex-A73 chip and Mali-G71 graphics chip were both introduced Monday at Computex 2016. Both are coming next year with specs that support VR. While the new chips both are more powerful than their respective predecessors, the pair are easier on a smartphone battery.
Thus far, MediaTek, Huawei's HiSilicon, Marvell and seven others have licensed the new chips from ARM, and have started testing them. Most likely, we wont find the Cortex-A73 and Mali-G71 inside commercially available devices until sometime early next year.
'
The Cortex-A73 is 30% faster than the A72, and is built using the 10nm process using FinFET. This allows the chip to measure less than .65 square mm. The Mali-G71 will support 4K resolution displays with a refresh rate of 120Hz. That is 33% above the minimum 90Hz refresh rate needed for VR. That means that the graphics chip helps the screen refresh 120 frames each second.
The Mali-G71 is 50% faster while at the same time it is 20% more power efficient than the Mali-T880. And with a latency of 4ms, users won't have to worry about a lag. There is also 32 shader cores, twice the amount used on the Mali-T880. This should help those using a phone with the GPU see more accurate and sharper images.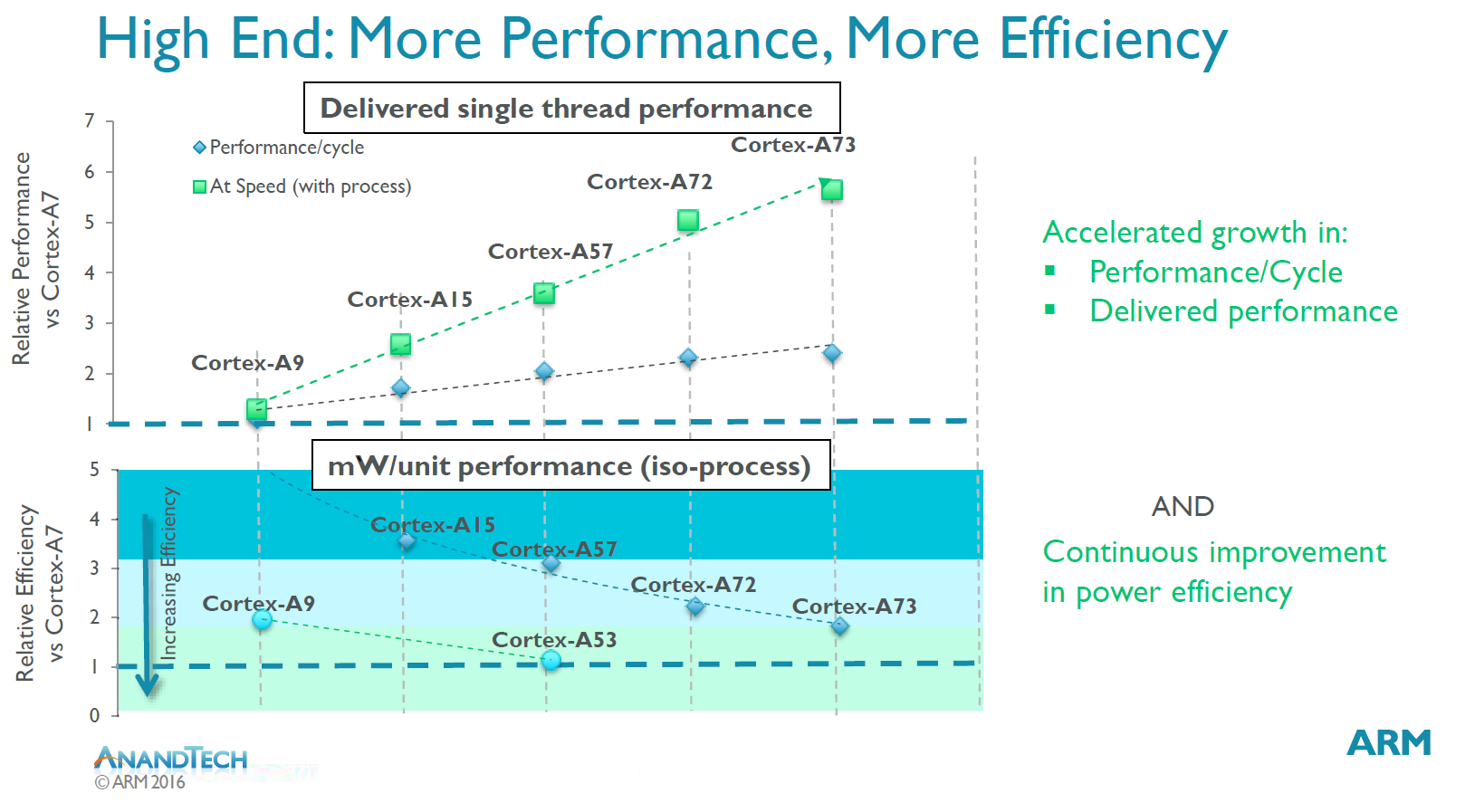 The Cortex-A73 is 30% more powerful than the A72, but also delivers power efficiencies
source:
AnandTech