A third of Apple iPhone owners would shell out $100 more for an iPhone with a larger screen
35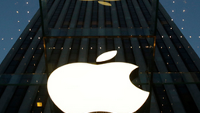 How badly do Apple iPhone owners want a model with a larger screen? According to a survey done by Raymond James analyst Tavis McCourt, 33% of iPhone owners would be willing to pay $100 more than the current price of the device, in order to have a display larger than 4 inches on the next-gen iPhone. That is up from the 26% of iPhone owners in the previous survey, who said that they would reach deeper into their wallet for a larger display on the next model.
Only 6% of Android users who were asked the same question, said that they were interested in spending that extra C Note for a larger-screened iPhone. This would seem to indicate that if Apple does release an iPhone with a larger display later this year, it should expect a large number of current iPhone users to update to the new model. But that is usually a given. What Apple was hoping for, and apparently will fail to get based on the survey, is a huge number of Android users switching to an iPhone offering a larger screen.
McCourt's survey indicates that 8% of current Android users plan on switching to the iPhone, down from 20% last year. This has lead to an increase in Android's estimated retention rate to 89% from 72% last year. The analyst believes that any Android user who was stuck with the platform because their carrier didn't offer the iPhone, has already switched to Apple's iconic smartphone. The numbers also indicate further gains ahead for Samsung, as 57% of Android owners plan on buying a Samsung Galaxy handset for their next smartphone.
This quarter, 44.4% of those surveyed said they plan on buying an Android model. That is the highest percentage for Google's open source OS since the December 2012 period. The 49.7% who plan on buying an iPhone is off sharply from the 54.3% reading scored by the iPhone last quarter. McCourt, noting the 3% that plan to buy a Nokia Lumia model, and the 1% who expect to purchase a BlackBerry handset, said that the lack of interest for both platforms might signal the end of the line for the pair. That seems like a pretty harsh statement to say about Windows Phone, which is
the fastest growing OS on the planet
according to Kantar.
source:
Barron's
via
BGR