A clunker, or a phone you always have to baby?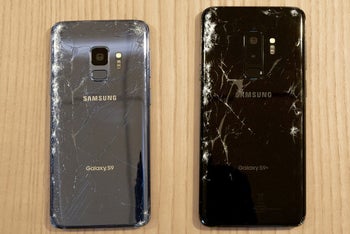 Look around, do you see phones worth their mettle that you don't constantly have to worry will shatter when dropped? It's been a year since we started finding it hard to recommend to clumsier or more active friends and relatives handsets that won't always be on the back of their minds. Not everyone sits in an office all day, marveling at their shiny steel-and-glass flagship, some people actually have to go out there, run around all day, and use the phone as a tool, not an object of desire.
glass phones fare way worse
than metal ones in drop tests, no matter the Gorilla Glass generation on their bodies. Granted, the vast majority slip a case on it, negating the beauty argument, but a glass phone is still to be babied at all times, rather than the set-it-and-forget-it ones in full metal gear. Before
wireless charging
became in vogue, one could still find flagships with stellar cameras, top-notch specs, and premium metal designs, but, again, look around - all major phones are now made of glass, and some happy exceptions are
at best in the upper midrange category
.
FEATURED VIDEO
Manufacturers never asked us whether we approve of this trend for the sake of slower wireless charging with dubious convenience advantages, but rather a me-too feature. To top it all off, the glass-y flagships are ever-increasing in price, but even if you get last year's model, clad in Gorilla Glass, repairing them when dropped and cracked may get to half the price of the phone itself, even if they don't land on their screens.
That is why we wanted to ask what would you prefer now - a less fragile and/or expensive phone that you don't have to be oh-so-careful with at all times, or are you fine with paying utmost attention to your grip, or the handset's position in your pocket or purse? In other words - a phone you always have to baby, or a relative clunker that can take some abuse without extra worries?