A RIM takeover would be a bumpy ride for the buyer
14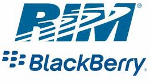 With a number of companies kicking the tires on the car known as
Research In Motion
, a takeover bid for the company is possible. But getting a bid to succeed is a different kettle of fish considering that the executive team of
Mike Lazaridis
and
Jim Balsillie
together are the largest stockholders in the company. Still, with the stock down 75% since February, they might be the only stockholders not ready to throw out management. As Colin Gillis, an analyst at BGC Partners said, "Before you talk about a buyer, you have to ask: do you have a seller?" Lazaridis and Balsillie combined own more than 10% of the company. Other top shareholders are the
Bank of Montreal
and the
Royal Bank of Canada
and both might want to avoid a foreign takeover of RIM so as to escape the wrath of Canadian citizens who might complain that the banks were selling out one of Canada's top tech firms to another country.
The advantage to a buyer is that with much of the stock in the hands of
fast moving funds
always in search of a quick profit, a buyer offering a nice premium to the current price might be able to wrest away a majority of the stock, vote in a new board, and send the co-CEO's out on the pavement looking for a new job. But it is not going to be easy.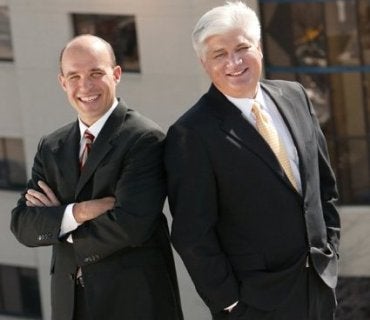 RIM's co-CEOs Balsillie and Lazaridis
It's not like RIM isn't making money. For the first nine months of the year, the company earned $1.29 billion. But the problem is that BlackBerry is seen as outdated, even by the business community that once stood by the push email and highly regarded BlackBerry Messenger system for so long. The stock's drop to $14.34 from a 52 week high above $70 reflects mistakes and problems that have haunted the company for more than a year. From the poor selling BlackBerry PlayBook tablet,
launched with no email client nor a calendar
, to the
delay in launching the new line of SuperPhones
, it has not been a good year for RIM. And as we close the book on 2011, RIM was
sued to stop using the BBX name
it wanted to call its new OS (now anointed BlackBerry 10) and to
stop calling BlackBerry Messenger by the long time BBM abbreviation
. And we can't forget the class action suit that was filed by RIM users after an outage that circled the globe over the period of a few days, left those relying on their BlackBerry without service.
What has hurt the most though, has been RIM's decline in the smartphone market where its BlackBerry models are no longer seen as offering the latest technology. Compared with the Apple iPhone and Android, the top-of-the-line BlackBerry 9900/9930 has
no front facing camera
,
no YouTube client
(the phone's YouTube button merely re-directs the user to You Tube's mobile web site), a much less stocked online application store and no dual-core processors. These are features that iOS and Android users are currently enjoying.
So what could RIM fetch in a buyout? Evercore Partners analyst Alkesh Shah puts a value of $22.50 for the stock, even assuming that the company's handset business is worthless. Shah puts a value of $12.50 on RIM's network, which carries global traffic worldwide and collects monthly subscription fee. RIM's patents are worth $7.50 a share and the company has $2.50 a share in cash. But even a bid in that ballpark would cost in the range of $10-$13 billion which is a lot of money to spend on a company that is falling so far behind its competitors. Amazingly enough, we
reported on possible RIM takeover rumors back in 2010
and at the time, with the stock $55, we figured it would take as much as $50 billion to buy the company.
While some
big tech names have been linked to a buyout of Canadian based RIM
like
Microsoft
,
Amazon
and
Nokia
, nothing has apparently has made it through the exploratory stage. The New York Times brings up the possibility of China's
ZTE
adding to its position as the fourth largest handset manufacturer on the planet,
a possible suitor that the newspaper has brought up before
. If there is going to be a buyer for RIM, Lazaridis and Balsillie will need to be dealt with. Adnaan Ahmad, an analyst with Berenberg Bank in London, says the pair is suffering from "founder's syndrome" which makes them unwilling to take the company in new directions. The pair
did cut their salary for this year to $1 each
as a good will gesture to stockholders.
Usually when it comes to the takeover of a listed company, money talks. Whether it is a financial company like KKR that would buy the company, cut out the fat and leverage it to the hilt, or a company in the industry like Amazon seeking to add smartphones right next to its ultra-successful
Kindle Fire tablet
, once a bid is announced, it will turn into a circus. If you thought that AT&T's proposed purchase of T-Mobile for $39 billion was wild, you ain't seen nothing yet!
Whomever is interested in buying RIM has
two huge bumps in the road
. The first one is to somehow take the company away from its co-CEO's, and the second one is turning RIM around into a smartphone powerhouse. Both are equally difficult and there is no point in doing the first without succeeding in the second. Perhaps this is why we have yet to see a real bid develop for RIM.
source:
NewYorkTimes