A 5" iPhone 8 unlikely to happen, tip insiders, Apple sticking to 4.7" and 5.5" glass sandwich designs
14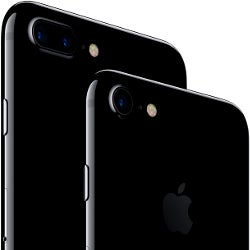 Nope, there won't be a
5" iPhone next year
, it seems, at least if an alleged insider scoop is believed. Yesterday, a Nikkei publication tipped some uncorroborated info that the 2017 crop of iPhones will have 4.7", 5" and 5.5" screen diagonals. This is, however, unlikely to happen, chime other insider sources with decent track record as far as Apple is concerned, saying that Apple will stick to the current screen size scheme.
How does that jibe with the rumored "
glass sandwich
" iPhone, remains to be seen, as if it indeed has an "
edge-to-edge
" display, that means a much smaller footprint than the current
iPhone 7
. Just imagine what Xiaomi did with the newly-announced
Mix
- it shoehorns a huge 6.4" in a body that is barely larger than the
iPhone 7 Plus
, thanks to its design that utilizes minimal bezel width all around, save for the bottom.
This latest Apple-will-stay-the-course tip, however, contradicts the rumors that Apple will be using a
5.8-inch panel for the larger iPhone
, and that it will
employ flexible OLED panels on it
for the first time in its phone-making history. The reason for the clash in speculations, the source explains, is that besides the "all-glass" iPhone chassis, Apple has a few fallback designs to return to, if the futuristic housing proves too difficult to produce in mass quantities with the desired quality, and they are all being developed in parallel as a safety precaution. Samsung just announced a
record $24 billion production facilities investment
, half of which is dedicated to flexible panels, so there might be something truthful regarding Apple's move to such OLEDs.
Of course, there is almost a year until the next iPhone, so there is plenty more to be revealed in the coming months about it. On a side note, if the larger iPhone 8 Plus indeed employs a curved 5.8" panel, with the flat surface area of the screen being close to a 5.5" diagonal, this could also explain why are we getting conflicting reports on the iPhone 8 screen sizes. Let's not forget that there might also be an update to the
iPhone SE
, which could sport larger screen size, explaining the "three 2017 iPhones" rumor started by Nikkei somewhat.