9 ex-flagships that you can now buy as great mid-range smartphones
83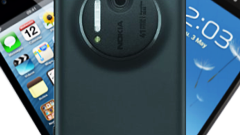 Have you noticed that it's easier to find a perfect mid-range smartphone than a high-end one? That's because, alongside all the new mid-range devices, you also have the option of buying a former flagship that's old enough to be downgraded to the mid-range category. There are plenty of ex-flagships that can still provide a great user experience - assuming that you don't necessarily need the very latest CPUs, or crazy screen resolutions that were unimaginable some years ago.
Of course, in addition to having more options to choose from, getting a mid-range smartphone also saves you money (though, as you'll see, that's not always the case). This being said, check out our selection of ex-flagships that can now be purchased as mid-range handsets, and let us know if there's any other device that we should've included on the list - which, by the way, is in alphabetical order.
The iPhone 4S 8GB is Apple's only smartphone that's available for less than $500 off-contract. That, however, doesn't mean it's cheap: at $450, it's still pretty expensive for what it's offering - including a 3.5-inch display with 640 x 960 pixels. But, hey, that's how Apple rolls.
Apple iPhone 4S review
BlackBerry Q10
If you're a fan of old-school BlackBerries - with their great hardware QWERTY keyboards - the Q10 should be the first on your list of mid-range phones to consider buying. Released in the first half of 2013 for a hefty price, the Q10 can now be purchased for less than $300, either directly from BlackBerry, or from Amazon. Alongside a large QWERTY keyboard, the BlackBerry Q10 offers a 3.1-inch Super AMOLED display with 720 x 720 pixels, an 8 MP rear camera, dual-core Snapdragon S4 processor, 2 GB of RAM, and 16 GB of expandable internal memory. The Q10 runs BlackBerry 10 OS.
BlackBerry Q10 review
Google Nexus 4
Manufactured by LG, Google's flagship smartphone form late 2012 may have its shortcomings (like the mediocre 8 MP camera and the somewhat fragile glass-based construction), but it's undeniably a very good smartphone for its price - you can buy the 16 GB version, unlocked, for around $280 via Amazon.
Google Nexus 4 review
LG Optimus G Pro
Introduced in February last year, the Optimus G Pro was seen by many as being too big - and that's because the handset sports a 5.5-inch 1080p display. Since then, however, extra-large displays have become more popular. If you don't mind the fact that the Optimus G Pro is powered by the not-so-high-end Snapdragon 600 processor, you can buy the handset right now for around $300.
LG Optimus G Pro review
Motorola Droid Maxx
The Motorola Droid line has been very successful at Verizon Wireless, and the Droid Maxx is one of the best smartphones in the series. The Droid Maxx is similar to the Droid Ultra, but adds a very large 3500 mAh battery, this being a bit thicker. You can get the Droid Maxx fro Verizon for $49.99 on contract, or $499.99 without any agreement.
Motorola Droid Maxx review
Nokia Lumia 1020
It's hard, if not impossible, to find a smartphone that can take better photos than the Nokia Lumia 1020. That's because this Windows Phone handset (released about a year ago, and recently updated to Windows Phone 8.1) features a 41 MP camera with PureView technology, thus being able to capture incredibly detailed photos, and even videos. The problem - if we may put it this way - with the Lumia 1020 is that it still carries a premium price tag: Microsoft is selling the handset for $549.99.
Nokia Lumia 1020 review
Sony Xperia Z Ultra
Some say that the water-resistant Xperia Z Ultra is a phablet, though Sony announced it as an extra-large smartphone. The handset sports a 6.4-inch display with 1080 x 1920 pixels, and is only 6.4mm-thin. Unlocked, the Sony Xperia Z Ultra currently costs around $400.