Samsung Galaxy S III Review (AT&T, Verizon, T-Mobile, Sprint)
99+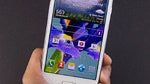 In this review we've used the AT&T and Sprint versions of the Galaxy S III. The Verizon and T-Mobile versions are exactly same, with the only difference being that T-Mobile's unit will not have LTE connectivity.

Introduction:
Timing is crucial, right? Well, of course it is, mainly because it can dictate the success or demise of a particular handset. As we've seen last year with the
Samsung Galaxy S II
, it made its way to the US market many months after its initial unveiling – and to top it off, each specific carrier version was different in their own way. So yeah, call it confusion to the max or something else entirely. Thankfully, Samsung's approach this year with its highly anticipated successor, the uniformly named
Samsung Galaxy S III
, is more rampant and timely with minimal wait.
No doubt, it's going to be one of the biggest smartphones to kick off the scorching summer season that's upon us, but more importantly, there's plenty of work needed by the Galaxy S III in order to reclaim the coveted top spot in the US Android market. In accomplishing that feat, all four major wireless carrier (and regional carrier US Cellular), are in the process of launching this beauty of a smartphone. Although exact release dates and pricing are still in question with some versions, we can totally agree that it'll launch SOON and priced at $200 on-contract.
Despite having shed the drool worthy quad-core CPU of the international version, these US bound versions replace it with a dual-core Qualcomm Snapdragon S4 processor with 2GB of RAM. Oh yeah, did we mention that nearly all versions (except T-Mobile) will feature 4G LTE connectivity? With that in mind, let's find out if these US counterparts are still equipped enough to stand on the same pedestal.
The package contains:
Stereo headphones
microUSB cable
Wall Charger
Quick Start Guide
Product and Safety Information
Design:
Having both the
AT&T
and
Sprint
versions of the Samsung Galaxy S III in hand for our review, it's quite evident that the two share the same design of the international version we checked out – albeit, the only single thing separating them are the accompanying carrier names they're branded with. Just like before, there's nothing terribly awe-inspiring about its design, but nevertheless, they embody all of the stellar qualities we'd expect to find on any top-shelf smartphone nowadays, like being lightweight and streamlined. Characterized by being inspired by nature, the handset sports some rounded curves to make it very comfortable to handle, but it's still too unwieldy to use with one hand.
Flaunting a
polycarbonate body
(available in metallic blue, marble white, and an exclusive red for AT&T), it has enough sturdiness to instill us with some confidence, while its Hyperglaze finish does a great job in keeping it clean looking and providing us with an adequate grip. However, we're leery about the fact that the rear plastic cover on the AT&T version becomes loose on one corner – but then again, the Sprint version is firmly intact. As a whole, the redesign over its predecessor is OK, but it doesn't blow us away unlike some other recent entrants such as the
HTC One X
or
Nokia Lumia 900
.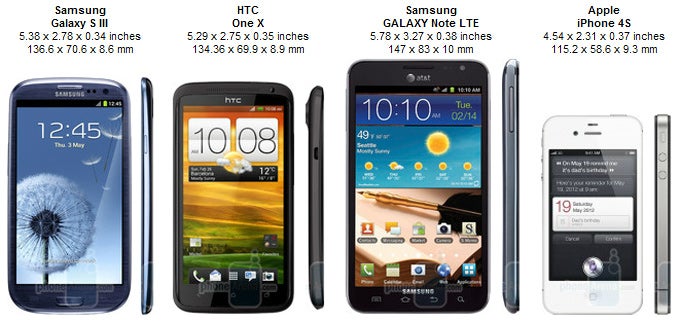 You can compare the Samsung Galaxy S III with many other phones using our
Size Visualization Tool
.
For the first time ever, the
physical home button
is retained with these US bound Samsung Galaxy S III handsets – whereas before, it was simply replaced with the typical four Android capacitive buttons. Certainly viewed as yet another welcomed change, the home button also activates the S Voice app by double tapping it, and it also activates the multi-tasking pane by executing a long press. Surrounding the home button are the
capacitive menu and back keys
, which so happen to have this cool soft white glow to them. Above the display, we have a
1.9-megapixel front facing camera
, earpiece, light & proximity sensors, and a hidden LED notification light.
Around the sides
of the phone, we find its volume control, 3.5mm headset jack, noise-cancelling microphone, power button, standard mic, and microUSB port for charging & data connectivity. Furthermore, video-out functionality can be obtained by using a new MHL adapter – meaning, if you have an old one, it won't work with this.
Flipping over to its
rear
, it's rocking an 8-megapixel auto-focus camera that's able to shoot 1080p videos. Surrounding it are the single LED flash and handset's speaker grill, while prying off the plastic covers provides us access to its 2,100 mAh battery, microSIM slot, and microSD card slot.
Display:
The US versions of the Samsung Galaxy S III utilize the same display in use with the international one – it's a
4.8" HD Super AMOLED screen
. Sure, some people will complain about it using the PenTile matrix arrangement, but it's not an eyesore because it's negligible thanks to its 720 x 1280 resolution. Therefore, it's pretty sharp and detailed enough for our eyes to make out fine text with ease. And considering that this is an AMOLED panel that we're looking at, it sports all of the lovable characteristics that we adore about it – like its wide viewing angles, oversaturated colors, and strong brightness output. It's nothing new that we haven't seen before, but nevertheless, it's still one of its main visual attractions right off the bat.
Samsung Galaxy S III 360-degrees View: