8 out of every 10 smartphones bought by a Verizon customer are Android flavored
11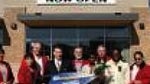 Ever since the launch of the Motorola DROID in November 2009, Verizon has been focusing on selling handsets powered by the Android operating system. With the popularity of Android, this has proven to be a wise decision by Big Red's executives. In fact, Android phones dominate the sales charts for the carrier with 8 out of 10 smartphone models sold being Android devices according to data from ITG Investment Research. In October 2009, 93% of the mobile operator's smartphone sales were BlackBerry devices. But Verizon weathered the Storm so to speak, and 2 months later BlackBerry was down to a 48% share while Motorola's piece of Verizon's sales soared from 3% to 36% , all thanks to the Motorola DROID.
Right now, 57% of Verizon's line-up is Android with 30% belonging to BlackBerry. The sales numbers show that RIM's products have slipped from that 93% peak to 19% as of last month. Motorola branded phones lead with 38% and HTC is third with 18%. In fourth place is Samsung with a 10% slice and Palm, with a meager 1% share, is fifth. Take a look at the graph below to see the impact that the Motorola DROID has had on BlackBerry sales at Verizon.
Once Windows Phone 7 handsets make their way to the carrier, it should be interesting to see what happens to this dynamic. And, if Shaw Wu is
finally right
and Verizon finally gets the Apple iPhone, the statistics will get shaken up some more.
source:
InformationWeek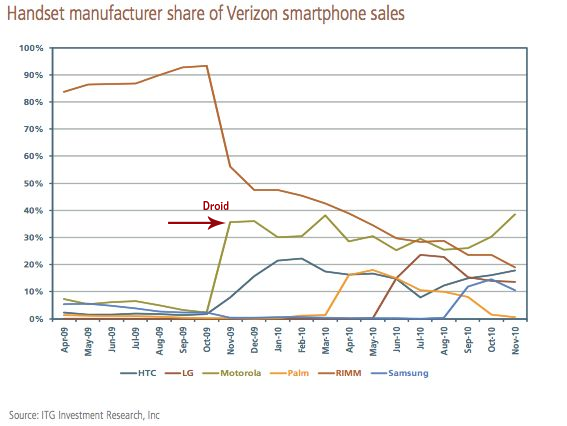 Graph courtesy of ITG Research