6-7 million display panels for the iPad 3 to be shipped this quarter, tip suppliers, iPad 2 ones winding down
7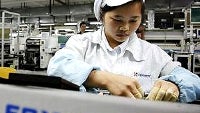 After allegedly
shipping one million high-resolution display panels for the iPad 3
last quarter, suppliers now tip that Apple has ordered additional 6-7 million units to be shipped in Q1, building up for the
eventual March release of the slate
. The
earlier than usual Chinese New Year
allegedly sped up the production volumes as well.
LG, Samsung and Sharp were said to be lined up for production
, although recent rumors emerged claiming that
Sharp has to do more to satisfy Apple's demands
.
Initially, rumor had it, what Sharp's panels couldn't produce, is a low enough price for its high-resolution screen, but seeing that
Cupertino is collaborating with the company on a new IGZO display technology
, the kinks will probably be ironed out.
The iPad 2 XGA panels, on the other hand, are said to wind down gradually - from 10 million units the last quarter, to 7-8 million this one, thus eventually the iPad 3 panel shipments surpassing those of the iPad 2 next quarter.
The total shipment of iPad 2 panels is estimated to be about 40 million for the whole of 2012, followed by 25 million iPad 2 displays, which is rumored to fall down in price once Apple announces its third generation slate with double the screen resolution, eventual quad-core processor and
LTE
, plus tailor-made software.
source:
Digitimes