Data shows why Apple could stop production of the 5G iPhone 12 mini next quarter
3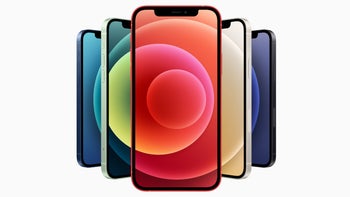 Toward the end of last week, we told you that securities firm
J.P. Morgan said that Apple could halt production of the iPhone 12 mini
sometime during the second quarter (which runs from April-June). William Yang, J.P. Morgan's supply chain analyst, cut his estimate of iPhone 12 mini production by 11 million units. That happens to be the same number of additional iPhone 12 Pro Max handsets that Apple has ordered, according to various estimates. Yang added that "The product mix adjustment is well expected by investors and should not be a negative surprise."
iPhone 13: price, release date, features, and specs
Small smartphone screens are out based on handset sales

Consumers are voting with their wallets and purses: small is out. According to Counterpoint Resources (via
Reuters
), the iPhone 12 mini and its 5.4-inch display made up only 5% of
iPhone 12 series
sales during the first half of January. The other models offered by
Apple
in the line include the 6.1-inch iPhone 12, the 6.1-inch iPhone 12 Pro and the 6.7-inch iPhone 12 Pro Max. All four models support 5G and are powered by the 5nm A14 Bionic chipset.
Despite the stats reported by the research firm, Apple is expected to release an iPhone 12s/13 mini later this year. The smaller screen is easier for those with smaller hands to navigate and starting at $699 for 64GB of storage, the iPhone 12 mini is more affordable than the other three 5G iPhones offered by Apple. As it turns out, most consumers favor a larger screen as many use their handsets to stream movies, television shows, live sports and news. Devices with larger screens make it easier to view social media sites and are equipped with longer-lasting batteries.

The market share of phones with a larger than 6-inch screen has been trending higher
The weaker sales of the iPhone 12 mini is a trend not limited to Apple. J.P. Morgan's Yang says, "This is in line with what we're seeing in the broader global market, where screens under 6.0" now account for around 10% share of all smartphones sold." A graph prepared by Counterpoint Research shows that in January 2019, phones sporting a screen smaller than 6-inches accounted for slightly less than 50% of U.S. smartphone sales in December 2018. The combination of this trend and weak sales of the iPhone 12 mini could indeed result in Apple halting production of this model soon.
For those who like the idea of a small-screened iPhone, Apple does offer the iPhone SE (2020) modeled after the iPhone 8. This device sport a 4.7-inch LCD display and is powered by the A13 Bionic chipset that runs the 2019 iPhone 11 series. It is equipped with 3GB of memory and starts with 64GB of storage. The phone features a 12MP rear camera and a 7MP FaceTime snapper in front. Like the iPhone 12 mini, part of the problem of the iPhone SE (2020) is the battery which weighs in at a paltry 1821mAh on the iPhone SE (2020).

The 64GB model of the iPhone SE (2020) is priced at $399 or 24 monthly payments of $16.62. The variant with 128GB of storage is priced at $449 or $18.70 a month over 24 months. And if you need additional storage, the 256GB unit will cost $549 or 24 monthly payments of $22.87. Last month, we told you that there is speculation that Apple is working on an iPhone SE Plus which would sport a 6.1-inch LCD panel. Under the hood would be the powerful and energy-efficient 5nm A14 Bionic chipset or the 7nm A13 Bionic; the former powers the 2020 iPhone 12 series while the latter drives the 2019 iPhone 11 lineup.
It's seems so long ago but from the OG iPhone (2007) through the iPhone 4s (2011) Apple stuck with a 3.5-inch display for its smartphone. By 2011, the Samsung Galaxy Note broke the 5-inch barrier at 5.3-inches while Apple didn't move off 3.5-inches until 2012's iPhone 5 launched with a 4-inch screen.