Motorola might make a foldable display successor to the RAZR
12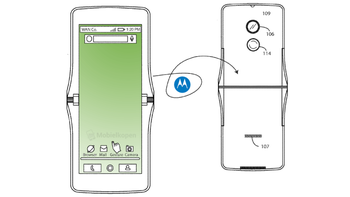 2019 is expected to bring us a whole new segment of smartphones – the ones with foldable displays. If Samsung or Huawei will be the first to launch one, it's too early to say, but patents show that Motorola is planning to give it a go as well.
Patent illustrations can hardly be used to make conclusions about design, but at least they show the way Motorola is planning to fold the display. Not surprisingly, they are going for the clam shell design, after all, the brand has in its portfolio one of the most iconic flip-phones – the Motorola RAZR.
While we can't make too many conclusions about the potential RAZR successor, the pictures show Motorola's approach to one of the biggest issues with this design, the part where the display folds when the device is closed. Obviously, to keep the display intact, there must be enough room for the display to bend at small radius. As you can see, colored in green on the picture below, the display forms quite a loop and goes into the designated "bending area" under it.

It's interesting to see what the solution will be when the display is opened, and you have an area in the middle that has no support under it when you press it. Maybe the hinge will lock in the fully opened position and the "stretch" of the display will keep it rigid enough to not be noticeable. Or supporting plates will unfold when you open it. This will add more moving parts to a device that is already a technical challenge.
Either way, it will likely take a couple of generations of foldable smartphones for manufacturers to refine their designs. Meanwhile, we're just excited there's something brand new that will be introduced to the market.
Recommended Stories