5 of the best smartphones with screens under 4.6 inches that you can buy right now
30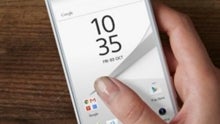 Whether you like it or not, in the last decade, average smartphone screen size has doubled. Handsets with displays measuring 5 inches or more are now the norm - thus, it's becoming a bit difficult to find a good compact smartphone. However, if you're looking for smartphones with screens no larger than around 4.5 inches, you've come to the right place: we've got a list of what are, arguably, 5 of the best handsets that fit this profile.
Some of the smartphones that we're listing here may not be the newest models around, but that's not necessarily a bad thing, as this means that they're cheaper than they were at launch. Check them all out below (in alphabetical order), and let us know which of these devices you'd consider buying.
The iPhone 5s is Apple's only 4-inch smartphone that's still in production today. Originally released in September 2013, the iPhone 5s is over 2 years old, but it can still be a great buy if you really need a compact handset that runs iOS (the latest version, nonetheless), and you don't mind paying $450 for the 16 GB model, or $499 for the 32 GB one. The 4-inch display of the iPhone 5s has a 640 x 1136 pixel resolution, offering a pretty sharp 326 ppi density. The device also features a fingerprint scanner, a good 8 MP rear camera, Apple's 64-bit, dual-core A7 processor, and 1 GB of RAM.
If you want a small Windows Phone device that doesn't cost too much but still offers decent features, you should consider getting the Microsoft Lumia 532. Released in the first half of 2015, the Lumia 532 sports a 4-inch display with 480 x 800 pixels, and is powered by a quad-core Snapdragon 200 processor. It's also got a 5 MP rear camera, a VGA front-facing camera, 1 GB of RAM, and 8 GB of expandable internal memory. At the moment, you can buy the Lumia 532 unlocked from Amazon for less than $100. The handset runs Windows 8.1, and will be updated to Windows 10 starting early 2016.
Replacing the well-received Moto E from 2014, the Motorola Moto E (2015) is a bit larger than its predecessor, though it's still a compact smartphone, thanks to the fact that it offers a 4.5-inch display (with 560 x 940 pixels). The handset features a quad-core Snapdragon 410 processor, 1 GB of RAM, 8 GB of internal memory, microSD card support, and a 2390 mAh battery. At the moment, the Moto E (2015) runs Android Lollipop, but it will be updated to Android Marshmallow (at least in some regions). You can get the Motorola Moto E (2015) off contract for under $100 via Amazon.
Just like the regular
Galaxy S5
, the Samsung Galaxy S5 Mini is a 2014 smartphone that's dust- and water-resistant (IP67-cerrtified), coming with a fingerprint scanner, as well as a heart rate monitor. However, the S5 Mini is (obviously) smaller than the S5, while also being less powerful, as it features a 4.5-inch 720p display, a quad-core Exynos 3470 processor (or Snapdragon 400 on some models), and 1.5 GB of RAM. Like the larger Galaxy S5, the S5 Mini will be updated to Android Marshmallow at some point. An unlocked Samsung Galaxy S5 Mini can currently be bought for around $260 from Amazon.
The newest and most advanced smartphone on our list, Sony's Xperia Z5 Compact also has the largest display - a 4.6-inch one with 720 x 1280 pixels. Overall, though, the handset is smaller than both the Samsung Galaxy S5 Mini and Motorola Moto E (2015), thanks to its smaller bezels. The Z5 Compact is powered by an octa-core Snapdragon 810 processor, and, like the other members of Sony's Xperia Z5 family, it's a dust- and water-resistant (IP68-ceritified) device. Other highlight features include a 23 MP rear camera, fingerprint scanner, 2 GB of RAM, 32 GB of expandable internal memory, and a long-lasting 2700 mAh battery. Sony didn't release the Xperia Z5 Compact in the US, but you can
buy the international version of the handset via Amazon
starting at around $450.