5 cool new Android launchers and interface tools (September)
6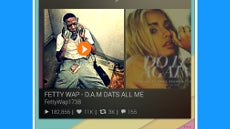 If you put enough time and effort, they say, you can tailor every Android phone to serve your unique interests and interface layout, and third-party launchers like Nova, Apex and the like, have proved it time and again.
Every once in a while, a new launcher appears that promises a paradigm shift in interacting with our mobile devices, utilizing innovative gesture-based or side-sliding launch tech, and some of them are even donning amazing graphics and extra functionality.
We took a glimpse at what's new and cool or updated fine at the Play Store in the interface draping department for the fortnight, and noticed a few launchers and interface tools that you might find useful, or at least funky to try out. Check them out below.
The contextual Scout launcher brings music, news, videos, and everything you typically interact with on a daily basis on your homescreen. Scout will have suggestions to you from the moment you wake up (weather, breakfast places), and throughout the day, digging up relevant apps you might have even forgotten you've installed on your phone, based on the occasion and location, too. Thankfully, it doesn't try to guess everything seamlessly like Google Now, but actually asks about your work and home locations, for instance, upon initial setup. Then it proceeds organizing your apps in groups, or "spaces," on separate screens automatically, but you can revamp those at will, too.
Here is where Scout starts carving its own niche amongst all those launchers that arrange your apps in folders automatically, and against Google Now or the rest of the personalized offerings. The "cards" it will use for popular tasks are actually standalone entities - you don't need to have YouTube installed to enjoy the YouTube card, for instance, but can have the full functionality and interaction within the launcher itself.
Nova Launcher Dockbars offers what it says on the tin - a cool selection of tile flooring for your Nova launcher dock.
You will, of course, need a ROM that supports split-screen functionality to use this Multi Window App, but unlike other efforts that let you run two apps at once, here the apps that can go in the windows are chosen by you, and you can even run two instances of the same app at once. Not only that, but you can also make a shortcut allowing you to launch two apps at once in split-screen mode.
This simple Folder Master is an app organizer, provided that your launcher of choice doesn't have this feature built in. Group apps into different folders, and auto-group stock apps into system folders making those preinstalled apps hidden. There are a few preset folders, too - Games, My Favorites, System Apps, Media, Photography, Social, News & Books, Lifestyle, and Tools.
If you've got a CM-based ROM, use this app to set a different wallpaper for the lock screen than the one chosen for your launcher and homescreens.