The iPhone X's successor may be $100 cheaper, just as Ralph Nader wants it
6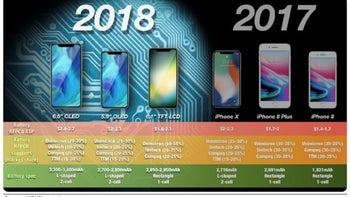 A few days ago, Ralph Nader (yeah, that Ralph Nader), penned an open letter to Apple's CEO Tim Cook, and shareholders in general, advising that
stock buybacks
are a lazy way to utilize the company's copious amounts of cash. Granted, Apple announced the largest stock buyback in history last week during its quarterly results report, but his argument is that companies do that when they are out of great ideas for product development or positive PR that will pay off much better in the longer run than simply throwing cash at shareholders.
In the letter, Mr Nader suggests that instead of buybacks, Apple should invest in R&D efforts to improve the lives of folks throughout its vast supply chain, or work to prevent
teens' obsession
with life lived on their phones. If all else fails, he adds, then simply cut the price of iPhones a bit, and sell much more down the road, avoiding the fate of the
iPhone X
, which didn't sell nearly as much as analysts had anticipated,
chiefly on account of its $999 starting tag
.
If rumors out of the supply chain are any indication, Apple is preparing to do exactly that. Asian analysts cite industry insiders and supply chain sources to inform that Apple could be lowering the price of the OLED iPhones this year. While the iPhone X is expected to be discontinued in its current form, its successor, with
souped-up processing power
, is now said to start off at $899, instead of a grand. The iPhone X's current price point is tipped to be occupied by the
6.5" iPhone Xs Plus
, or whatever it's called, while the
6.1" LCD iPhone
is said to arrive at $799 in its most memorable configuration, and likely
much less for the basic storage version
.
The report goes on to back up its claims by saying that Samsung is firing up its OLED conveyor belts much earlier than predicted. The Koreans, which supply OLED screens to Apple, were in a lull with
overcapacity
for a few months when iPhone X orders didn't pan out as planned. Samsung was expected to ramp up production for the 2018 iPhones at the beginning of June, but that process has apparently already started, indicating that Apple may anticipate stronger demand for the eventual two OLED iPhones this year, and one of the reasons could be a lower starting for an iPhone X successor, compared to the current model. It's not the first time we are hearing that the
second-gen iPhone X will be $100 cheaper
, too, so where there's smoke, there might be fire.
source:
Ralph Nader
&
UDN
(translated)