'The market may no longer tolerate rising ASPs': iPhone X sales nosedive spells high-end trouble for Apple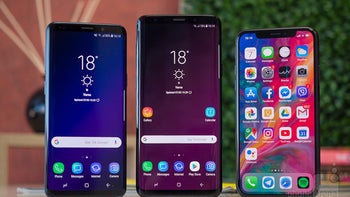 The market may no longer tolerate rising ASPs
More and more analysts are chiming in with reduction of their
iPhone X
sales targets, and predicting flat or declining overall iPhone shipment for much of the year's remainder. The main reason that analysts from Nomura, City and Longbow cite, is the rising average selling price of iPhones, thanks to the $999 iPhone X, but also the increased mix of more expensive
8 Plus
, compared to the $700
iPhone 8
. Jeffrey Kvaal from Nomura, for example, wrote in a memo to clients:
The market may no longer tolerate rising ASPs. One factor that is likely suppressing the smartphone market is price. We see several indications the market elasticity is falling. Obviously, Apple's iPhone ASPs have climbed from $645 in FY16; we model $742 in FY18. We do not believe it is coincidence that the highest end of the product portfolio, the X, is the model that is flagging.
Another Nomura analyst has cut their first quarter
iPhone X
sales to 8-12 million units, down from 13-18 million. That is almost the sole reason they cut the total iPhone shipments forecast for the year from 226M to 221M, and Wall Street's expected 3% growth in iPhone sales in 2018 may be more like 2%, or even flat, if things don't pan out as expected with the
LCD-laden iPhone 9
. Longbow Research analysts Shawn Harrison and Gausia Chowdhury are piling on, too:
Sources inside Apple's Asian manufacturing supply chain paint a much gloomier picture than Cook. This period of flat or declining sales is likely to continue for much of the rest of the year. "The iPhone X didn't sell well during the holiday season," they said. "We didn't get as many 1Q orders as previously anticipated." The ASPs were high during 4Q because of the X, but ASPs will decrease during the March quarter, since the share of the X has gone down.
Every major phone's successor last year was more expensive than the previous edition, sometimes drastically so, raising the average year-on-year price significantly, to the highest ever. We aren't even including Google's own phone line, which used to be the best value-for-money before the search giant decided to vertically integrate, and we are now left with a
Pixel 2 XL
that costs north of a thousand euros, for instance.
There are plenty of reasons which can be cited for that jump, and corporate greed is not even highest on the list - 2017 flagships got drastically overhauled in terms of design and materials used, 18:9 HDR displays became obligatory, and the basic storage amounts got bumped. Still, there are indications that this unpleasant trend of ever-rising smartphone prices may continue this year as well, but people are apparently already at the limit they are willing to spend on a handset, which could very well backfire, if you are a top tier maker.