2017 Apple iPhone units might lag compared to rival handsets
43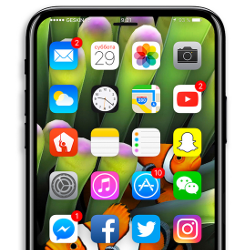 It would appear as though Apple's 2017 iPhones are going to have connectivity speeds lagging behind competing handsets. While iPhone rivals will be able to run at a download speed of as much as one gigabit per second, an issue that Apple is having now with its modem suppliers could very well have a negative impact on the iPhone later this year. Qualcomm can sell to Apple right now a modem that will support 1 Gb/sec data speeds. While Intel is working on a modem with similar capabilities, it won't be ready for the next iPhone models, which are expected to be unveiled in September.
There are a couple of reasons why Apple doesn't want to use Qualcomm only to provide this chip. One, Apple has always sourced components from two or more suppliers to keep the flow of parts coming in case one source cannot deliver for any reason. Relying on a single source could result in the hold up of iPhone production which is why Apple traditionally eschews a single source arrangement for its products. In addition, it allows Apple to play one supplier against the other when it comes to pricing.
Apple used a second modem supplier for the 2016 iPhone models
as it included the Intel chip with certain versions of the
Apple iPhone 7
and
iPhone 7 Plus
. Because the Qualcomm modem runs faster than the one from Intel,
Apple had to throttle the speed on the former in order to align it with the latter
chip. We could see something like that happen again with the new models until Intel releases a zipper version of its 4G LTE modem. The bad news for Apple is that its 2017 smartphones might not be able to keep up with the network updates being planned by U.S. carriers.
source:
Bloomberg