10 great smartphones with screens under 5 inches that you can buy right now
19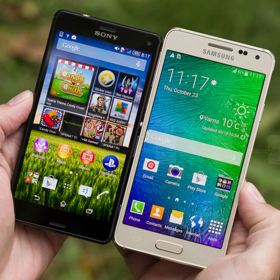 Almost all high-end smartphones now feature displays of at least 5 inches. While that's fine with most of us, some users still prefer having a smaller handset for everyday use.
With that in mind, not long ago we presented
5 of the best compact Android smartphones
, as well as
4 compact handsets with excellent battery life
. Now it's time for an extended list of sub-5-inch smartphones, not just from Androidland, and not necessarily with high-end or mid-end features.
All the smartphones included below can be purchased in the US (and many other markets). They're listed by price, from the cheapest to the most expensive ones.
Nokia Lumia 635
This is one of the last Lumia smartphones to carry the Nokia brand (newer models are Microsoft-branded), and can be bought for less than $100 off contract. It will obviously not satisfy users in need of high-end or mid-range features, but, for its price, the
Lumia 635
is an excellent smartphone. It's got LTE connectivity, Windows Phone 8.1, a 4.5-inch IPS display with 480 x 854 pixels, a quad-core Snapdragon 400 processor, and a long-lasting 1830 mAh battery. There's only 512 MB of RAM, but Windows Phone is optimized to work pretty well with just that. The Lumia 635 could be updated to Windows 10, though it will probably not get all the features that the new OS is bringing.
Nokia Lumia 635 review
.
Moto G LTE
You can get an unlocked
Moto G LTE
from Amazon for less than $200. Obviously, this is the first generation Moto G, the one sporting a 4.5-inch 720p display (the second generation Moto G doesn't quite fit in our selection, as it offers a 5-inch screen). With an update to Android Lollipop coming soon, the Moto G LTE remains a great choice for anyone not willing to spend too much on a new smartphone.
Moto G (2013) vs. Moto G (2014)
Blu Vivo Air
While Blu is an American company (based in Miami), its smartphones are usually rebranded models originally made by Chinese manufacturers. But that's not necessarily a bad thing. In fact, we really liked the
Blu Vivo Air
(a rebranded Gionee Elife S5.1), as the handset offers plenty of features for the $199.99 price tag (unlocked). At 5.1 mm, the Vivo Air is one of the thinnest smartphones in the world. It runs Android 4.4 KitKat, sports a 4.8-inch display with 720 x 1280 pixels, and is powered by an octa-core MediaTek processor (not exactly a performance champ, but most of the time it gets the job done).
Blu Vivo Air review
.
HTC One (M7)
While you can get the One (M7) off-contract
for less than $200
in the US, you have to pay at least $300 to buy it unlocked. In both cases, the price is excellent, as HTC's former flagship is one of the few smartphones with a 1080p display that's smaller than 5 inches (4.7 inches, to be exact).
HTC One (M7) review
.
Samsung Galaxy S5 Mini
The
Galaxy S5 Mini
offers some of the features that the regular Galaxy S5 has, including a water-resistant body (IP67-cerrtified), fingerprint scanner, and heart rate monitor. However, its 4.5-inch 720p display and weaker processor (Exynos 3470, or Snapdragon 400 on some models) make it a mid-range handset that costs around $370 unlocked.
Samsung Galaxy Alpha
Considered by many one of Samsung's best-looking smartphones, the 6.7mm-thin
Galaxy Alpha
is built around a metal frame, and is fairly compact, sporting a 4.7-inch 720p display. It's also quite powerful, featuring an octa-core Exynos 5 5430 processor, and 2 GB of RAM. The Alpha is available unlocked for about $470.
Samsung Galaxy Alpha review
.
Sony Xperia Z3 Compact
The
Xperia Z3 Compact
is one of Sony's best smartphones to date. Despite its small size, it packs almost all the features of the regular Z3, including a Snapdragon 801 processor, 20.7 MP rear camera, and a water-resistant body (IP68-certified). What's more, it offers outstanding battery life. The handset's 4.6-inch 720p screen could be perfect for users who don't like larger displays. Right now, you can buy an unlocked Xperia Z3 Compact for $499.
Sony Xperia Z3 Compact review
.
iPhone 5s
The
iPhone 5s
is Apple's last flagship to feature a 4-inch, 640 x 1136 pixels display, and it's now a year and a half old. But it remains a premium smartphone, though maybe its high price (starting at $549 unlocked) isn't justified.
iPhone 5s review
.
BlackBerry Passport
Some people still prefer having a physical QWERTY keyboard on their smartphone, and BlackBerry certainly knows how to make handsets with hardware keyboards. The company's newest flagship, called
BlackBerry Passport
, offers both a QWERTY keyboard, and a square 4.5-inch touchscreen display with 1440 x 1440 pixels. Be warned, though: this isn't a traditional BlackBerry keyboard, so you'll need some time to get used to it. Make no mistake, the Passport is a unique-looking, high-end smartphone, that's why it costs $599 unlocked.
BlackBerry Passport review
.
iPhone 6
Launched in September, the
iPhone 6
helped Apple have a fantastic quarter (sales-wise), and is arguably the best iPhone yet. Its 4.7-inch, 750 x 1334 pixels display brings it closer to most Android flagships in terms of screen estate, and iOS users seem to appreciate this a lot. Of course, not everyone is ready to pay $649 - or more - for an iPhone 6, but those who do appear to be very happy with their purchase.
iPhone 6 review
.