Samsung Galaxy Buds 2 vs Apple AirPods – there's a clear winner
7
We may earn a commission if you make a purchase from the links on this page.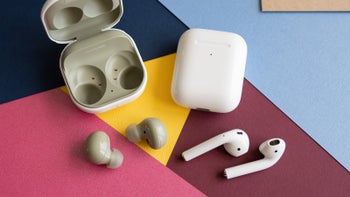 Now that
Samsung
's newest true wireless earbuds are out, it's time to do the inevitable comparison between them and
Apple
's own similarly-priced AirPods.
If you're on a budget of around $160, should you get the AirPods or should you pick up the new Galaxy Buds 2 for $150 instead? Let's compare the two to find out!
You may also find interesting:
Galaxy Buds 2 vs AirPods: price and availability

The brand new Galaxy Buds 2 are very fairly priced at $150, while Apple's aging AirPods are still more expensive, at about $160, unless you catch them at a discount.




While you can order the Buds 2 already, they'll start shipping on August 27. The AirPods have been out for a while now, so they're easy to get a hold of as soon as today. Both the Galaxy Buds 2 and AirPods are selling in the US and Europe.
Galaxy Buds 2 vs AirPods: Design and colors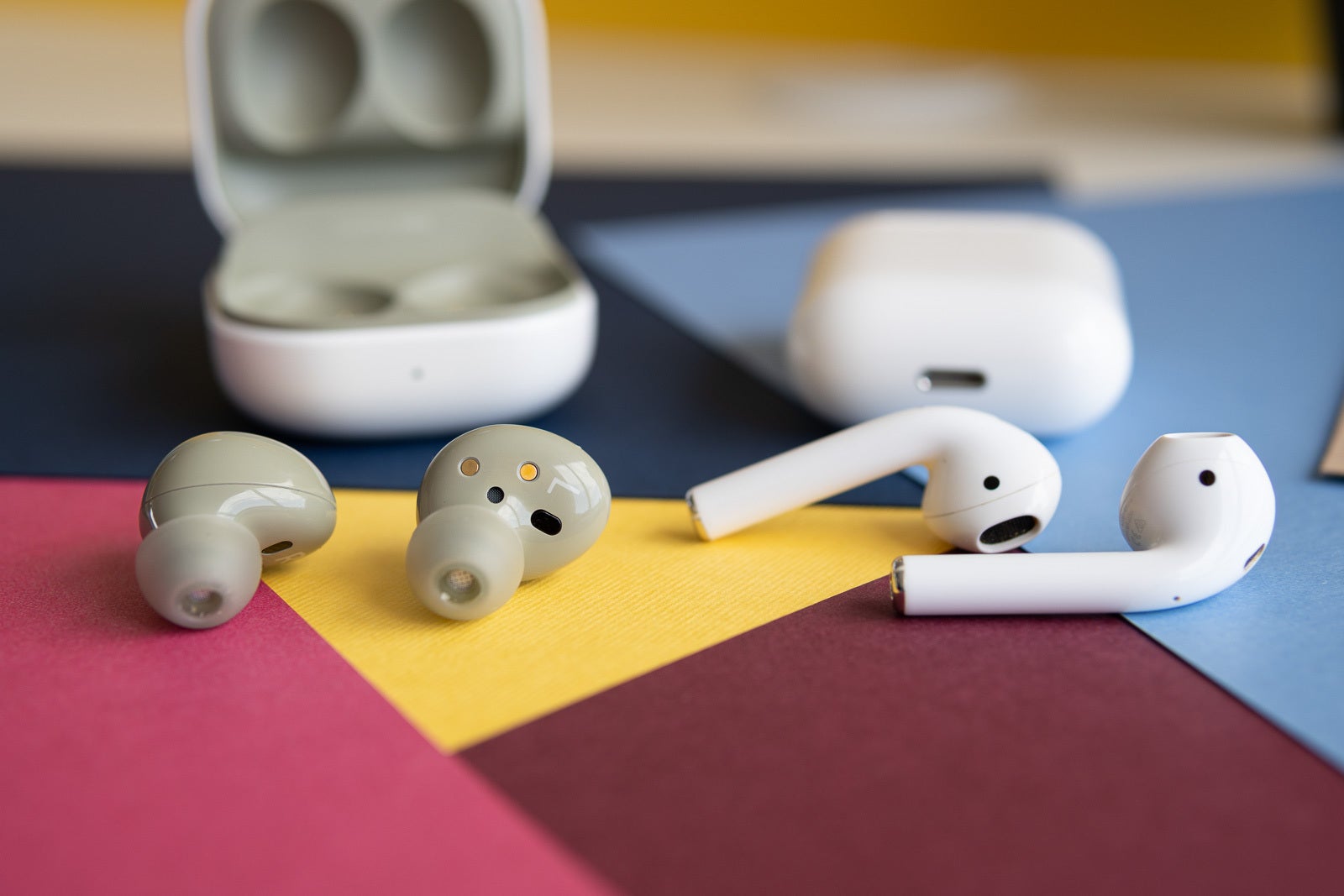 Both the Galaxy Buds 2 and AirPods charging cases are made out of glossy plastic on the outside and feature rounded corners. The AirPods case is thinner, but also taller, so the two cases are about equally comfortable in a pocket, and about equally light and portable.
As for the actual earbuds, the AirPods have their signature long, thin stems, and a smaller body. The Buds 2 don't have stems, but are a bit larger in size. Both are made out of glossy plastic, with the Buds 2 also having standard rubber eartips for a better in-ear fit.
As for color options, the Buds 2 come in traditional white or black, but also have two additional, unique lavender and olive green colors. The AirPods only come in white.
Galaxy Buds 2 vs AirPods: In-ear fit and comfort
The Galaxy Buds 2 come with three sets of rubber eartips in different sizes. Thanks to those rubber tips, they will fit perfectly well in your ear, and no amount of head shaking will make them budge. The Buds 2 are also quite light and comfortable for long-term continuous usage.
However, if rubber tips irritate you, you may find the AirPods much more comfortable to wear. The AirPods earbuds are even lighter and feel nearly unnoticeable in your ear, although you may be bothered by their stems touching your outer ear. Like the Buds 2, the AirPods feel secure in the ear and no amounts of vigorous working out should even budge them.
Galaxy Buds 2 vs AirPods: Sound quality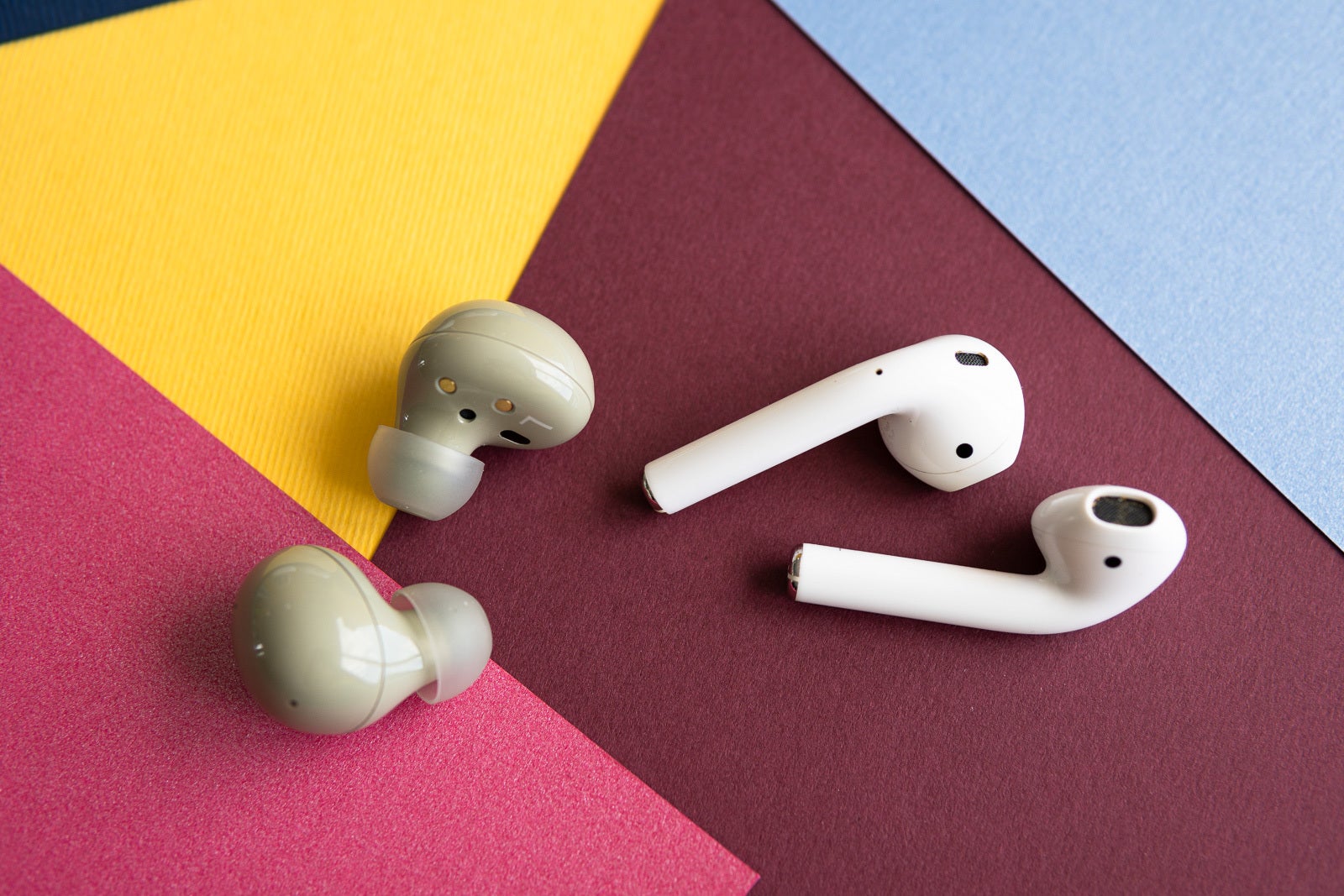 The Galaxy Buds 2 sound quite impressive for their price, with strong, punchy bass and clear highs. My only gripe is that the mids are a bit in the background, but generally, if you love listening to modern music – you'll likely love the Buds 2. And if you want less or even more bass, and you're using an Android phone, you can always download the Galaxy Wearable app and tune the sound to your liking.
The AirPods are more flat-sounding, which means that the lows, mids and highs are about equally strong. The bass, for example, never feels overpowering, and while the AirPods don't exactly have the best mids either, they are a bit easier to hear. Generally, the AirPods also sound pretty clear, but much flatter and lacking in bass as compared to the Buds 2.
If this is the sound you prefer – then great, but otherwise you'd likely find the Buds 2 better, with their significantly stronger and punchier bass and similarly clean sound.
Galaxy Buds 2 vs AirPods: ANC and other features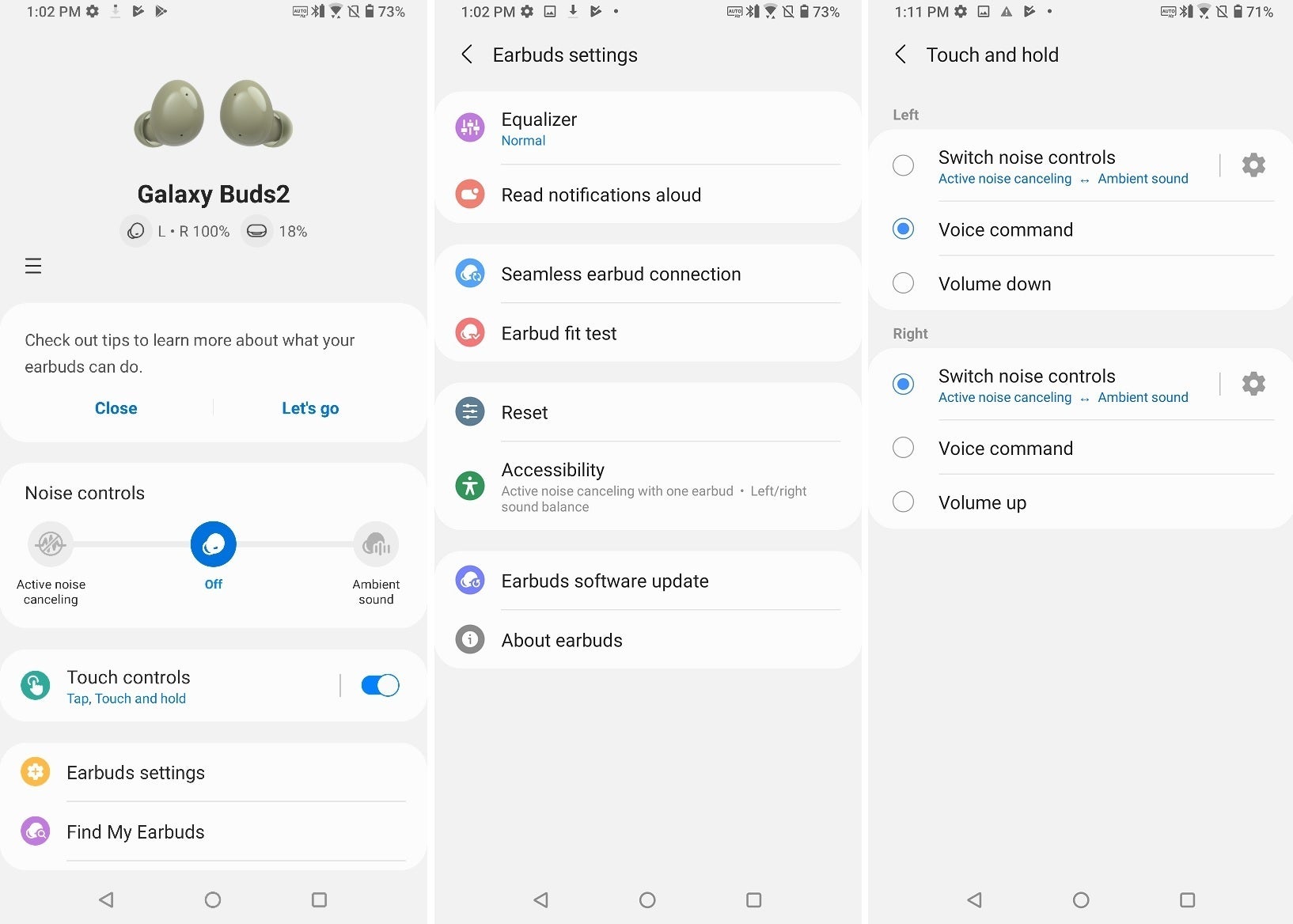 The Galaxy Wearable app is available on Android, enabling customization options for the Buds 2
If you want active noise cancelling (ANC), then the Galaxy Buds 2 are your only choice here, as the AirPods don't have any. The ANC on the Galaxy Buds 2 is well capable of reducing noise from your environment, and once you play a song – you won't hear anything else.
This makes the Galaxy Buds 2 perfect for use in noisy environments, but when you actually want to hear what's happening around you, the Buds 2 alternatively also have an Ambient Sound feature. It uses the earbuds' three microphones to pick up voices and other sounds, and lets you hear those even with the earbuds on.
If you're using an Android phone, you can also get the Buds 2's companion app – Galaxy Wearable, which gives you additional customization options. Those include an equalizer, Ambient Sound tuning, disabling or changing the touch gestures (e.g. to trigger Google Assistant) and more.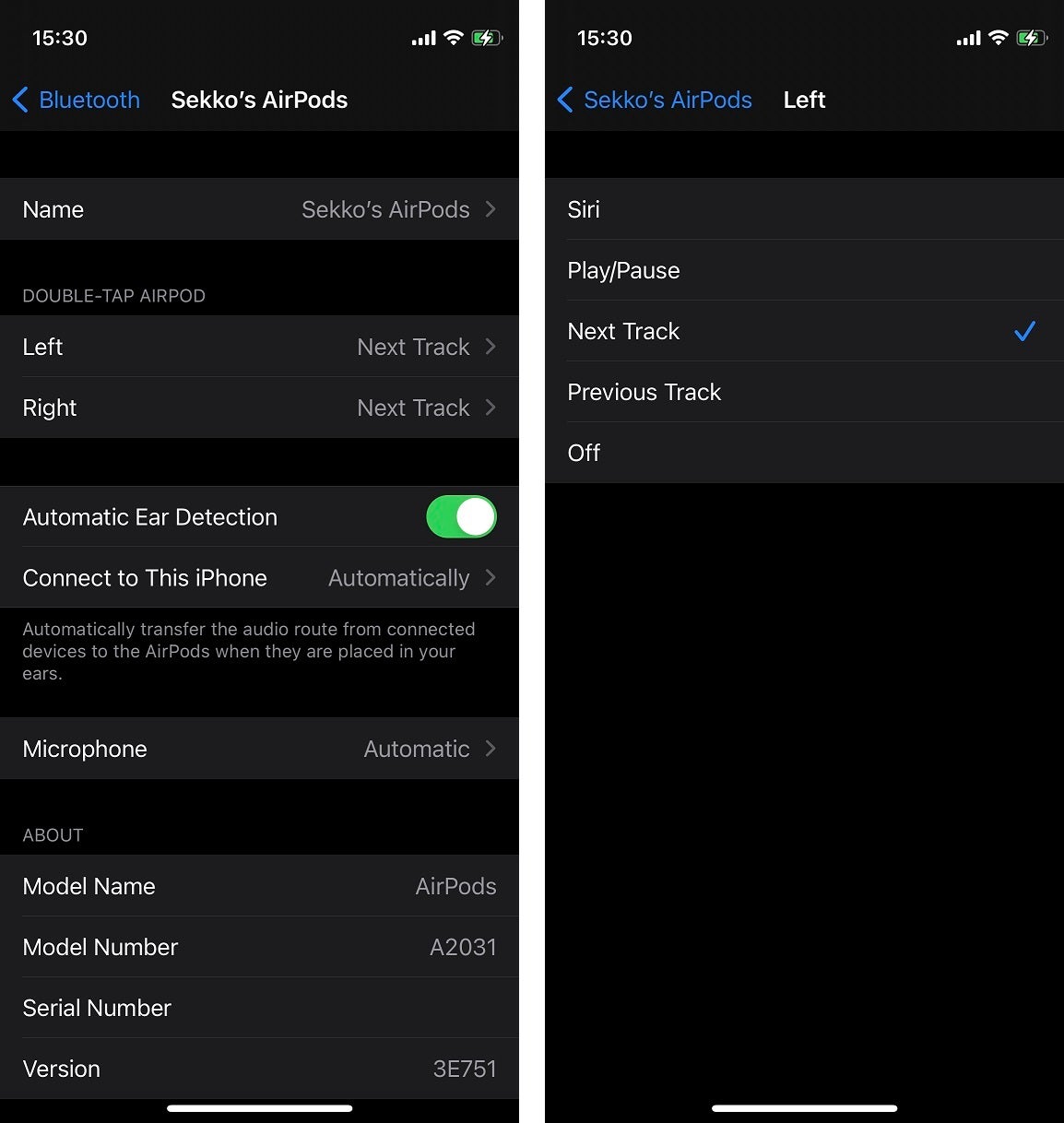 The AirPods have a few customization options too
Apple's AirPods on the other hand don't have ANC or Ambient Sound. But like the Buds 2, the AirPods rely on touch gestures, which can be changed on iPhone, and can also be used to trigger a voice assistant (Siri).
An upside to the AirPods design is that you can easily adjust them in your ears without worrying about triggering accidental touch gestures. On the Buds 2 – pretty much the slightest adjustment will trigger a touch gesture, usually accidentally pausing your music.
Both the Buds 2 and AirPods will stop playing once you take them off. Both also pair quite easily with their respective brand of phones. If you wish to begin pairing the Galaxy Buds 2 with your Samsung phone, it's as easy as opening their case near it. It's the same with AirPods and an iPhone. When pairing them with a different brand of device than their own, it's a normal Bluetooth pairing process, which is also quick.
It's worth noting that if you care about customization options, your Buds 2 need to be paired with an Android phone, as the Galaxy Wearable app that grants you those is only on Android. Similarly, the AirPods customization options are only accessible when they're paired with an iPhone, via the Bluetooth menu.
Galaxy Buds 2 vs AirPods: Microphone quality
Many of us are on daily Zoom or Skype calls, so microphone quality matters. The mic quality of the Buds 2 isn't the best I've heard, but it doesn't disappoint either, especially for their price. Your voice will sound clear enough even in windy weather, with some echoing indoors being one of very few minor gripes I noticed.
Voice from the AirPods microphone sounds a bit cleaner and they're capable of blocking background noise slightly better. But the AirPods mic too has its issues sometimes, such as making voices sound fluttery. So it's safe to say that both the Buds 2 and the AirPods have reasonably good microphones for calls and video chat, if not overly-impressive.
Galaxy Buds 2 vs AirPods: Battery life and charging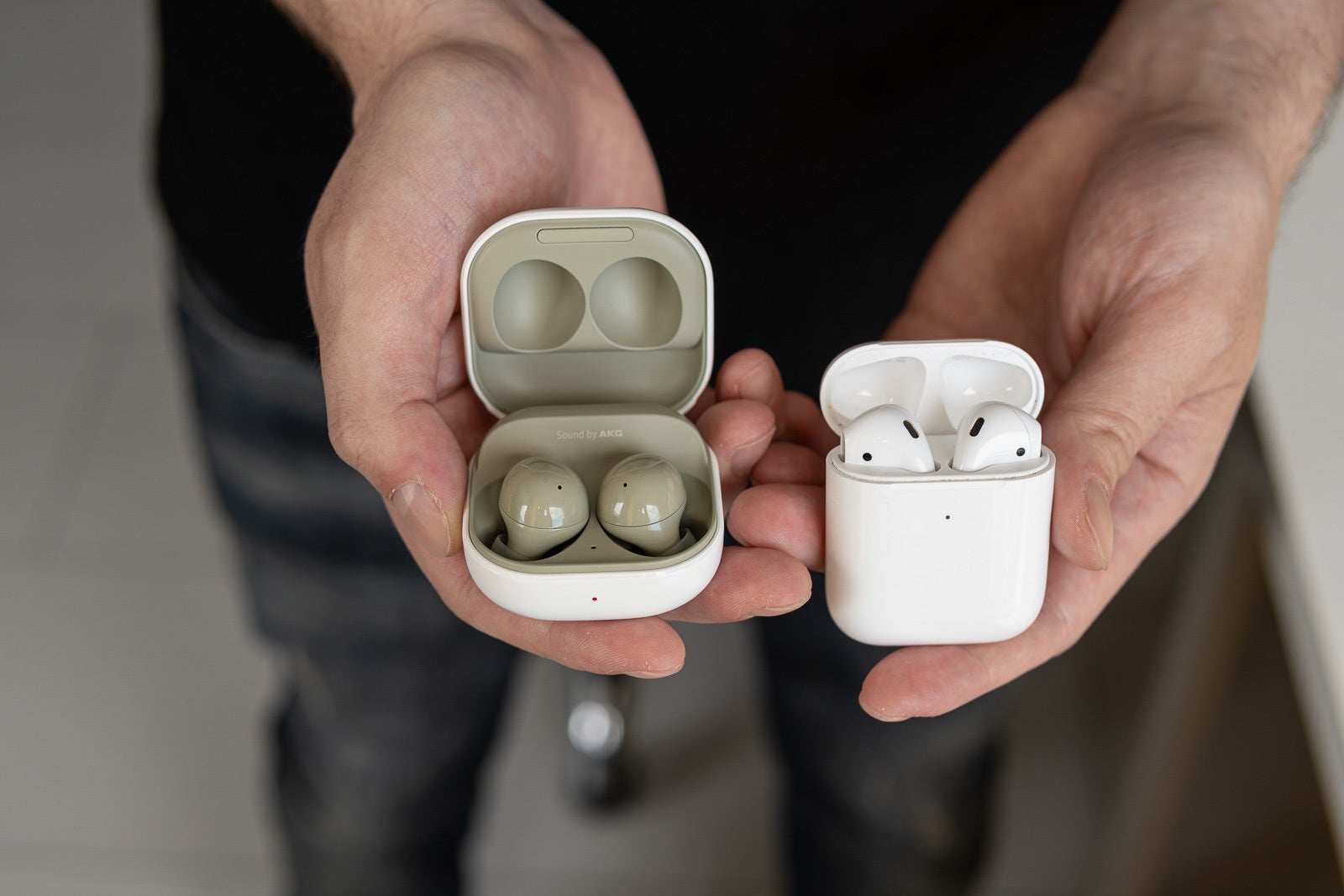 The Buds 2 case can be charged via the included USB Type-C cable or wirelessly with a compatible Qi charger. The AirPods have variants with a wireless charging case, but if you pick them up with a non-wireless charging case, your only option for charging will be a wired Lightning connection.
As for battery life, according to Samsung the Galaxy Buds 2 earbuds on their own can last up to 7.5 hours with ANC off or 5 hours with ANC on. When using them with their case, however, you can get up to 29 hours of play time with ANC off and 20 hours with ANC on, on a single charge.
The AirPods will last you about 5 hours of playback without the case and 24 hours with it. So if you're looking to use your earbuds for an entire full day of work or travel, either earbuds should be able to carry you through it with no problem.
Galaxy Buds 2 vs AirPods: Which should you buy?
If you haven't made up your mind by now, I'll try to help with my personal opinion based on my experience with the Buds 2 and the AirPods. The Buds 2 look and feel better and more modern, and that's because they are. They also feature ANC and Ambient Sound, a wireless charging case, really good sound with solid bass and clear highs, and on top of all that are usually cheaper.
The AirPods seem worthwhile only if you're really into Apple products and want to wear something recognizable, and there's nothing wrong with that. They also sound really good if you prefer flat sound, their case is thinner, the earbuds are a bit lighter, plus getting AirPods just makes sense for some people if they're already using an iPhone.
But I'm currently rocking an iPhone and I'm still choosing the Galaxy Buds 2 over the AirPods, even if it means I don't have access to all the Galaxy Wearable app-enabled extra customization options. Even if we ignore everything else and solely focus on sound, I simply prefer the punchier bass and more "fun" sound of the Buds 2.