OnePlus 9 vs OnePlus 9 Pro
2
We may earn a commission if you make a purchase from the links on this page.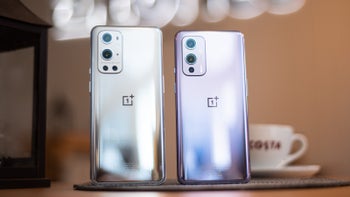 You know how it is today — we can't just have the one flagship from a company, we get the "regular" version and then the "plus" or "pro" or "mega" or "ultra" version. Essentially saying "This one is good, but this one goes to 11". What are the differences? Well, this one goes to 11.
So, let's figure this out.
OnePlus
just launched its latest pair of top-tier phones — the
OnePlus 9
and
OnePlus 9 Pro
.
That said, what are the expected differences between the OnePlus 9 and OnePlus 9 Pro, and which one should you save your pennies for? Let's take a look at what we know:
OnePlus 9 - flat screen; 9 Pro - curved screen
OnePlus 9 - 6.55"; 9 Pro - 6.7"
OnePlus 9 Pro has a 3.3x telephoto camera
Both to have Snapdragon 888
Both to have 4,500 mAh battery, 65 W charging
OnePlus 9 Pro has 50 W wireless charging
Both have 5G
Which one should you buy? Well, the OnePlus 9 Pro has a slightly better camera. But if you are after the performance, design, and beautiful screen that OnePlus usually offers — you can just get the OnePlus 9 and save some cash.
Also read:
OnePlus 9 Pro review
OnePlus 9 vs Galaxy S21
OnePlus 9 Pro vs Galaxy S21 Ultra
OnePlus 9 vs OnePlus 9 Pro design and display
One of the main differences to look for is in the screen. OnePlus is back to splitting its design between curved screens and flat screens. Specifically, the OnePlus 9 Pro has the curved edge screen, while the OnePlus 9 is flat. But it's worth noting that the curve on the 9 Pro isn't even that pronounced. OnePlus gave it the "Samsung treatment", meaning the curve is barely there and the software is doing extra work to reject ghost touches.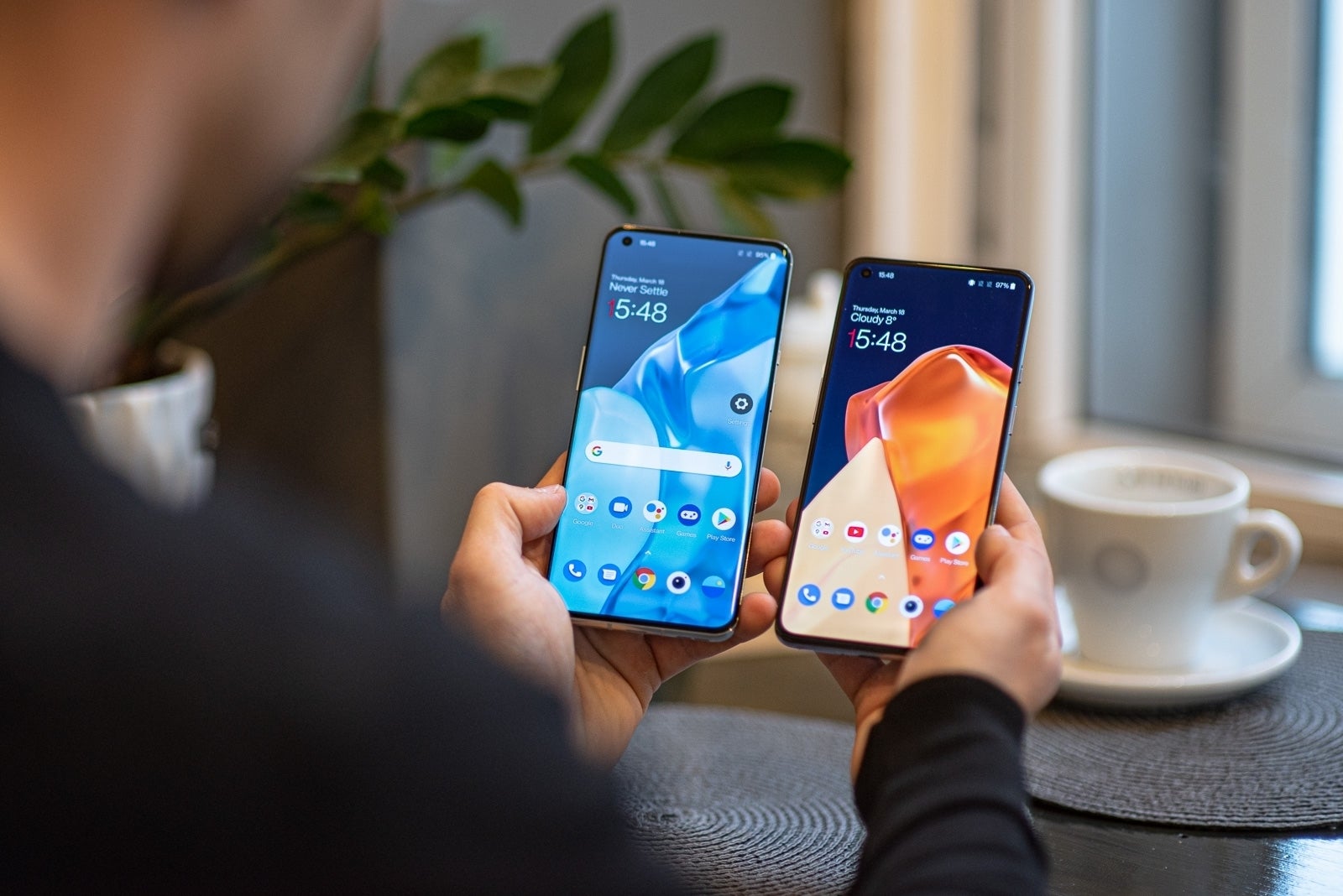 OnePlus 9 Pro - left; OnePlus 9 - right
Then, there's size — the OnePlus 9 sports a 6.55-inch display, while the 9 Pro is slightly bigger, at 6.7 inches.
In terms of refresh rate, both will support up to 120 Hz for smooth animations, and both have that 240 Hz touch sampling rate for extra-fast responsiveness. Both are equipped with beautiful OLED panels with vibrant colors. And both have settings like dynamic temperature, to match your ambient lighting, and a bunch of color profiles to pick from. These are amazing screens, no two words about it.
The OnePlus 9 Pro does have a resolution of 3216 x 1440 pixels, while the OnePlus 9 "only" has 2400 x 1080 pixels. To be honest, I'd recommend OnePlus 9 Pro users switch to 2400 x 1080 pixels from Settings — the screen is still very sharp, but it'll save some battery.
In terms of handling, both feel really nice and balanced in the hand. The OnePlus 9 feels just a tad chunky, but it rests really well in the palm thanks to the curved rear. The OnePlus 9 Pro has a thinner frame, which creates an illusion of a thinner phone when you hold it, which is nice.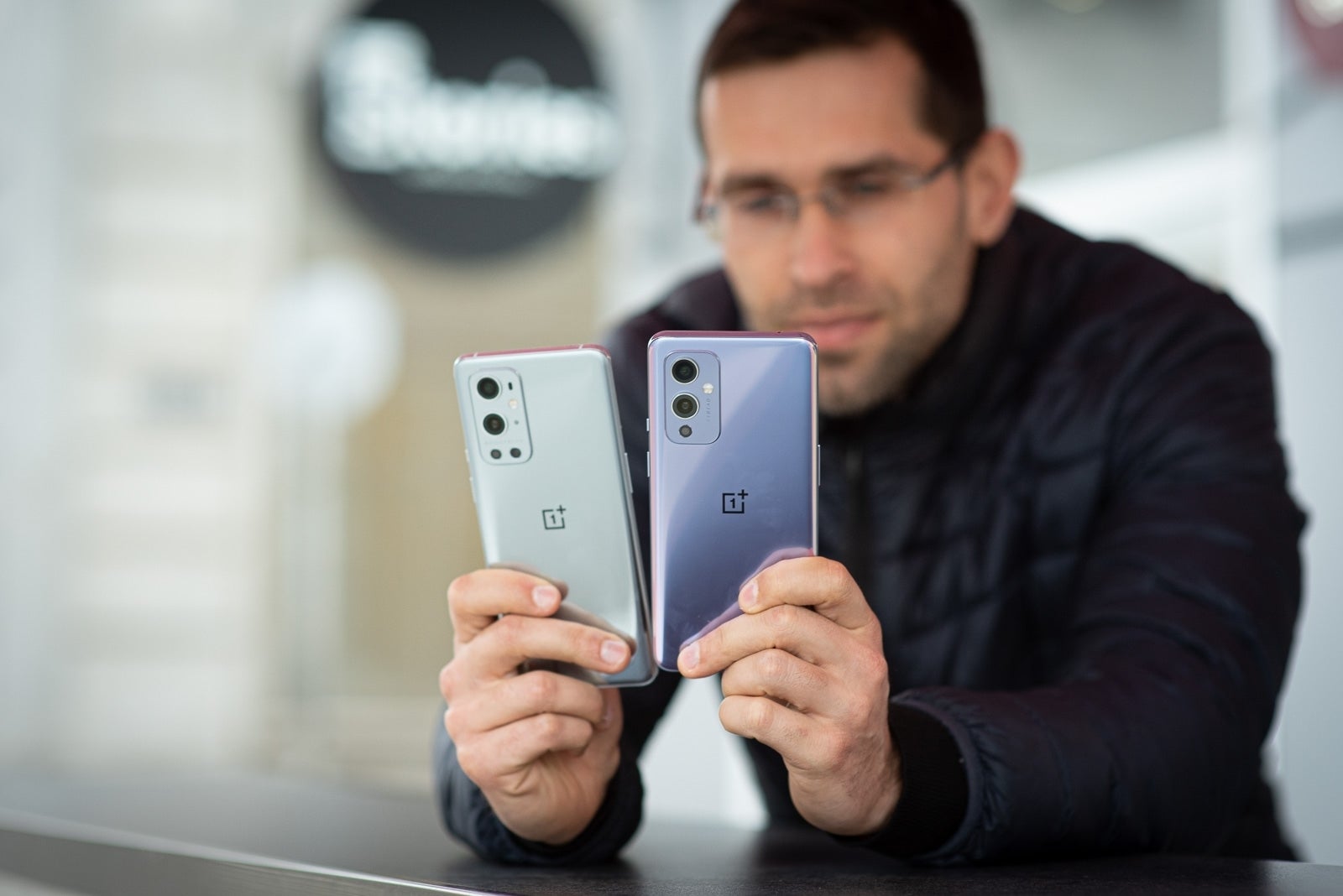 OnePlus 9 Pro - left; OnePlus 9 - right
OK, what else about the OnePlus 9 and OnePlus 9 Pro? Both have glossy backs, which goes against the recent trends of matte finishes. If you really want matte, you should try to score a OnePlus 9 series phone in the Astral Black color — this one has been processed to have a feel like the Sandstone backs of the past. Any other color comes in glossy glass.
To their credit, our review units did seem to be somewhat resistant to fingerprint smudging. I am unsure if it was some sort of coating or that "new phone" state where the device has not yet collected enough dirt. But they remained cleaner and easy to maintain for longer periods.
The OnePlus 9 Pro has IP68 rating for water- and dust-resistance. The OnePlus 9 that you buy from the online store does not. Only the T-Mobile edition of the OnePlus 9 phone will come with its IP68 certification.
OnePlus 9 vs OnePlus 9 Pro camera
Historically, "regular" flagships differ from Pro models in the camera department. So, it's no surprise that the same would hold true for the OnePlus 9 series. But, surprisingly, the difference isn't huge.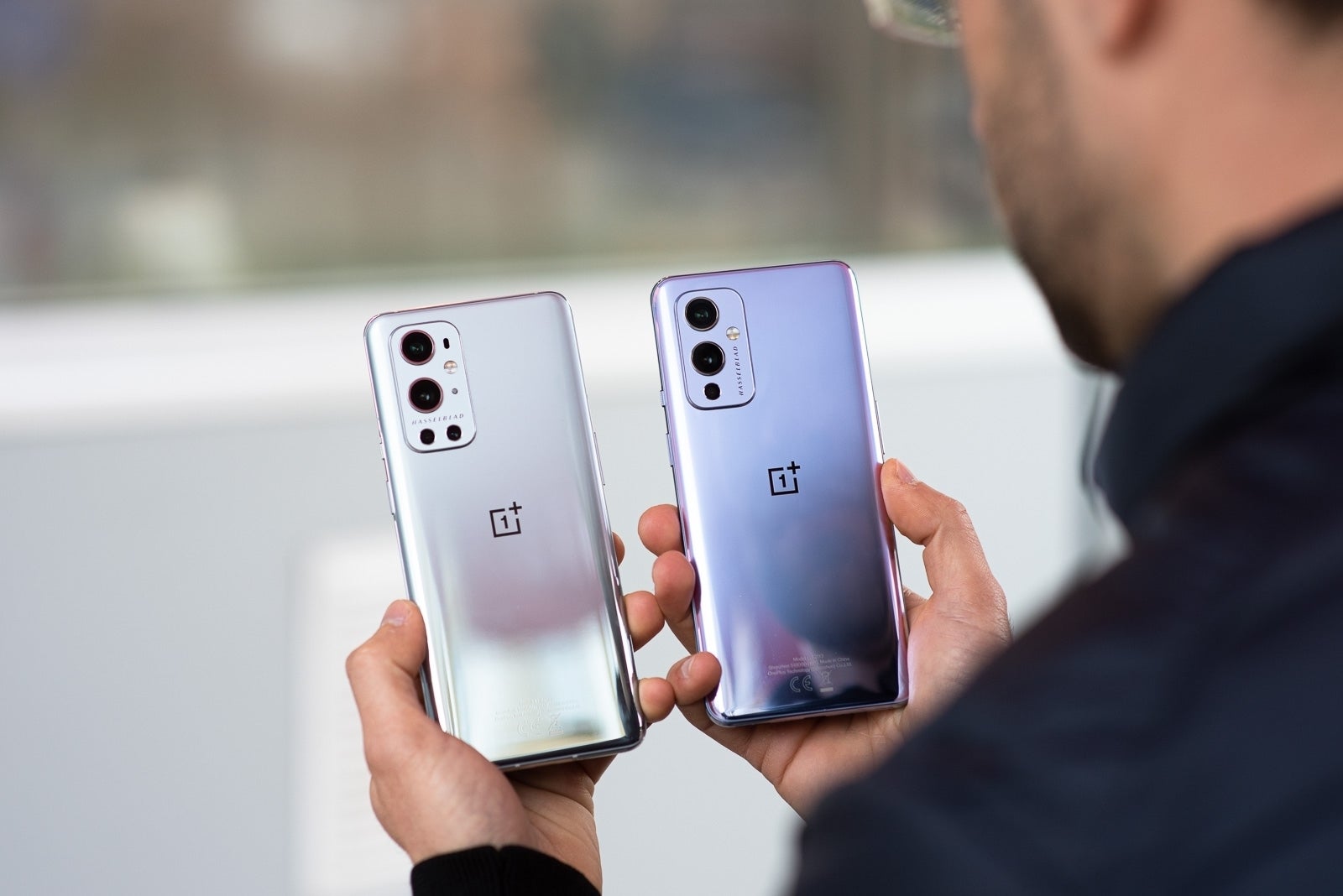 Both the OnePlus 9 and OnePlus 9 Pro sport a 48 MP main camera and a 50 MP ultra-wide camera. The OnePlus 9 Pro adds an 8 MP telephoto camera for some optical zoom. Both the OnePlus 9 and 9 Pro have an extra tiny camera, which is just there for a monochrome filter and we are kind of confused why money was thrown at it. In any case, moving on.
Both phones rock the Hasselblad branding and OnePlus insisted that they perform the same when talking them up on stage. In our experience with the two review units, the 9 Pro is slightly better. In fact, it just has enough "edge" to bring some pop and oomph out of photos and make them "good enough". The OnePlus 9 kind of lacks enough dynamic range and tends to throw a cool cast on photos, making its pictures look a bit dull.
When it comes to portraits, you can still do them zoomed-in on both phones. The OnePlus 9 comes out a bit softer, due to only using digital zoom. But, in general, subject separation and bokeh effects are on the level from both phones.
In night time, both phones struggle a little bit. But, again, it's the OnePlus 9 that has some issues with exposure and dynamics — the OnePlus 9 Pro is definitely a small step above.
Both the OnePlus 9 and OnePlus 9 Pro have a 16 MP selfie camera and it seems to be the same deal on both phones. Unfortunately, it's equally disappointing on both — bad dynamics, narrow angle, not great details. It'll get the job done, for sure, but it's not the one for selfie aficionados or aspiring TikTok stars.
OnePlus 9 vs OnePlus 9 Pro specs

You won't be making a compromise in performance should you choose to go with the OnePlus 9. Both the 9 and 9 Pro rock the same Qualcomm Snapdragon 888 processor — otherwise known as the flagship SoC for Android phones in 2021. Both come in memory options of 128 GB + 8 GB RAM or 256 GB + 12 GB RAM. No microSD card slot on any of them, as usual with OnePlus devices.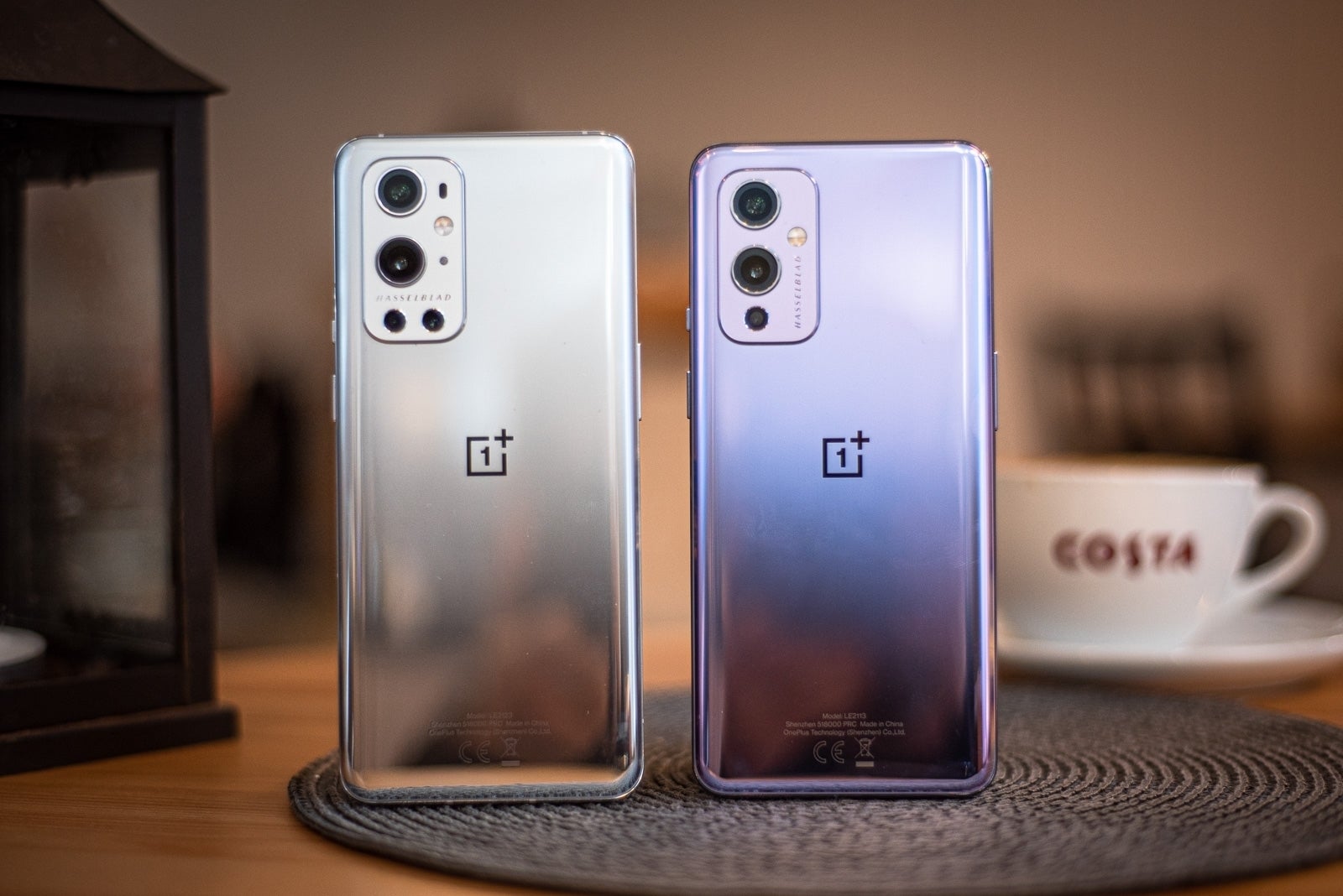 Between the super-fast hardware, the perfectly optimized Oxygen OS (on top of Android 11), and 120 Hz screens with 240 Hz sampling rates, these phones fly. Both of them — no matter whether you go for the OnePlus 9 or 9 Pro, performance will not be an issue.
OnePlus 9 vs OnePlus 9 Pro battery life
As for battery, both phones have 4,500 mAh cells and mostly perform the same. Yes, the OnePlus 9 Pro can drain a bit more battery thanks to a higher resolution and a generally bigger display. But, for what it's worth, both these phones can get you through the day without a hitch. Well, heavy users might get pressed by low percentage in the afternoon, but I am talking use cases where you are constantly on the camera or playing PUBG Mobile. Casual users will be just fine.
And, even if you go overboard with your battery usage, the 65 W that comes in the box will top up your phone in 30 minutes. Yes, no typo — 0% to 100% in 30 minutes. The OnePlus 9 Pro also supports 50 W wireless charging that tops it up in about 45 minutes with the proprietary charger. The OnePlus 9 only supports "slow" wireless charging.