OnePlus 9 Pro vs OnePlus 8 Pro
1
We may earn a commission if you make a purchase from the links on this page.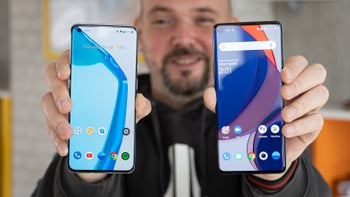 OnePlus has been launching "Pro" editions of its phones over the past few years, and the latest OnePlus 9 series makes no exception. This year, it has the fancy Hasselblad branding, a bold redesign to go with that, and — you know — newer hardware.
At the time of writing this, OnePlus.com sells the OnePlus 8 Pro for $700 (256 GB + 12 GB RAM) and the OnePlus 9 Pro for $1,070 (256 GB + 12 GB RAM). So, which one should you buy?
All things considered, I have to recommend the OnePlus 8 Pro. It still performs great, it looks and feels great, and its camera… Well, it might lack a Hasselblad branding but it doesn't seem to hamper it too much. Dare I say, in some situations, the OnePlus 8 Pro camera is better.
Also read:
OnePlus 9 Pro vs Galaxy S21+
OnePlus 9 Pro vs OnePlus 8 Pro display and design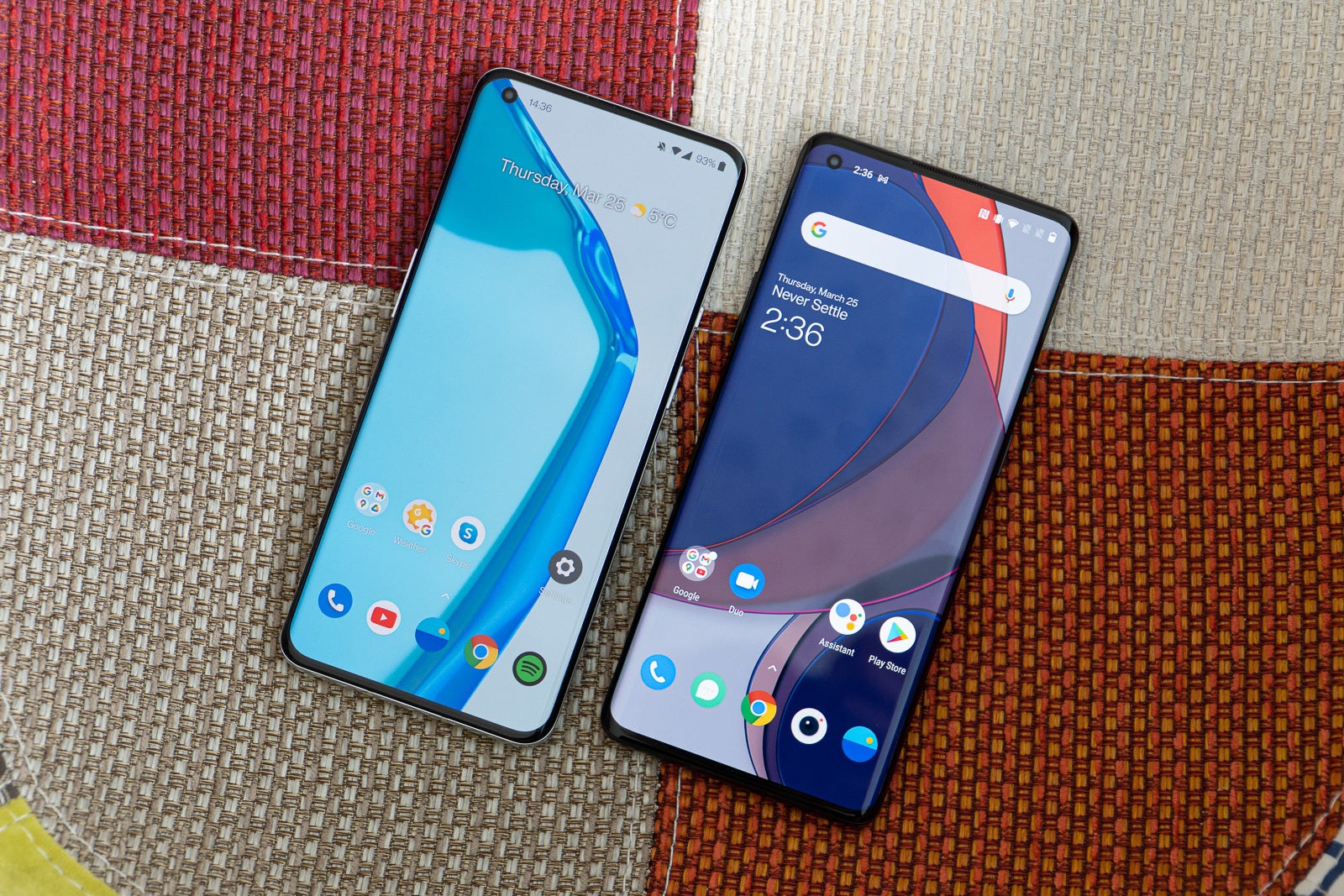 OnePlus 9 Pro - left; OnePlus 8 Pro - right
Both the OnePlus 9 Pro and OnePlus 8 Pro have 120 Hz panels on the front. Yes, the OnePlus 9 Pro utilizes LTPO technology, allowing the screen to tick down to 1 Hz when needed, to conserve battery. But, with that somewhat small upgrade aside, you can rest assured that both panels are just beautiful — vibrant colors, multiple color profiles to pick from, and super-smooth animations.
There's a small difference in screen sizing, as the OnePlus 8 Pro has a 6.8-inch screen with a 19.8:9 ratio and the 9 Pro has a 6.7-inch screen with a 20:9 ratio. To put it in simpler terms, the shape of the rectangle is very slightly different, but in general, you are working with pretty much the same amount of screen real estate.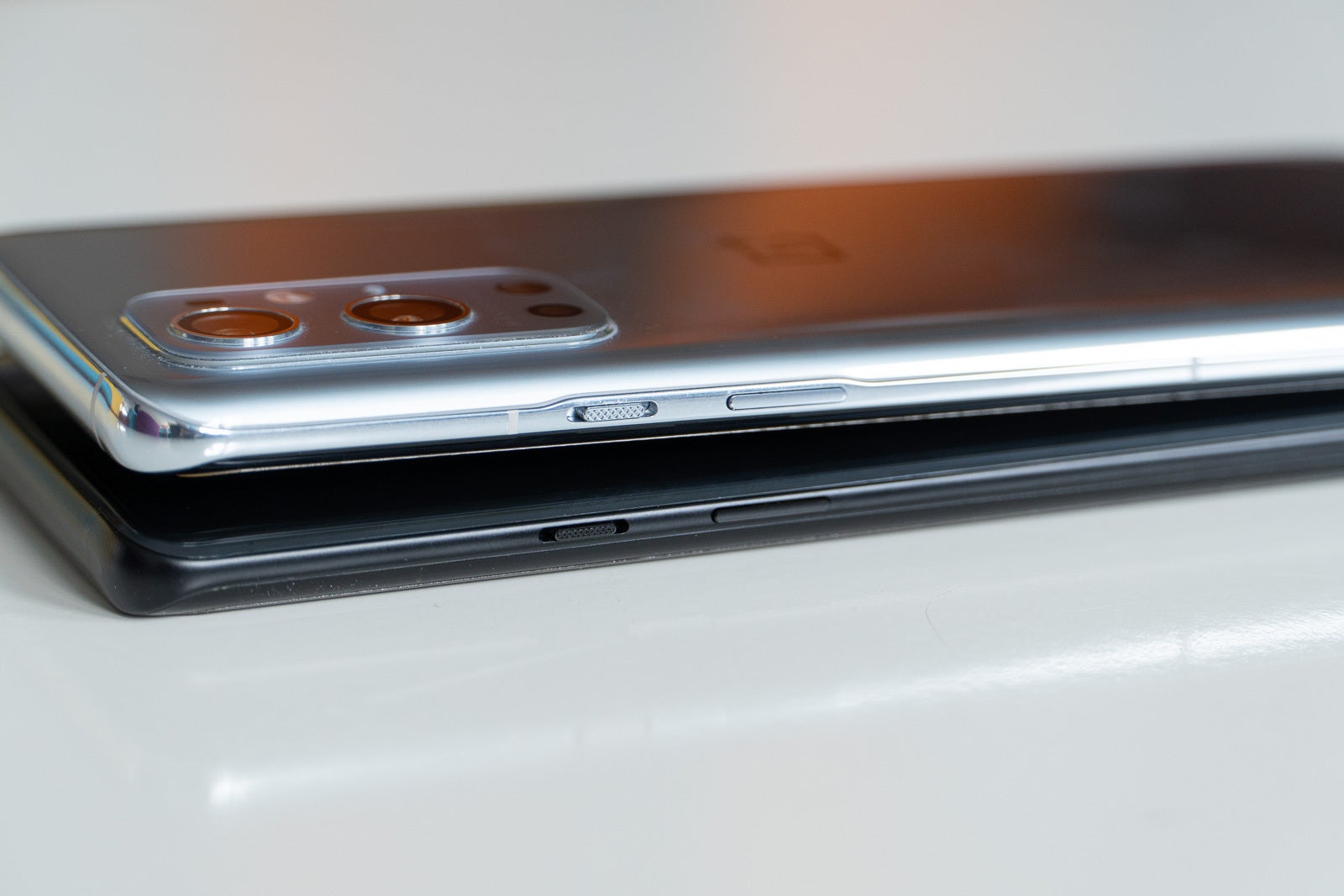 Both phones have curved edge screens, but with the 9 Pro, OnePlus flattened the curve just a little. This is there to reduce color warping and ghost touches around the sides. The change is subtle and can be hardly caught on photos, and only becomes apparent when holding both phones in hand.
Personally, I am a fan of the more dramatic curve. If you don't want it — just make a phone with a flat screen, eh? Oh wait, they did — the OnePlus 9.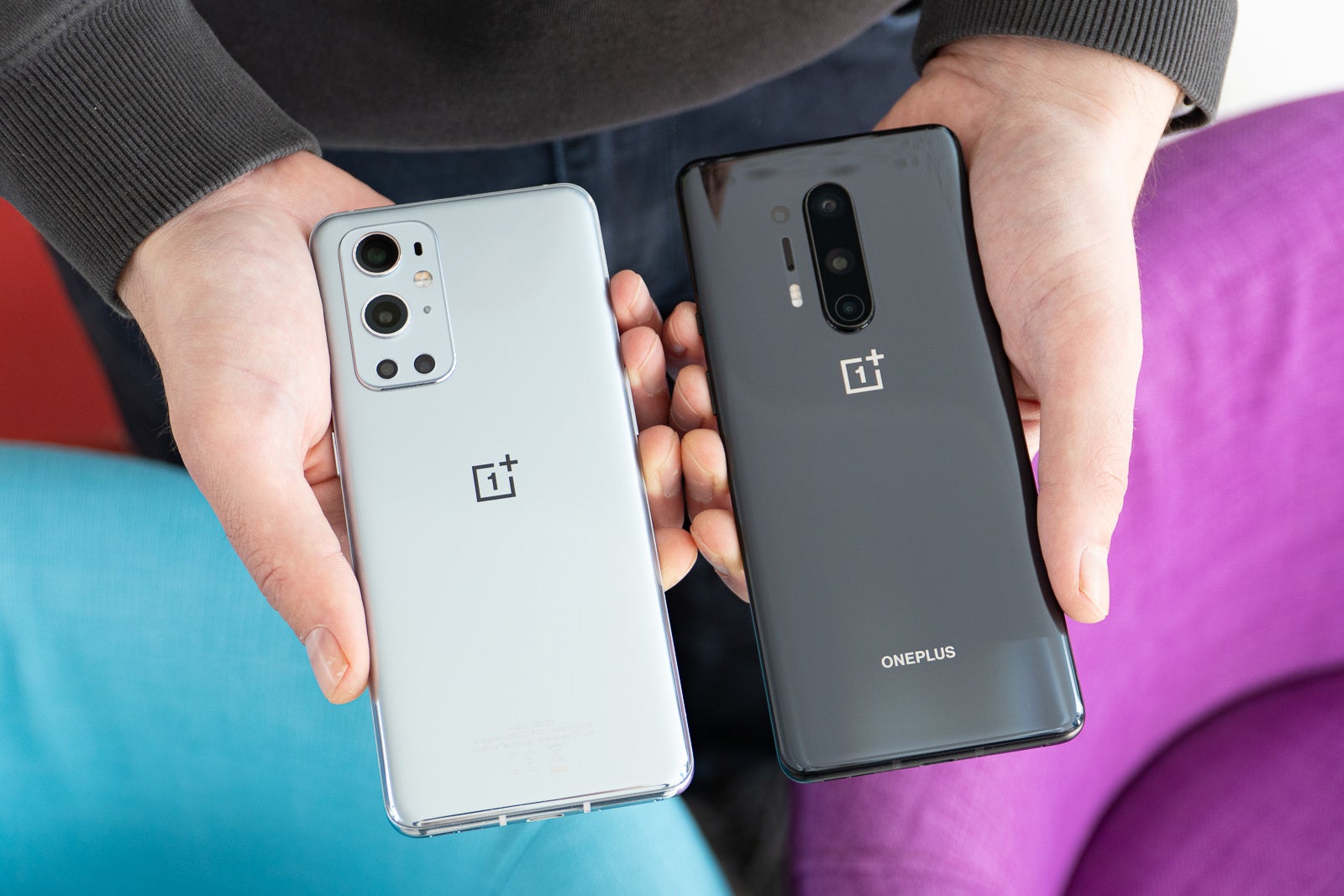 OnePlus 9 Pro - left; OnePlus 8 Pro - right
The backs of both phones are curved for a more comfortable fit in the palm and both feel balanced and nice to hold. We have perfectly clicky buttons on both sides, and the hardware mute switch, which is amazing and I wish more Android manufacturers would make them.
The OnePlus 9 Pro's stereo speakers sound a bit nicer — deep and detailed without getting harsh. The OnePlus 8 Pro's speakers are nice, but definitely sound a bit thinner.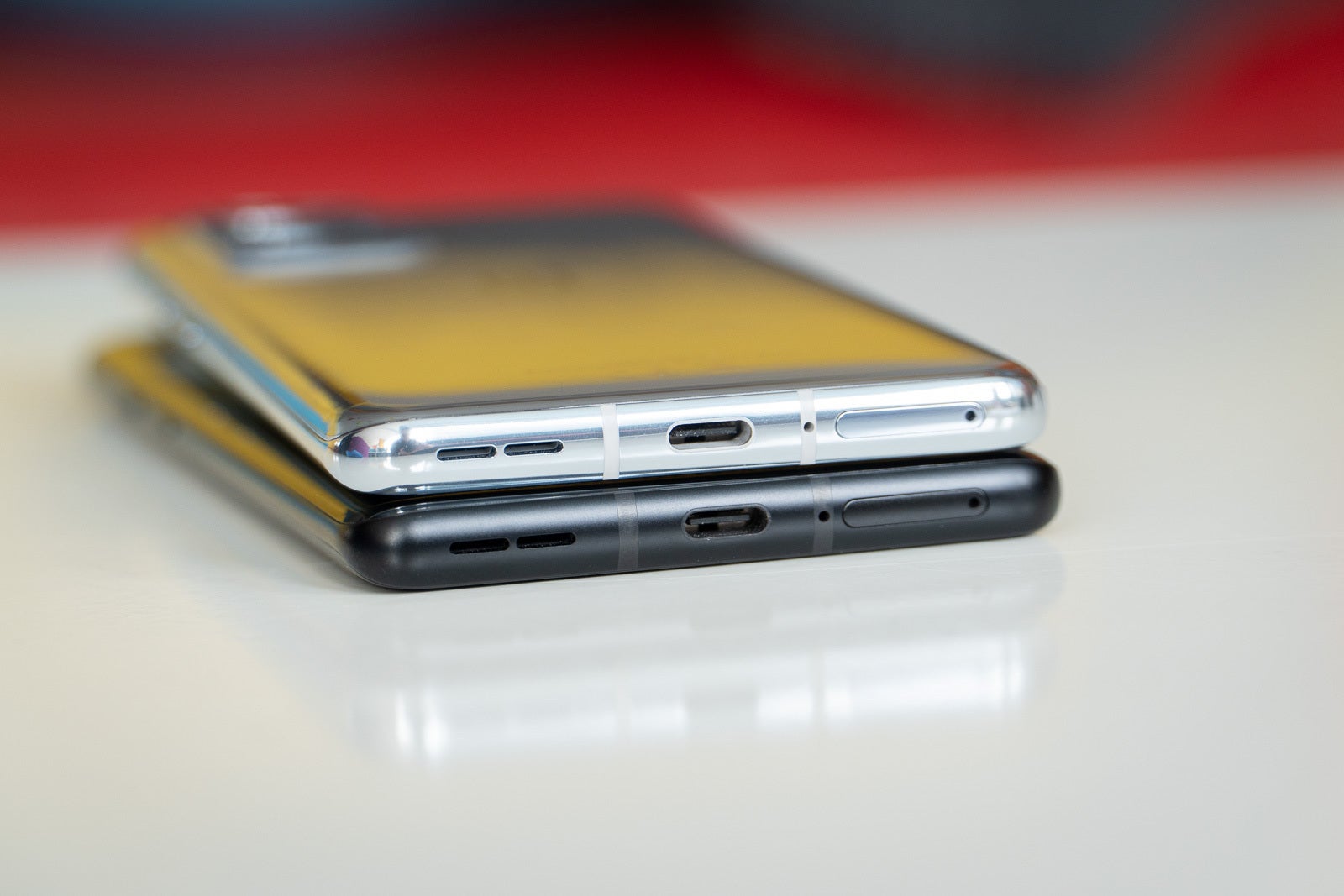 In terms of haptics — OnePlus had this down all the way back with the OnePlus 7. Now, the company is just doubling down and just showing off — the haptic vibration of these phones is ticky and super accurate. The latest Oxygen OS underlines that with having small tips and taps all throughout the interface, and it definitely feels super fancy to get all this precise feedback from the phone.
OnePlus 9 Pro vs OnePlus 8 Pro camera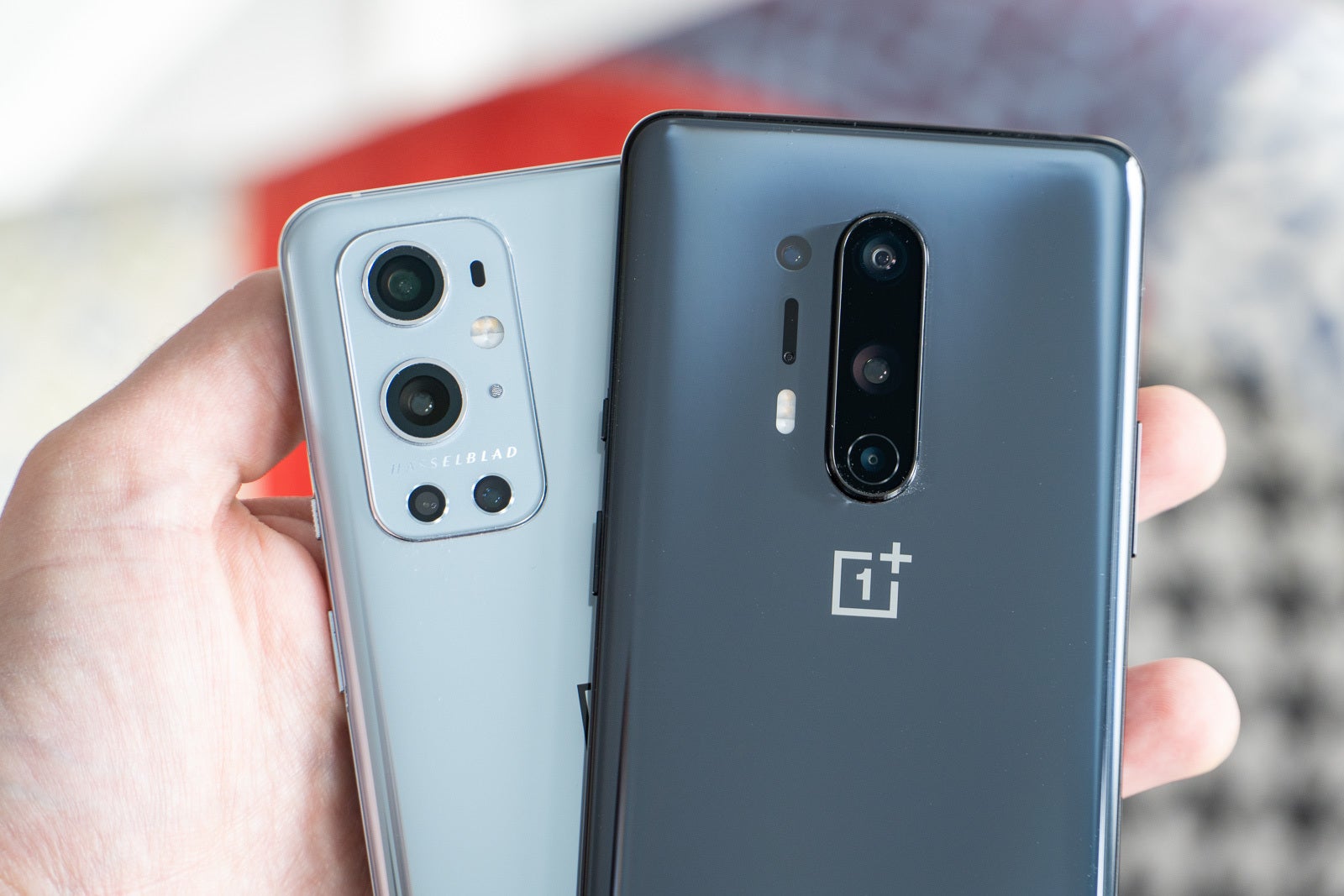 OK, both phones have a 48 MP main camera, but — of course — the OnePlus 9 Pro has that Hasselblad partnership to lean on to. Supposedly, the color reproduction and post-processing have been fine-tuned in partnership with the legendary camera maker.
OK, OK, fair enough. What's the result?
Well, the photos look very similar in terms of details and dynamics. If you really look for it, you can notice the OnePlus 9 Pro being a bit more contrast-ey, giving just a little bit more depth to objects. But I am talking, really look hard and maybe try to imagine it.
The main difference in both cameras, as you might have noticed, is color. The OnePlus 8 Pro pictures are noticeably warmer and I really like the colors — tame, subdued, pretty realistic. The OnePlus 9 Pro photos have a colder cast consistently, from one scene to the next. And the sky is a bit too blue — almost neon blue. I might be the crazy one here, but I kind of like the daytime photos from the OnePlus 8 Pro more.
Then, the ultra-wide cameras — the OnePlus 8 Pro has a 48 MP ultra-wide, the OnePlus 9 Pro has a 50 MP ultra-wide snapper. And, over here, we have a different deal. The OnePlus 9 Pro has been praised left and right about it's ultra-wide camera and for good reason. Great colors, great detail, great contrast.
< OnePlus 9 Pro
OnePlus 8 Pro >
The OnePlus 8 Pro's ultra-wide isn't bad, but ot does look just a tad softer with highlights getting just a bit washed-out. In general, both are good ultra-wide cameras, but the OnePlus 9 Pro is 2 steps ahead.
What about zoom? The OnePlus 8 Pro has a 3x telephoto lens with an 8 MP sensor, the OnePlus 9 Pro has the same sensor but upgrades to a 3.3x zoom. Both cameras can go up to 30x digital magnification.
OK, which one has the better zoom? Well, both look fairly bad at 30x, but that's a given. Dialing it back a little — at 10x, the OnePlus 8 Pro is soft and a tad noisy. The OnePlus 9 Pro cleans up the noise nicely, but I can see a lot of oversharpening outlines. So, it's basically blow for blow. You probably don't want to zoom in a lot with either of those phones.
Both the OnePlus 8 Pro and OnePlus 9 Pro have 16 MP selfie cameras, and it seems like no change has been made here. They perform pretty much the same. Which is to say, dynamics are not great and skintone is off — I look a bit pale and sickly. So, not amazing selfies, but hey — with filters and whatnot, it can get the job done for social media.
Moving on to night photos — the phones keep trading blow for blow. The general overarching story, though, is that the OnePlus 9 Pro's contrast-y photos make for slightly better night shots. Also, with Nightscape off, the OnePlus 8 Pro takes softer, fuzzier pictures. When you turn Nightscape on, it gets a bit better, but the OnePlus 9 Pro is still in the lead. And moving to ultra-wide cameras — it's not even a comparison. The OnePlus 9 Pro's ultra-wide is just better, hands down.
When it comes to video, comparing these is a tough job. The footage looks almost identical with the minor exception that the max zoom on the OnePlus 9 Pro looks noticeably worse than the max zoom of the OnePlus 8 Pro. Interesting.
Otherwise — great colors, great video, great details, definitely good video from both sides.
OnePlus 9 Pro vs OnePlus 8 Pro performance and software
OnePlus' Oxygen OS is a very light, very efficient Android reskin, with a very specific focus on feeling responsive and fast. As such, it does a great job on both phones. The OnePlus 8 Pro has received the Android 11 update, the OnePlus 9 Pro comes with Android 11 out of the box. They look and feel identical.
Of course, being a 2020 model, the OnePlus 8 Pro has an older chipset. Not a big deal really, since its Snapdragon 865 is still a pretty good processor. In benchmarks, the OnePlus 9 Pro and its Snapdragon 888 win — obviously. In real life… both phones are fantastic performers.
Moving on to memory — both phones have a 128 GB + 8 GB RAM and 256 GB + 12 GB RAM variants. Though, it's worth noting that, at the time of writing this, the only OnePlus 9 Pro that's available on the OnePlus.com site is the 256 GB + 12 GB one.
In other words, you've got very, very similar devices here. The 8 Pro might be a year old but it's holding its own. It's worth noting that OnePlus phones come with a guarantee for 2 years of major Android updates and 3 years of security patches. Which means that the 8 Pro still has 2 years of support left.
OnePlus 9 Pro vs OnePlus 8 Pro battery life
Both phones have pretty similar cells — 4,510 mAh on the OnePlus 8 Pro, 4,500 mAh on the OnePlus 9 Pro. In our tests, they went blow for blow depending on the activity. But a steady 9 hours of screen on time was observed.
The battery life of these phones is not phenomenal, but it will surely last you a day. And, if not, they both have fast charging. And here's where they do differ.
The OnePlus 9 Pro has the new Warp Charge 65T — 65 Watt charging that tops the phone up in 30 minutes. That's half an hour for 0% to 100%!
The OnePlus 8 Pro utilizes a 30 W charger and is slower on the top-up — 70 minutes. But it's important to note how fast charging works — it's much faster at the lower levels. The OnePlus 8 Pro can get from 0% to 40% in 20 minutes, which is still convenient and usable.
In any case, the OnePlus 9 Pro's new Warp Charge is amazing and we haven't even touched on the 50 W wireless charging. Yep, that's 0% to 100% in 45 minutes on a wireless charger. As long as you buy the charger for an extra $70. The OnePlus 8 Pro is limited to 30 W on wireless, which is not too bad, but nowhere near as fast.