Xiaomi Mi 11 5G Review
7
We may earn a commission if you make a purchase from the links on this page.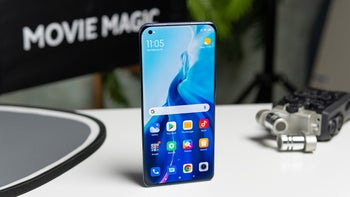 "Two steps forward, one step back"
, that's exactly how the new Xiaomi Mi 11 feels when take into consideration all of its merits and demerits. It does a lot of things very well and improves the formula that makes
Xiaomi
flagships simply work, but I also think it also changes some things for the bad.
While the phone has evolved in a meaningful way over its predecessor, the Mi 10 5G that I have used and loved, the Mi 11 arrives with a power-hungry display, slightly smaller battery, and less versatile camera setup that mostly reuses the hardware from the Mi 10. Viewed in a vacuum and considering its $749 in China and other applicable markets, the Mi 11 is a great phone, but not as good as I'd have liked it to be. Is that a problem? Given that Samsung's Galaxy S21-series didn't introduce that much improvements over the previous generation, I'd say Xiaomi gets a pass this time.
But make no mistake, I'm definitely waiting for the true Xiaomi flagship of 2021, the Xiaomi Mi 11 Ultr, which could be a quite promising device. But all we have now is the appetizer - the
Mi 11
.
Design
The way I see it, Xiaomi has been killing it in terms of design in the past few years. Starting from the Mi 9 up until the Mi 11, each device has been exceptional in terms of overall look and feel, and although the glossy exterior of the Mi 9 was considered a misstep by many, I liked it. The new Mi 11 utilizes frosted Gorilla Glass in its build, ensuring for a silky smooth feel that offers enough grip while retaining virtually no fingerprints. The display has a slight curve at the edges, which isn't as abrupt as the one on the Mi 10-series but still makes for gesture-based navigation a bit more pleasing, especially when a case is involved. And let's be honest, you'd probably want to use a case with this large phone for that extra protection.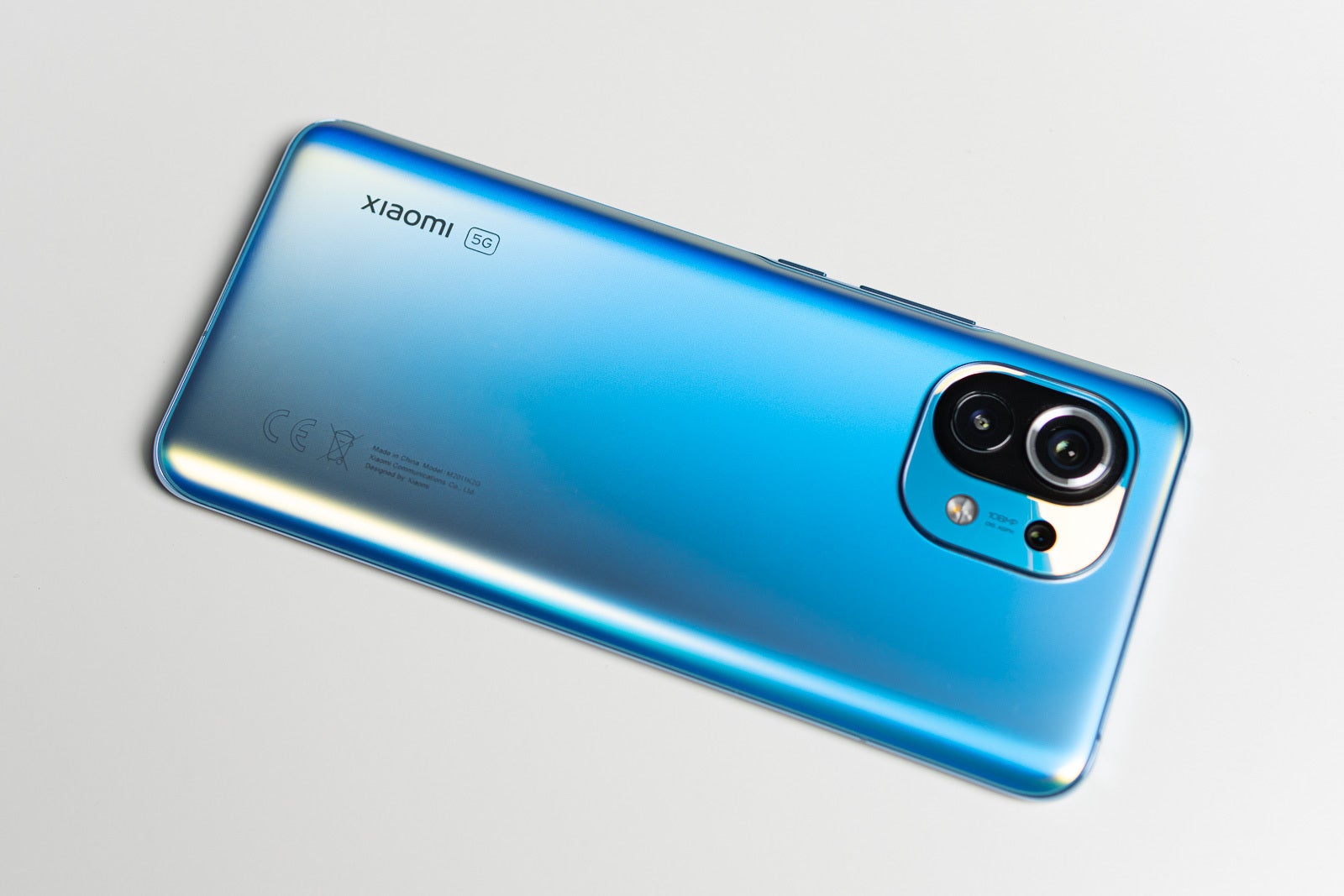 I love the colors on the Mi 11. We had the blue Mi 11, but what surprised me the first time I held the phone against the light is the shimmery play of hues that ensued: blue and yellow and even some dark violet at the edges intertwined in a captivating display of colors. I absolutely love that. I also love the exaggerated rim around the main 108MP camera, as well as the glossy two-tone camera island that makes for an interesting design element that stands out. I also love the curved back of the phone, which fits oh-so-nicely in the hand and leaves the impression of a much more compact device.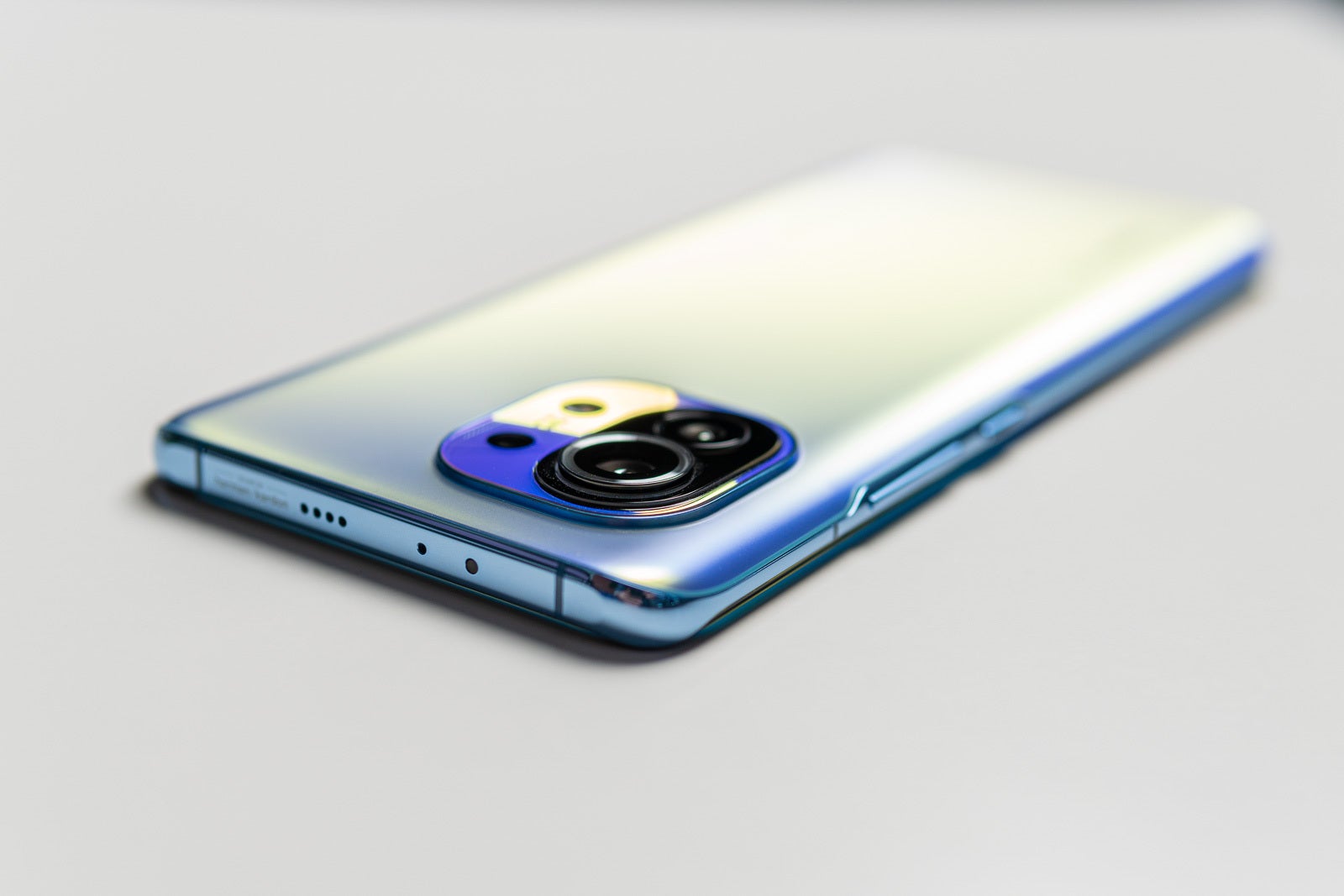 In a typical Xiaomi fashion, the Mi 11 comes with an infrared blaster to command other gadgets, but if you're looking for a headphone jack or microSD card slot, tough luck. Fortunately, there are dual stereo speakers tuned by Harman Kardon, which sound great. The haptics are quick and precise, which is definitely a noteworthy quality-of-life improvement.

Display
The Mi 11 is outfitted with a large, 6.8-inch OLED display with up to 120Hz refresh rate. The screen has a QHD+ resolution, which is a fancy way of saying it boasts 1440 by 3200 pixels. That's plenty sharp, but totally unnecessary as anything past FHD+ is totally an overkill in regular day-to-day use. What would have been more impactful is a FHD+ display which would have introduced further energy savings.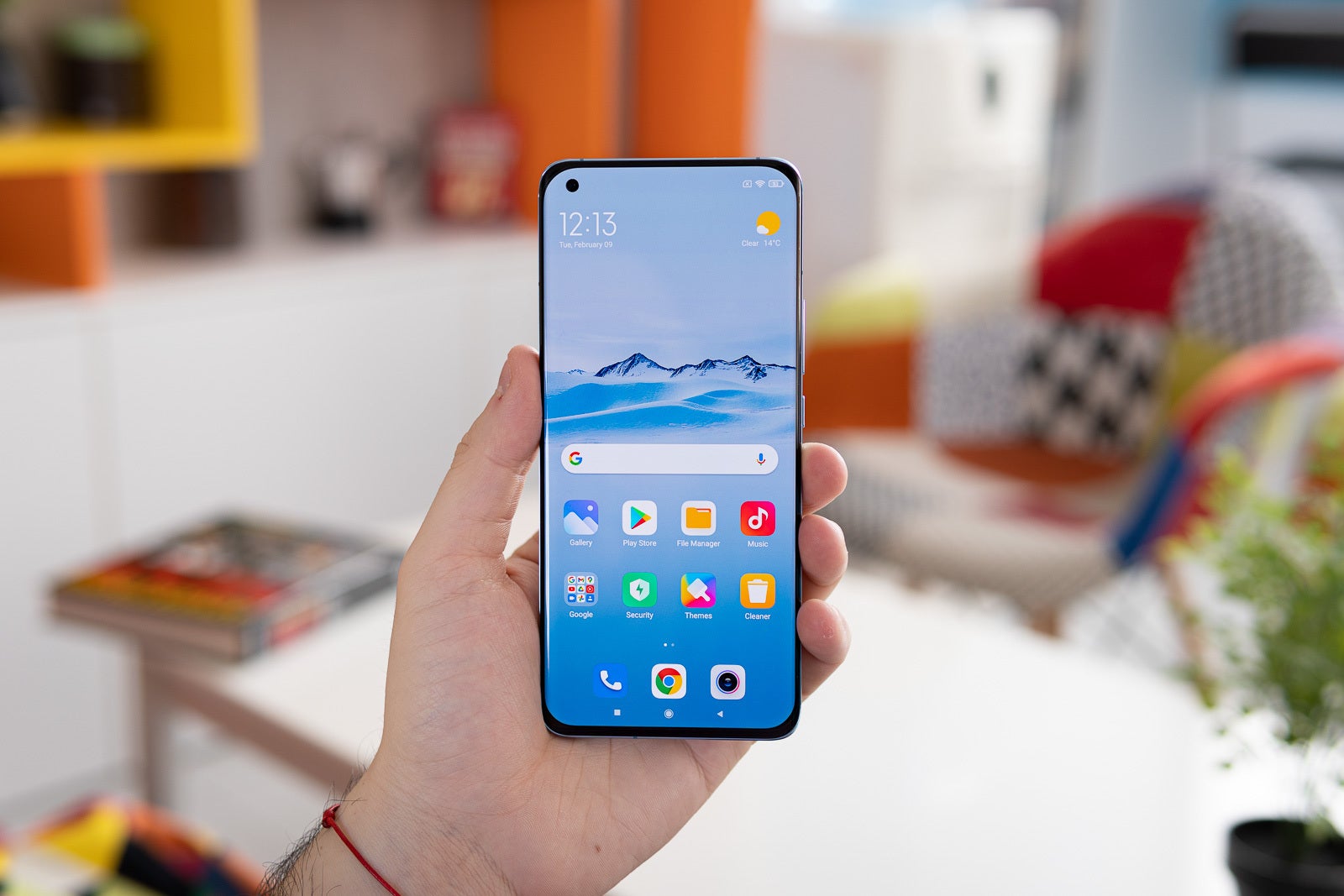 Still, the display is truly gorgeous to look at, and while the default screen mode is a bit colder than the ideal 6500K color temperature, Xiaomi has thrown in tons of configuration settings that let you switch to a more muted sRGB, a vivid P3 or an overly saturated color scheme, or even tweak the colors your own way. No matter which color option you go for, I don't think the display will disappoint you.
Display measurements and quality
Performance
The Xiaomi Mi 11 was the first phone to be announced with the Qualcomm Snapdragon 888 chipset, which is one of the fastest available for Android devices right now. I'm not going on with the usual babble that you wouldn't notice any lag or slowdowns, because you won't. Actually, the past few generations of smartphone chips have been so fast that the difference in perceived speed has been incomprehensible at best. The Mi 11 performs admirably in all scenarios one might expect to encounter, though it doesn't necessarily feel faster than any other contemporary flagship phone. This is a testament to how fast chipsets have become.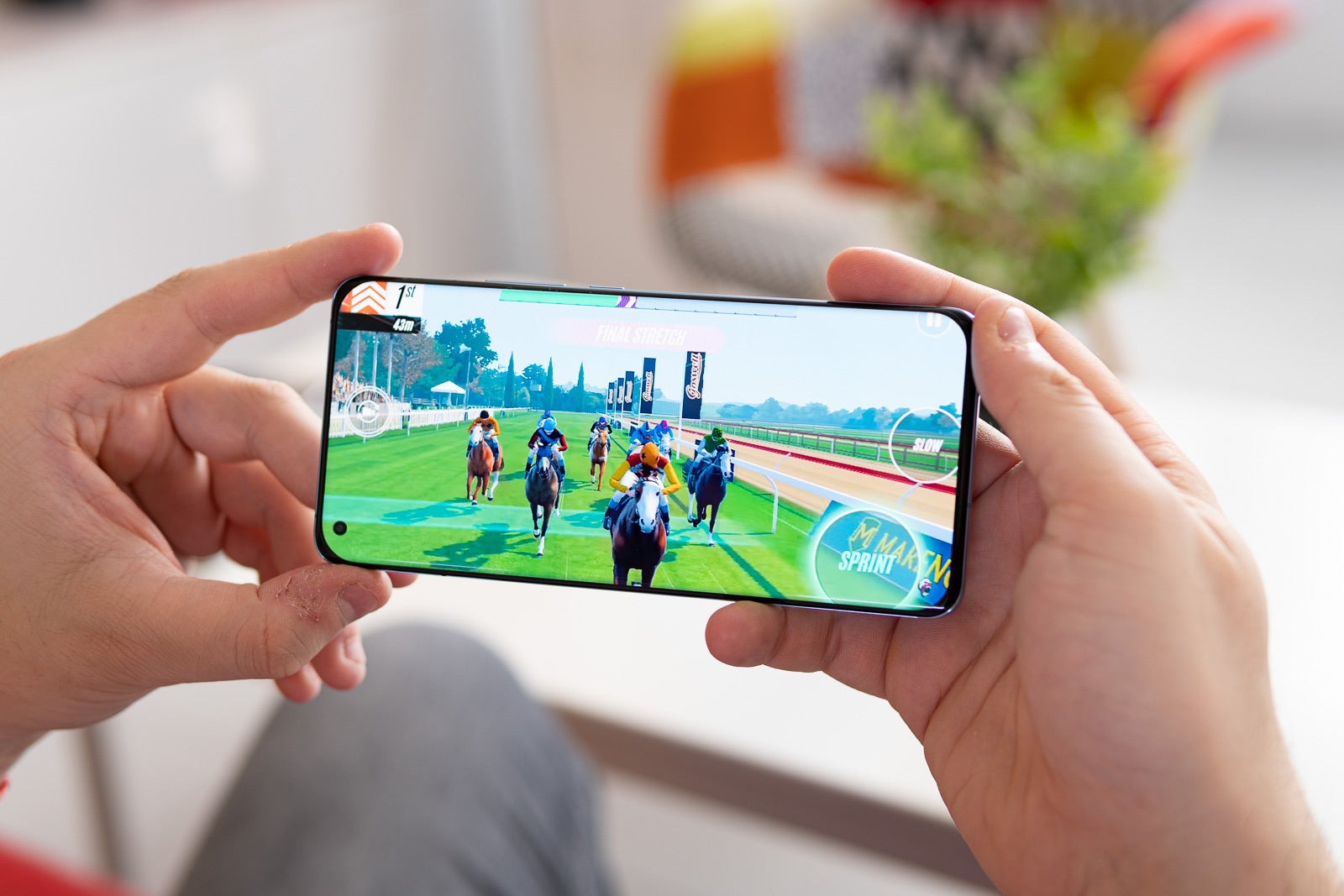 With 8GB of RAM, the user has ample headroom for using multiple apps at the same time. I didn't notice any aggressive RAM management behaviour and apps that were supposed to stay open did just that. Thankfully, there's also a 12GB version of the phone present, which should be an even better match for demanding users. The latter comes with 256GB of native storage, which is more than enough, but have in mind there's no microSD card slot expansion possible on the Mi 11.
When it comes to performance, notice that the Xiaomi Mi 11 actually beats the Galaxy S21 series (the results above are for the Exynos version of the S21 phones). So yes, the Snapdragon 888 is indeed the most powerful chip in the Android landscape at the launch of the Mi 11, and the device feels blazing fast.
Sustained Gaming Performance
We are also running the 20-minute 3D Mark Wildlife test which shows how different chips perform under more prolonged usage, and that data is particularly interesting for the gamers out there to see if the chip on their phone throttles and to what extent.
And these results are really shocking: notice how after about 15 minutes of running the test, the Exynos throttles significantly and its performance drops by about 30%, while the Snapdragon degrades in performance ever so slightly, and 20 minutes into the test the Mi 11 powered by the Snapdragon 888 actually outscores the S21 Ultra powered by the Exynos 2100 with a score of 5,023 to 3,714, a 26% advantage for the Mi 11!
Software and functionality
MIUI remains one of the most functional Android skins out there, with tons of neat features hidden everywhere throughout the interface. It also looks good, despite borrowing certain visuals from iOS. It's also one of the few custom interfaces out there which has multiple user support. The Second Space feature is a mighty useful one: it allows you to create two separate working spaces and access each one instantaneously by unlocking the phone with a different finger. There are tons of intriguing features in the camera app as well, but we will get to that later.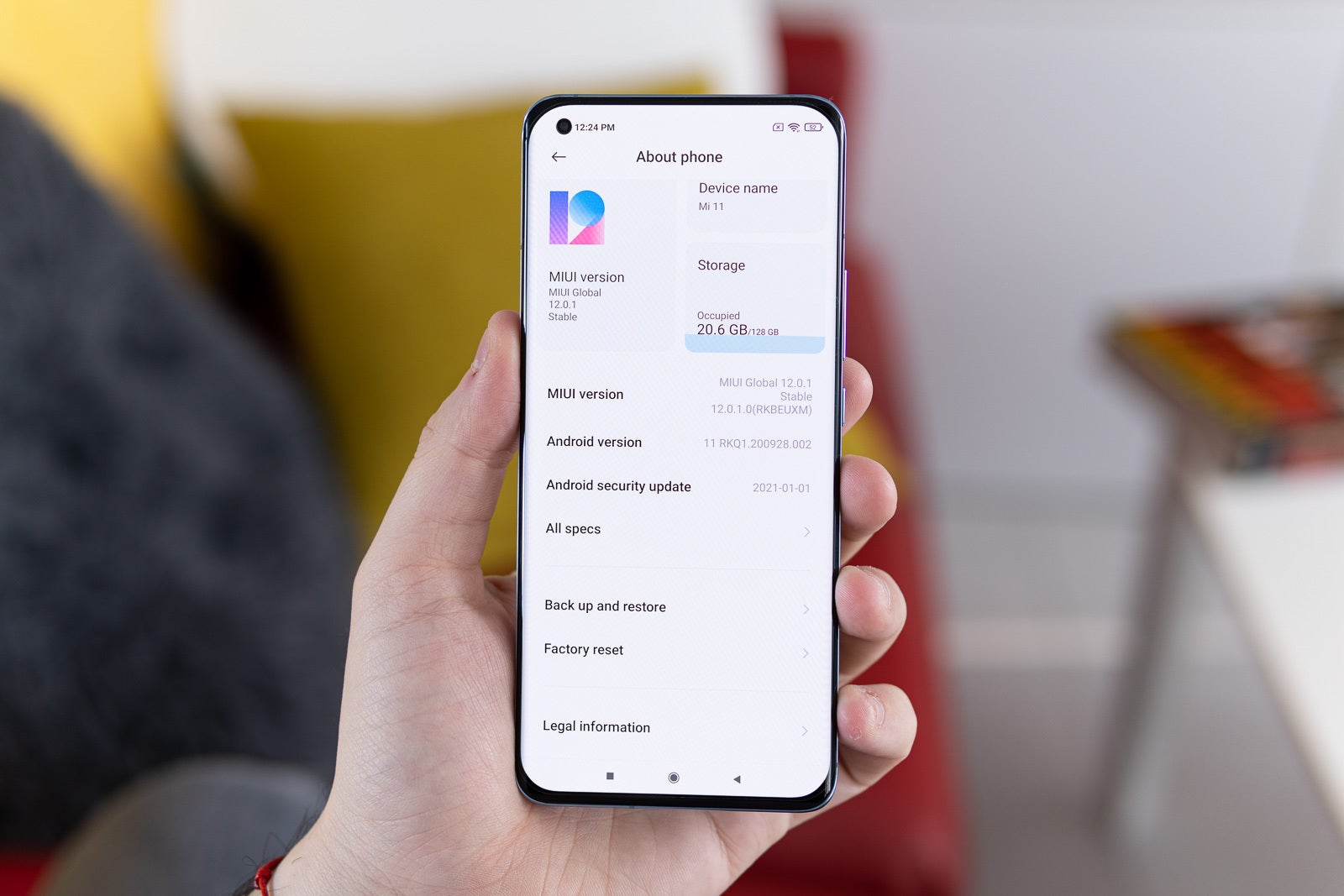 The optical fingerprint scanner embedded in the display is pretty fast and accurate, but the most interesting bit about it is that it doubles as a heartrate monitor. Holding a finger on the scanner for a brief 15-second scan allows the Mi Health app to measure your current heart rate. The accuracy of the tool probably shouldn't be trusted fully, but is a neat feature nonetheless.
There's a pretty fast face unlock feature as well, and while it's entirely photo-based and not as secure as 3D face unlock solutions, it's quite convenient as it unlocks the phone in an instant.

Camera
The camera app on the Xiaomi Mi 11 is rich in shooting modes and various features, some of which are quite gimmicky but there are some useful ones as well. What's more useful here is the improved AI feature of the camera, which now automatically switches to Night Mode when it detects that the light is simply not enough.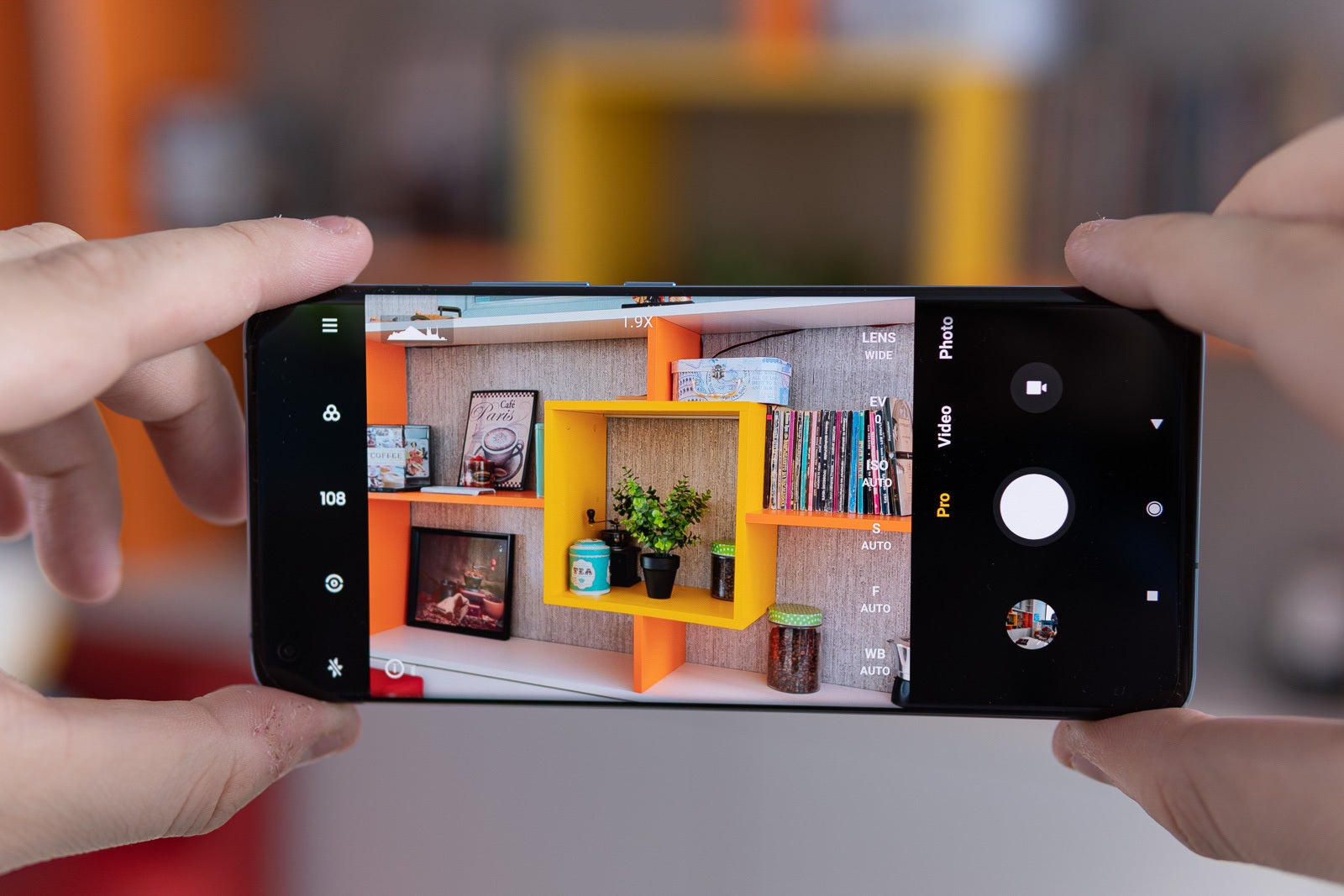 Speaking of the camera on the Xiaomi Mi 11 utilizes the same 108MP that was found on last year's Mi 10, though it's been downgraded in some regards. For one, the new phone has a main aperture of F1.9 whereas last year's flagship utilized an F1.7 aperture. There's also a ultra-wide camera and a macro shooter at the rear, but no telephoto. A shame, as a telephoto would have been times more useful than a macro lens, but what can you do. Yet, the lack of a dedicated camera doesn't prevent you from zooming in on your subject: you can get at up to 30X with the Mi 11, though anything past 10X is barely usable. Xiaomi is probably saving its best new camera tech for the Mi 11 Ultra, which has leaked profusely.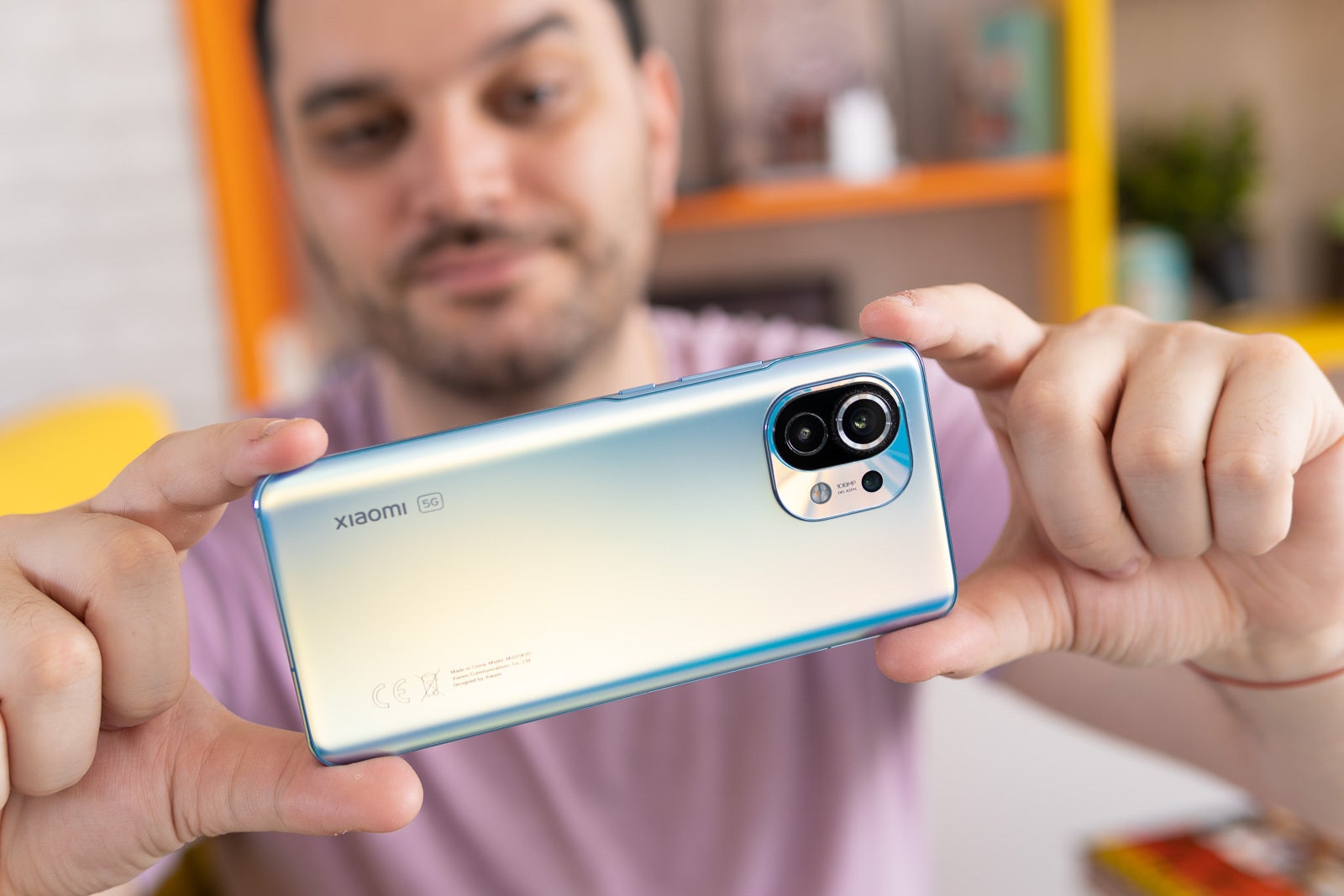 How's the image quality? Pretty good! Photos turn out true-to-life, with excellent details and dynamic range. Colors are a bit on the conservative side, focusing on realism instead of being too vivid. The automatic HDR does its job well, though it doesn't bring up details in the shadows as much as I'd like it to, but that's just me. Portraits turn out with great subject separation though I'd have loved for a zoomed in 2X view in portrait mode, which would have made for a more flattering field of view. Selfies are well-detailed thanks to the 20MP hole-punch camera, and with some slight post-processing they can become great additions to one's social feed.

Here's a comparison between the three main zoom levels that are offered to the user right off the bat: 0.6X, 1X, and 2X.
By default, the Mi 11 takes massive 27MP pictures, which usually range between 10 and 20MB of storage. A brief photography trip one afternoon used nearly a gigabyte of internal memory, though I could have saved some space if I had used the HEIF format. It's not as widely supported in most third-party apps, though, so I went for the better compatibility. If you're a photography bug, definitely go for the larger storage version. That said, here's a full 108MP image.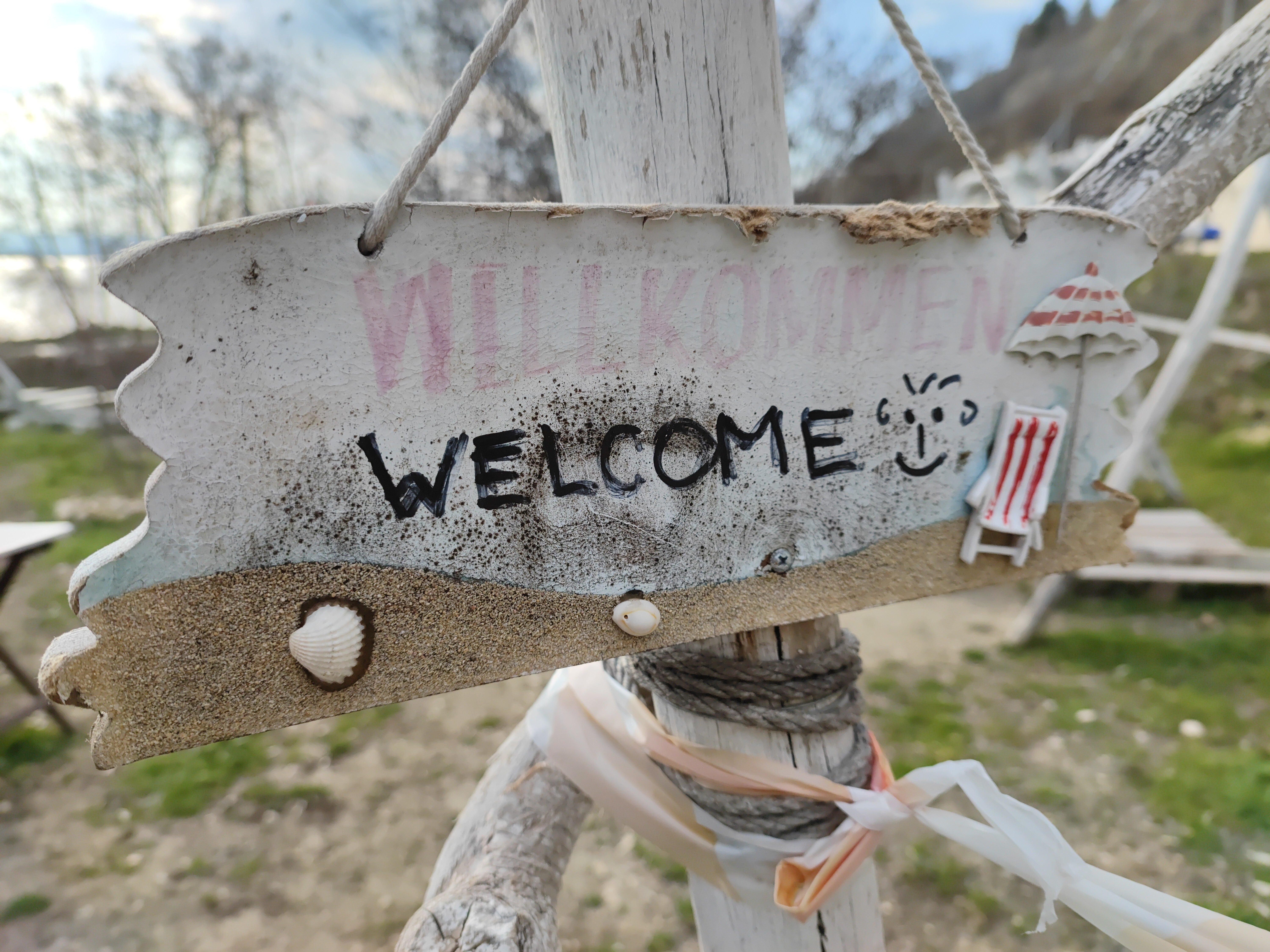 Xiaomi Mi 11 108MP sample
Portraits don't exhibit that much artifacts despite the removal of the dedicated depth sensor.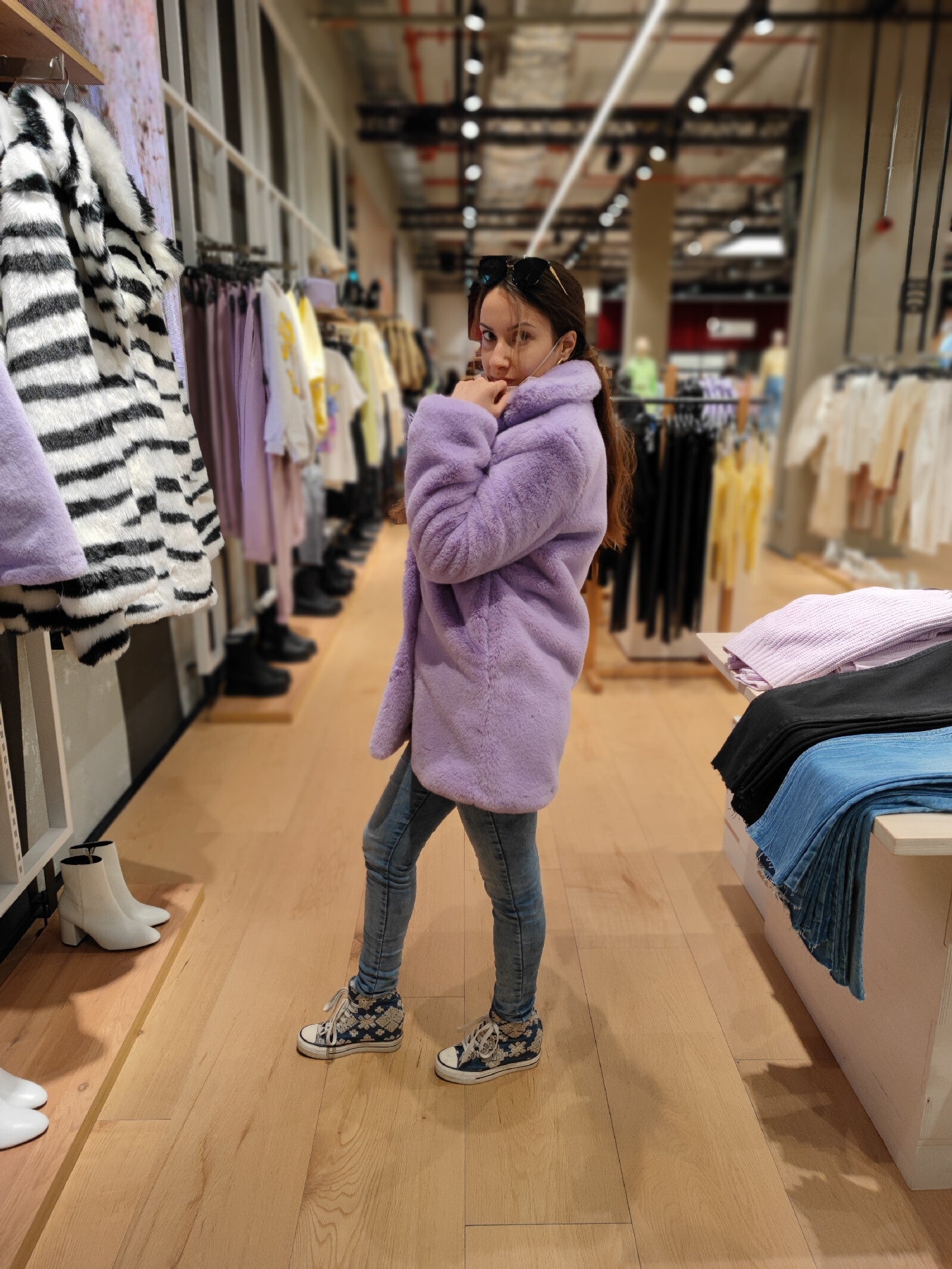 Xiaomi Mi 11 potraits
Otherwise, as seen in the sample shot below, good lighting conditions will reward you with excellent pictures.
Selfies are great, but only if you disable the strong beautification effect that's enabled by default.
As I mentioned before, Night Mode now automatically turns on when the phone detects the lights are too low. Make sure the respective option is enabled in the camera settings menu, but it should be enabled by default. As far as low-light camera quality goes, it's alright, nothing to write home about. Colors are slightly muted and not as vivid as I'd like, while details in the darker areas of the scene don't get brought up as much as I usually love.
Video can be shot at up to 8K@30fps, which seems the upper standard in early 2021. Videos turn out great and perfectly usable for further editing. There's lots of useful and fun features here: VLOG will let you shoot creative intros for your vlogs, while Movie Effects lets you snap interesting types of footage.
Battery
The 4,600mAh battery on the Mi 11 usually lasts me a full day of moderate-to-heavy usage. For the record, I have it set at FHD+ resolution and a 120Hz refresh rate with all the bells and whistles enabled. I expected the phone to last a bit more, but I guess the high-res display is drawing too much power.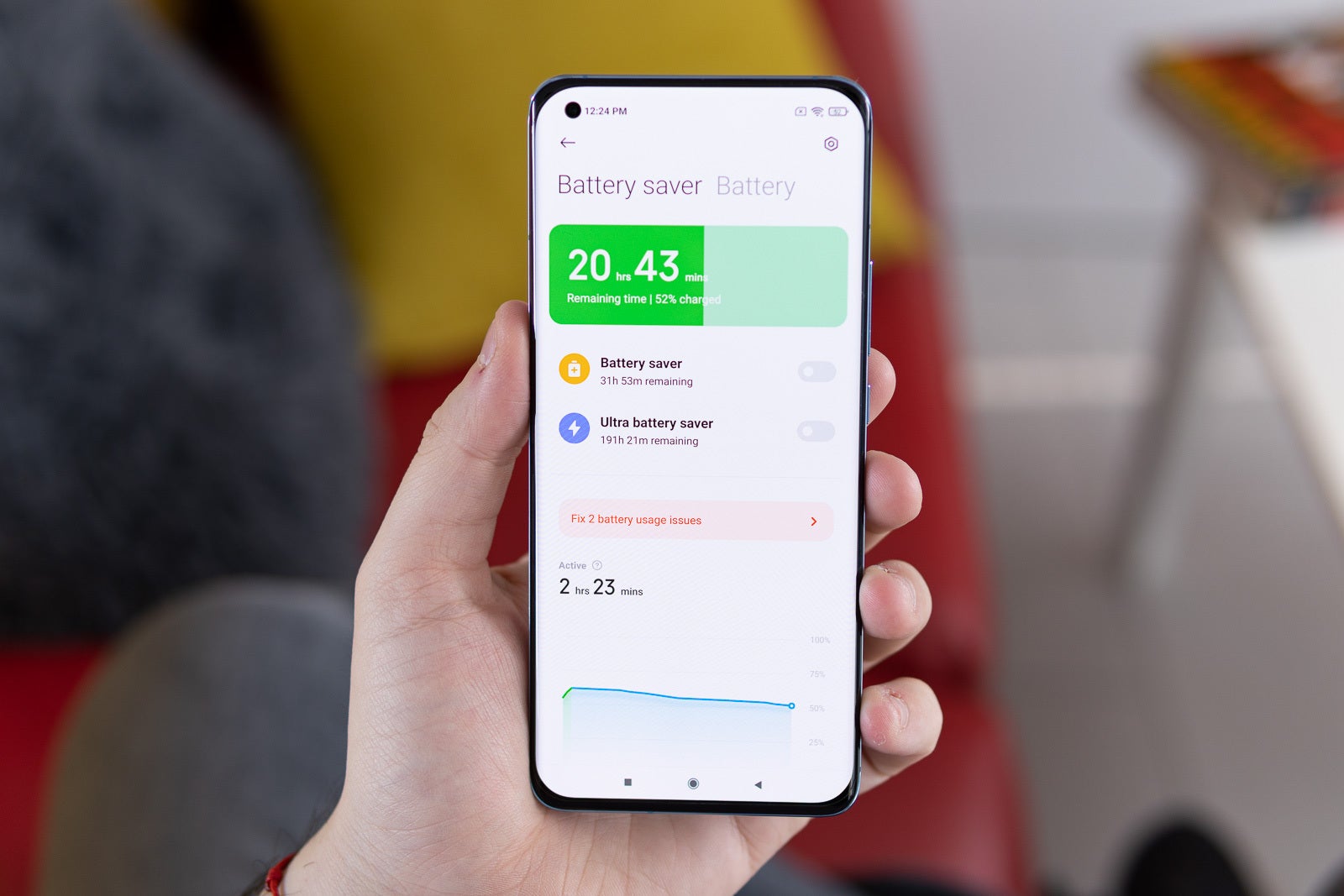 What's spectacular is the super-fast 55W charging that tops up the phone. It does that in no time — 0% to 100% can be achieved in around 50 minutes, but in my experience, a quick 30-min charge will net you around 75-80% of charge, which is more than enough for a full day of use. Additionally, should we address the elephant in the room? Xiaomi isn't going full Apple or Samsung just yet, and has included a charging brick in the box of the Mi 11. If that's not good enough, the included charger is actually a GaN one, which is generally more energy-efficient and produces less heat all the while being a bit more compact.