Sony Xperia Z2 Tablet vs Apple iPad Air
25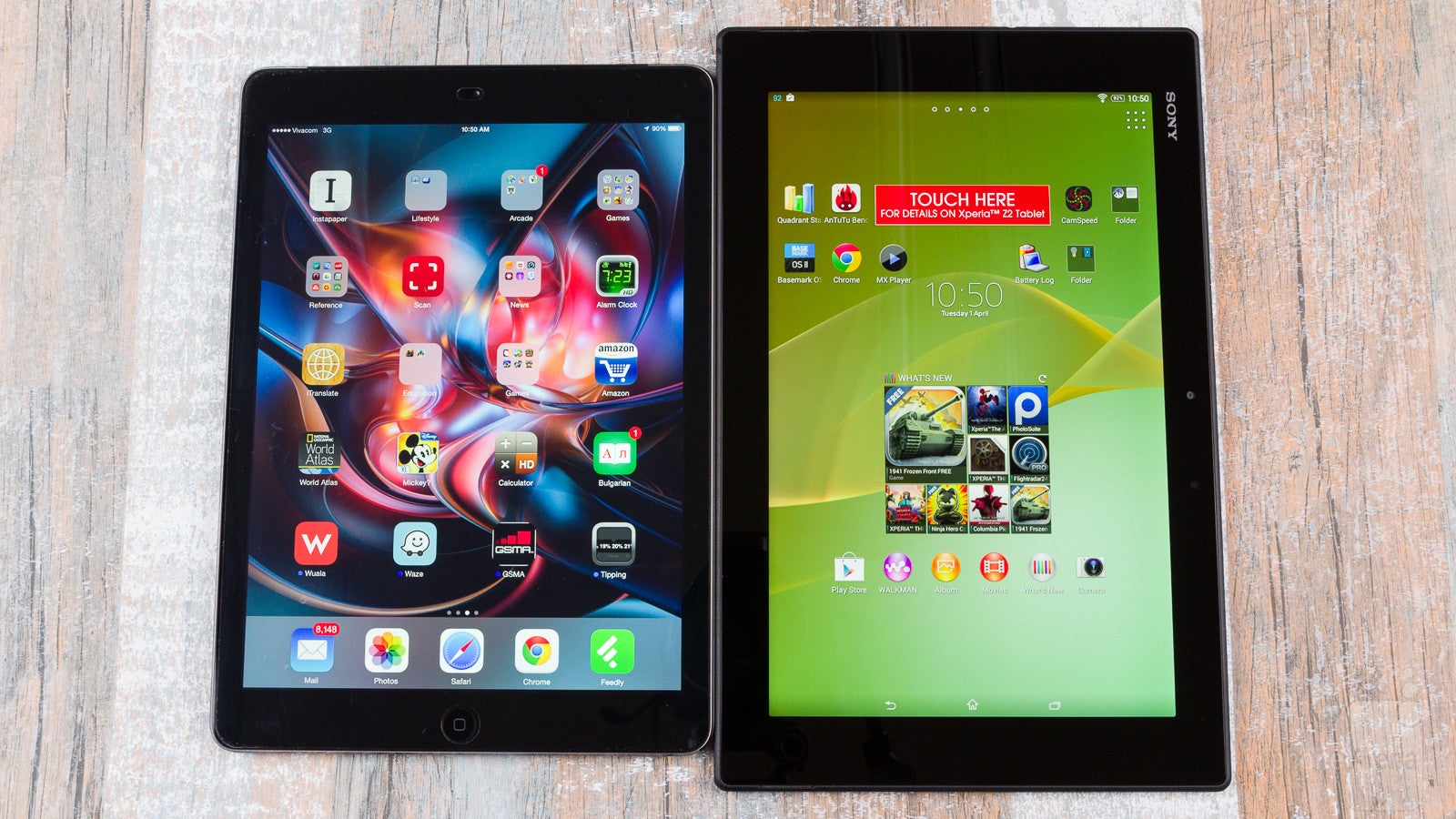 Introduction
Sony is no stranger to making tablets. Its first efforts in the field were somewhat rough around the edges and couldn't make much of an impact on the market, but that didn't stop the Japanese tech giant from launching new, better models. Eventually, the
Xperia Tablet Z
came to being, met by overly positive feedback after its release, followed by the Xperia Z2 Tablet, which just scored a solid 9 out of 10 in our in-depth review.
So yeah, the
Sony Xperia Z2 Tablet
is undoubtedly a great slate to spend your money on. However, it is far from the only option for those looking for a high-end tablet, and Apple's highly-acclaimed
iPad Air
is among its toughest competitors. Now it is time to find out which of these two slates is better. Both the Sony Xperia Z2 Tablet and the iPad Air have a lot of bang to offer for their money, so the fight is surely going to be an exciting one. Let's dive into it!
Design
We had a good reason to label the Sony Xperia Z2 Tablet as an engineering marvel in our in-depth review. It isn't just one of the very few water-resistant tablets on the market. At 15 ounces (426 grams) for the Wi-Fi-only version, Sony's newest slate is the thinnest and lightest 10-incher that we've ever laid our hands on, beating even the feather-light iPad Air in that respect by a considerable margin. It is also the thinnest slate around, with its astoundingly slim waistline of just a quarter of an inch (6.4 millimeters). As a result, the Sony Xperia Z2 Tablet is extremely easy to operate, be it in portrait or landscape orientation. And speaking of usability, the sizable side bezels may not look pretty, but they leave welcome room for our thumbs to rest on without touching the screen by accident. One thing we're not happy with, however, is the soft-touch finish on the slate's back. Sure, it provides a lot of grip, but finger traces stick too easily to its surface.
As for the iPad Air, its weight of 16.86 ounces (478 grams) and thickness of 0.3 inches (7.5 millimeters) rank it a step behind the Sony Xperia Z2 Tablet. On one hand, figures like these are remarkable for a metal-made tablet of such size, but on the other hand, we have to admit that we find the Xperia Z2 Tablet a tad easier to handle. Still, the iPad Air has its advantages over Sony's slate. One of them is that Apple's fifth generation iPad is the better-looking tablet among the two thanks to its slimmer bezels and gorgeous aluminum shell. What's more, Apple's iPad stands in a league of its own, even ahead of the Xperia Z2 Tablet, with its solid feel and immaculate build quality.
Sony has placed the power and volume keys on the left side of the Xperia Z2 Tablet, which makes them easy to access when needed. On the tablet's top side we have a microSD card slot and a micro USB port, both of which are protected by removable flaps to ensure the water-tightness of the device. And at the bottom we see a rather unpleasant-looking docking port and a 3.5-millimeter headphone jack. The tablet's navigation buttons are built into the Android UI.
The iPad Air has a well-exposed power key on its top side, complemented by volume and mute keys on the right. All provide excellent tactile feedback, as any physical key should. Same can be said about the physical "Home" key below the device's display. Charging the iPad Air is done via Apple's proprietary Lightning port, placed at the bottom side of the tablet. The port itself is designed well, but works only with Apple's own Lightning cable, while the Z2 Tablet is compatible with any generic micro USB cable you have lying around.
Display
The Sony Xperia Z2 Tablet has a 10.1-inch display with a resolution of 1920 by 1200 pixels, which results in a pixel density of 224 pixels per inch. Given the fact that we're handling a tablet positioned in the high-end category, we'd say that the latter figure is rather unimpressive, especially knowing that some slates have already exceeded the 300 ppi mark with their screens. Should that bother you? Well, not much, to be perfectly honest. After all, a ppi figure of this magnitude is sufficient for most user's needs. When the tablet is held at a normal distance from the user's eyes, pixelation is close to unnoticeable. Still, the iPad Air has the upper hand when it comes to pixel count. Its 9.7-inch display has a resolution of 2048 by 1536 pixels, which translates into 264 ppi. Unsurprisingly, the iPad's screen can pump out a slightly more detailed image, but it isn't leading by all that much, at least not on a perceptual level.
Even though both tablets' screens are based on IPS LCD technology, there are some slight visual discrepancies between the two. The Sony Xperia Z2 Tablet has a color temperature that gets closer to the reference mark of 6500 Kelvins, resulting in better representation of whites. On the other hand, Delta E figures are in favor of the iPad Air, which means that Apple's tablet has slightly more accurate colors. We don't mean to say that the slightly more pumped up color representation on the Z2 Tablet's screen is unpleasant. In reality, both screens look great and are ideal for any task from watching photos or videos, or reading lengthy articles on the internet. Now would be a good time to mention that both screens produce a pretty high brightness output. We measured a figure of 417 nits for the Sony Xperia Z2 Tablet and 426 for the iPad Air. Both these figures and our real-life tests confirm that the tablets are usable even on a bright sunny day.
Display measurements and quality