Apple iPad Air vs Samsung Galaxy Note 10.1 2014 Edition
91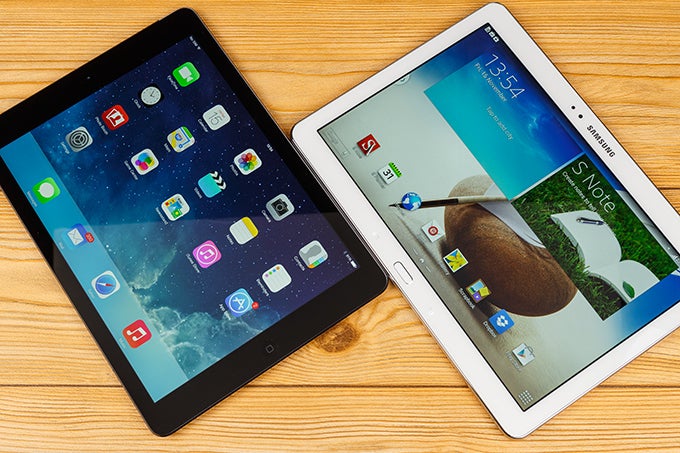 Introduction
Smartphone manufacturers are leapfrogging themselves with every new generation of their products, and the same thing goes for their tablet endeavors. Every new top-shelf tablet is slimmer, lighter and faster than the previous one, but there is a certain difference between how things stand in phones and tablets. While Apple is no longer the undisputed leader in the smartphone space, it still has a firm grip on the tablet market, where the iPad manages to remain on top of its mobile OS-powered opponents at all times.
The
iPad Air
, which only recently became available, has set the standard even higher in terms of design. With its thin side bezels and super-light weight, Apple's full-sized tablet is more alluring than ever. However, what it'll go up against this time is the
Samsung Galaxy Note 10.1 2014 Edition
– arguably Samsung's best Galaxy tablet, which hopes to attract consumers with its S Pen and productivity-focused features. Let the fight begin!
Design
The Galaxy Note 10.1 2014 Edition isn't anything extraordinary in the design department. While it's respectably thin, it's still made of plastic and presents us with an odd back panel that has a pattern resembling leather. It's by no means bad, but it's just 'meh', compared to the fancy aluminum build of the iPad Air. The Air is more compact than the Note 10.1 2014 (9.45 x 6.67 x 0.30 inches for the iPad vs 9.57 x 6.75 x 0.31 inches for the Note), and it's also significantly lighter with its 16.86 oz (478 g), compared to the Note's 19.29 oz (547 g). This allows you to hold the iPad Air much more comfortably, regardless if you're using one or two hands.
Obviously, the iPad Air can offer you a way more premium design of the two, and that also translates to the physical volume and power keys of the devices, which react better on the iPad. Anyway, there's one thing that stands out in the Galaxy Note 10.1 2014's design and that's the microSD card slot, which is going to come in handy in case you want to expand your storage at some point. Both devices have versions with cellular radios, and thus – SIM card slots. However, note that the iPad Air uses the Nano SIM standard, while the Note 10.1 uses Micro SIM.
Display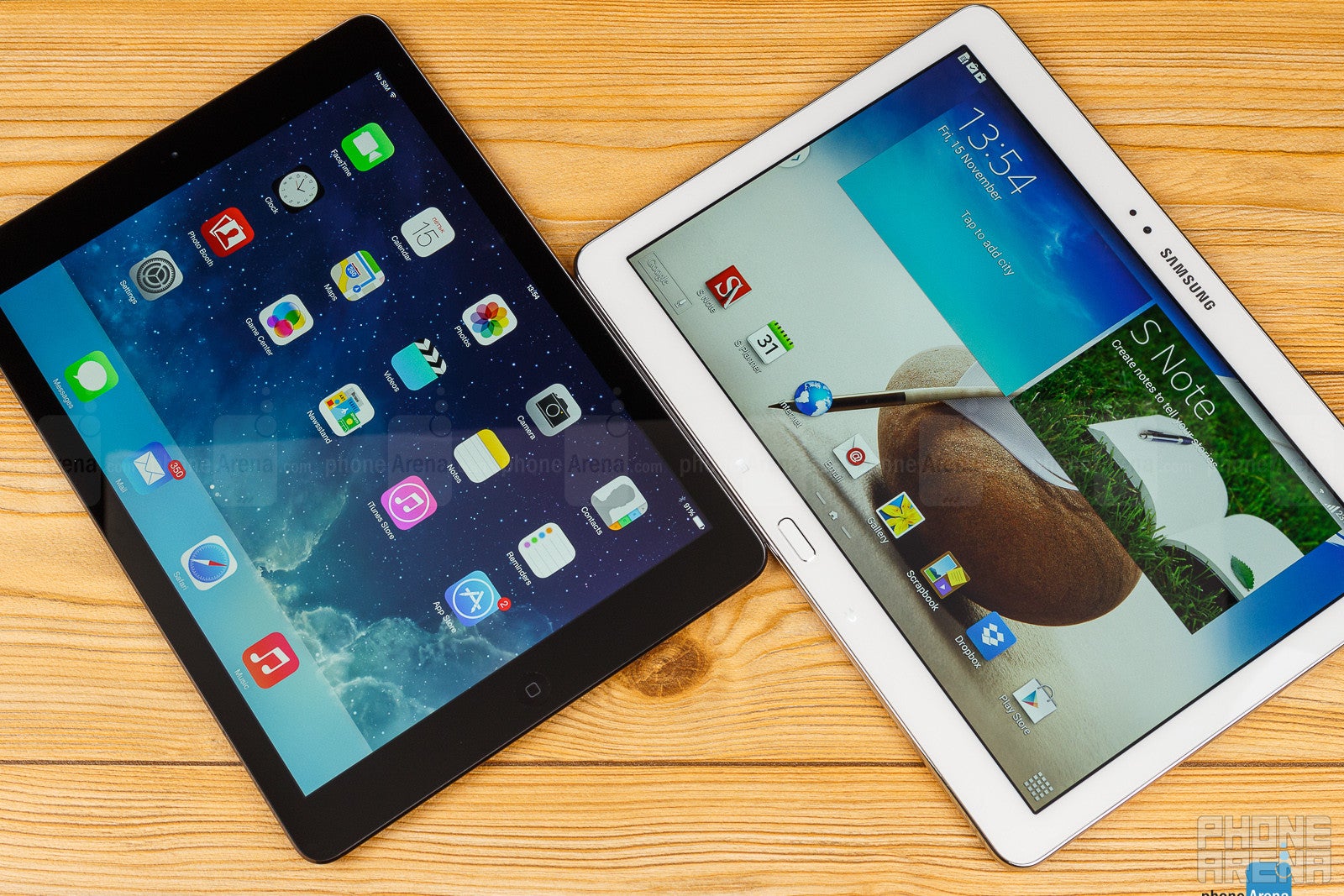 There is a small difference between the sizes of the displays of these two lovely tablets. The iPad Air's one measures 9.7" (the same size as on any other iPad), while the Galaxy Note 10.1 is slightly bigger with its 10.1 inches (what a surprise!). Resolution-wise, the iPad is quite a solid performer with its 2048 x 1536 pixels (264 ppi), but the Note 10.1 2014 takes things a couple notches further with its resolution of 2560 x 1600 pixels (299 ppi). Both look very clean and detailed, with the Note 10.1 being a bit better in this respect.
We should also note that there's a substantial difference when it comes to aspect ratio. The iPad Air stays true to 4:3, which makes it very convenient for web browsing and reading, while the Note 10.1 has a 16:9 display that's more suitable for video playback.
Inspecting both display panels positioned side by side, one of the first things that we notice is that the gamma of the iPad Air's screen is a bit off. Certain dark levels appear brighter than they should be, resulting in a less contrasting image. Indeed, since this problem isn't present with the Note 10.1's display, its own image looks a bit more attractive at first glance.
While both displays use LCD technology, the colors of the iPad Air are more realistic and well-balanced, as those of the Note 10.1 2014 appear somewhat greenish in comparison. Viewing angles seem to be about the same with both screens.
Display measurements and quality
S Pen
The Galaxy Note 10.1 2014's most unique feature is the S Pen stylus. Of course, you can get a capacitive stylus for the iPad Air, but it'll be a much worse solution, because the S Pen uses Wacom technology. It's very easy to write with and supports pressure sensitivity. If you fancy the ability to take hand-written notes or draw using a stylus, then this is the feature which should make you consider the Galaxy Note 10.1 2014.
Recommended Stories