Sony Xperia Z1 vs Samsung Galaxy S4
65
Introduction
The excitement prior to the Z1's introduction was quite big, and for a reason – it turned out that the Sony Xperia Z1 is one of the finer Android smartphones for the second half of the year. But is it good enough to defeat what was one of the best Android smartphones for the first half of the year? Even though the Xperia Z1 has the benefit of coming out about half a year after the Samsung Galaxy S4, we can imagine that it's still quite scary to face Samsung's finest. After all, the GS4 has such a loyal following behind it...
But, scary or not, that's exactly what the Xperia Z1 will have to do right here. Armed with its quality design, powerful chipset and astonishing camera, the Z1 will try to prove that it has surpassed the Galaxy S4 in almost every aspect. However, we can imagine that the GS4 will not simply stay still and accept its destiny. Ladies and gents, let's invite these two fearsome gladiators into the arena, and don't forget your popcorn!
Design
Well, there are both good and bad things going for the designs of the Xperia Z1 and the Galaxy S4. While both handsets should be considered unisex, the GS4 has a somewhat more feminine look, especially when in white. That's not a bad thing, of course, but if we had to select the smartphone with the more impressive exterior, we'd go for the Xperia Z1. Not only does it look fancier, but it also sports a higher-quality construction, thanks to its tough front and back glass panels, as well as classy aluminum frame that unites it all into one appealing device. Meanwhile, the Galaxy S4 isn't bad, as far as appearance goes, but it's not necessarily eye-catchy, plus its flimsy plastic construction is anything but premium.
Now, that's OK, but when it comes to the size, we really find Sony's product to be on the bulkier side with its 5.69 x 2.91 x 0.33 inches, compared to the Galaxy S4's 5.38 x 2.75 x 0.31 inches. One can definitely feel a substantial difference when holding the Xperia Z1 and the Galaxy S4 – the GS4 feels much smaller, and so it's also significantly easier to hold and work with.
Neither the buttons of the Xperia Z1, nor those of the Galaxy S4 are very good, but they are all decent. Those on the Z1 are proably just a tad better. One thing that the GS4 lacks is a dedicated camera button, which is present on the Z1, so if you're taking a lot of pics with your smartphone, you might want to consider this.
Another area where the Xperia Z1 excels is toughness. While we wouldn't advise you to through your Z1 out the window just to see what happens, it's definitely nice to know that it's IP 58-certified, meaning that it has some degree of protection against water and dust. The Galaxy S4, on the other hand, doesn't feature such protection.
Display
In terms of specs, both screens seem very similar. Both measure 5 inches and have resolutions of 1080 x 1920 pixels, resulting in a breathtaking pixel density of 441 ppi. However, when it comes to their screen technologies, Sony and Samsung have chosen two completely different paths. Then again, that's something that can be said about Samsung and almost any other smartphone manufacturer.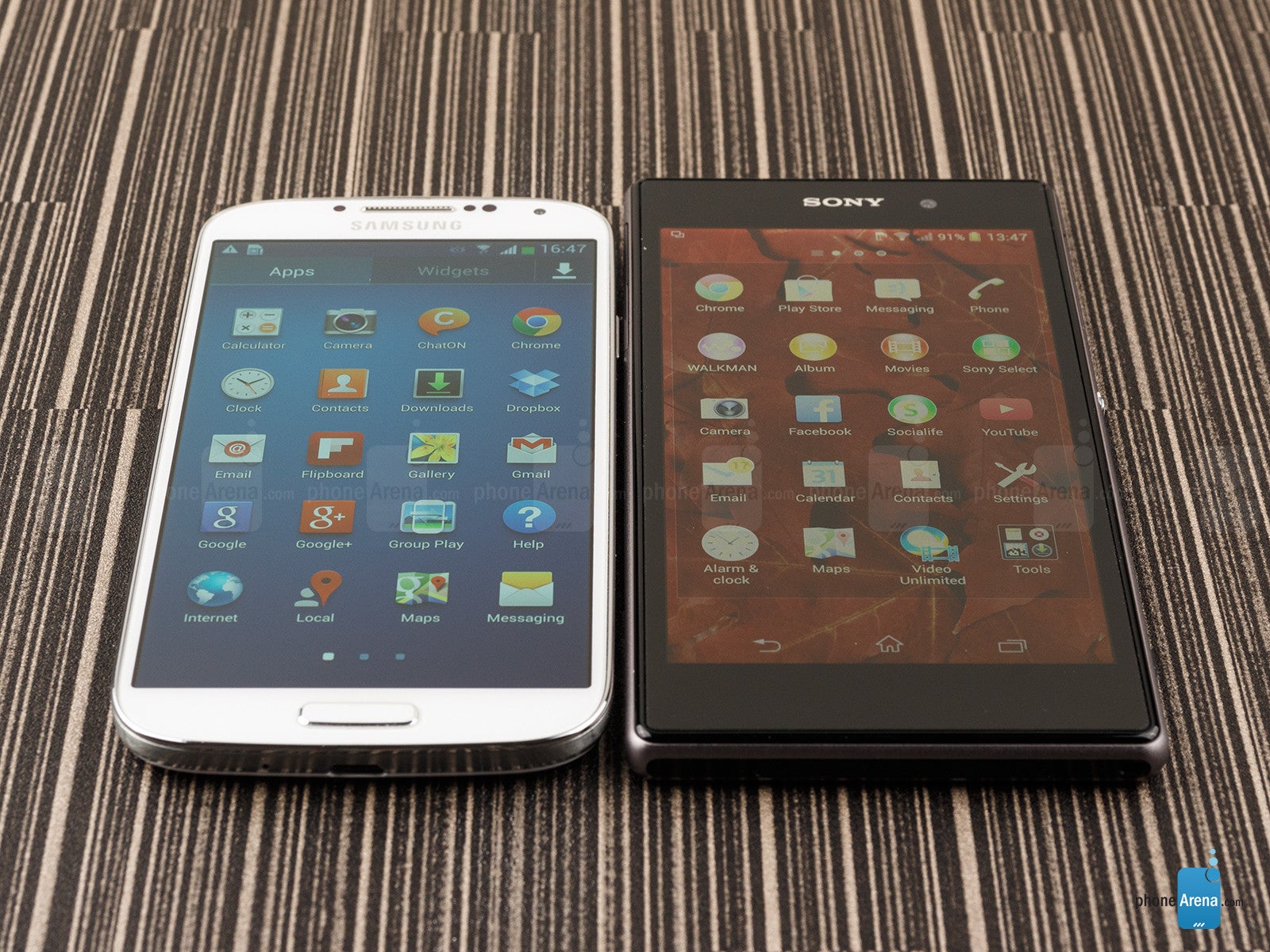 Anyway, Sony is putting a lot of faith in its TFT LCD Triluminos tech, and we can't blame them. The screen of the Xperia Z1 is quite impressive almost every way you look at it. With its natural and realistic colors, the Z1 is among the more accurate screens out there right now. Its gamma still has some issues, though, resulting in some lost detail in the brighter areas (since some brighter levels are actually brighter than they should be), but overall, it's a great screen. The viewing angles are disastrous, though. With the Galaxy S4, viewing angles aren't as bad, but color balance is way off with an overly dominant green color and way too saturated colors. If you tone them down using the Professional Photo screen mode, colors do get a lot more realistic, but are still quite imbalanced.
When it comes to brightness and outdoor visibility, the Sony Xperia Z1 manages to gain the upper hand, thanks to the stronger output of its LCD screen (maximum brightness is about 495 nits), while the Galaxy S4 is way harder to view with its 288 nits. That's one area where AMOLED screens are yet to catch up with LCDs.
Display measurements and quality