Sony Xperia PRO-I hands-on
12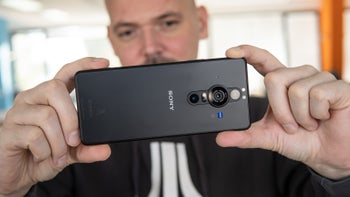 Sony kind of surprised all of us when it dropped yet another premium Xperia phone — and this one is supposed to be even better than the
Xperia 1 III
, which we thought was supposed to be the end-all be-all.
Well, nope. Now comes the
Sony Xperia PRO-I
. A yet unreleased smartphone, which Sony lovingly calls "The Camera" internally.
Why the nickname? Well, the Xperia PRO-I has a massive 1-inch sensor for its main camera, which is pretty big by smartphone standards. To top it off, there are tons of software features that make the phone feel more like a point-and-shoot camera than a… well, cameraphone.
We have our hands on a pre-production Sony Xperia PRO-I right now and we can actually share our experience with the phone. Just bear in mind, the software is not final, so we are blocked from using some features, and some might improve when the phone is ready for prime time.
Jump to section:
Xperia PRO-I body and screen
Sony hits both elegance and comfort
It's light, thin, and well-balanced and the ribbed texture on the frame makes it that much easier to grip. The Xperia PRO-I is both beautiful to look at and satisfying to operate.
Oh, it also has a headphone jack!
There are no notches or cutouts to speak of and the camera bump on the back is fairly small, considering the massive sensor that's hiding underneath. You may have heard that there's a lanyard strap hold on this phone, and there is, but the cutout is so tiny and the holder is so recessed that it shouldn't bother you if you happen to wish it didn't exist.
The buttons on the side are your typical Sony affair — a volume rocker and a power key with a fingerprint reader and also a dedicated camera shutter button. There's a new custom button next to that shutter key — by default, it launches the new videography app, but you can customize it to taste.
The display is a crisp, 4K, OLED panel with no notches or cutouts to speak of. There are thin side bezels and symmetrical top and bottom ones and the front of the device just looks elegantly-made.
The screen colors can be fine-tuned to taste. If you've used one of the recent Xperia phones, you probably know the best way to go about it is to enable Creator mode for tame and natural colors and then set the white balance how you like it. I did just that and the screen looks lovely to my eyes.
Xperia PRO-I speakers
Now, here's something we don't see much anymore
Despite having a super-thin body and thin bezels, the Xperia PRO-I still manages to have dual front-firing stereo speakers. Yes, two drivers on a smartphone is something common now, but we usually have one bottom-firing one and an earpiece that shoots out front.
Sony, however, prefers to keep things balanced (as all things should be) and equips its flagships with equal, front-loaded speakers.
How do they sound? On the pre-production unit we have here, they are a bit on the quiet side. However, in terms of quality, they are quite balanced and detailed. Not much for deep bass, but I would absolutely not call them thin or tinny. I can definitely listen to music on these while doing chores.
Xperia PRO-I camera
Of course, this is what we are here for. How's that camera? Is it worth the hype?
Well, as soon as you load up the camera app, you are greeted by a pretty normal mobile interface. But there's a big purple button to let you know you are in Basic Mode. Tap that and you get more options.
Anyone who owns a camera will instantly recognize the P, S, and M modes and spot the plethora of buttons on the right side of the screen. In any of these modes, the phone does not have a virtual shutter — you literally use the physical button to operate the phone like it's a point-and-shoot camera.
So, let's check it out!
We should note again, this is pre-production stuff we are working with. As such, we don't even have access to the telephoto camera, and the imaging of the main camera may improve.
The main camera of the Sony Xperia PRO-I is a 12 MP, 1-inch sensor with huge
2.4
µm pixels. The individual
pixel
size helps with light-collection. To top it off, it has variable aperture — at any time, you can choose to shoot with either F2.0 or F4.0, which will affect the exposure and depth of field.
Of course, we chose to shoot with F2.0 most of the time, as this allows more light in and a bloomier background blur, but there are a few shots to compare the two aperture modes:
So, how does that main camera do? Well, check these samples out:
Sony Xperia PRO-I camera samples day - beta software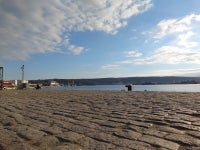 We can spot great and sharp details and mostly accurate colors. The phone does blow up the greens a bit too much but nothing dramatic. The dynamic range also looks quite wide — no blown-out highlights and pretty pleasant shadows. That's when the HDR kicked in, sometimes it didn't and it was pretty apparent, as the dynamic range would shrink noticeably.
We do notice some noise when zooming in to pixel-peep. It's a good place to say that this camera can shoot in a JPEG + RAW mode so photographers can do their own post-shoot edits. And also that this is pre-production stuff.
The ultra-wide-angle is not really ultra-wide — it zooms out to barely 0.7, but that still allows you to get more stuff into the frame. Whether its color calibration matches the main camera hugely depends on what gets into the frame once you go ultra-wide. Like, if you capture more sky and more highlights, the camera software will adjust exposure and colors and sometimes you end up with different-looking photos. But not very much so.
But looking at the 12 MP ultra-wide camera alone, it still produces some pretty nice photos. You can get very close to your subject (though, not for macro) to make an epic-looking shot, or step back to get more landscape within the frame. It's not an afterthought — it's perfectly usable, with great dynamics, sharp details, and pretty good natural bokeh, despite its F2.2 aperture.
There's also a Bokeh mode, which is Sony's Portrait Mode — it's supposed to mimic a big camera lens and produce a lot of background blur, putting your subject up front and in focus. It didn't astound us in this demo unit, and we do hope it gets improved for the final release. The bokeh looks quite fake and subject
edge
separation is just very visibly not accurate. It's also worth remembering that we didn't have access to the telephoto camera for some proper portraits.
Once the light drops, we have some issues. The shutter speed gets super-slow, of course, but the phone doesn't seem to do enough to clear up the details. Exposure, dynamics, and colors still look great. But, if we check out a subject up close, we see a lot of soft details, blur from our shaky hands, and some noise.
Sony Xperia PRO-I samples night - beta software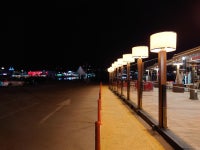 Hopefully, we will see an improvement here in the final product. A 1-inch camera sensor with 2.4 µm pixels should be able to do a bit better.
On the selfie side, we have an 8 MP front-facing shooter, which is pretty decent outside in the daylight. But once the light drops slightly — indoors or after sunset, it gets grainy pretty fast.
You can use the screen as a front-facing flash in the dark for mixed results. If you have at least some light to work with within the shot, it's better to leave this off.
On to video — of course, Sony's super-premium phones are very focused on video. You've got the Cinema Pro app, and the Sony Xperia PRO-I even comes with a new Video Pro app. Kind of confusing, I know. The best I could tell is that Cinema Pro is there for actual cinematic shots, while Video Pro is more like for blog or interview-style content. You can also just use the standard Camera app for a quick clip. You can still get 4K and HDR in the normal app.
The Cinema Pro app records in HDR by default. You have control over frame rate — cinematic aficionados will always go for 24 FPS, of course — and a bunch of filters that emulate classic camera films. Of course, you can shoot in 4K for maximum detail.
The big deal with the Xperia PRO-I is that it can shoot 4K HDR slow-mo at 120 FPS. That is pretty insane — not just by phone standards, you don't see that on many cameras, too. The downside is that you can't record sound when in 120 FPS, though that's not a huge loss, considering the footage is slowed down 5-fold and any audio would be… hard to make out.
These shots are to be used for epic intros with some nice background music or action shots where you need to edit your own sound effects in. So, does it look good?
Yeah, it looks very good. Sharp, bright, and epic. My only critique is that Cinema Pro clips seem to be very heavy on the greens (I didn't use a filter). My colleague in the shot here was wearing a jacket that was very clearly yellow (seen above in the picture samples). But the HDR clip made it look green.
Summary and expectations
OK, so the Sony Xperia PRO-I feels great, looks great, and has very promising camera specs. From our time with this early version, it looks like the software needs more fine-tuning. And we sure hope it gets it since this phone will be launching for the hefty price of €1,800 in Europe and — presumably — a similar number in dollars in the US.
So, keep an ear to the ground and check out more reviews once the final build of the software gets pushed out. We surely will revisit this one when it's time for a full review! It has a ton of exciting potential for shutterbugs.