Sony Xperia X Performance vs Samsung Galaxy S7
19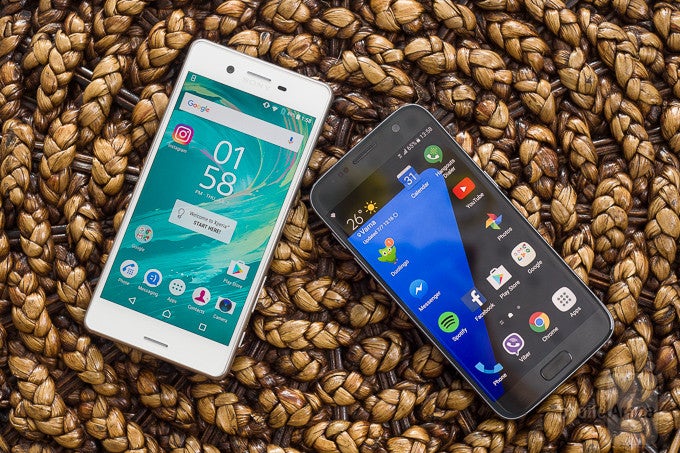 Introduction
Sony made headlines at this year's MWC edition by announcing a trio of phones aimed to form a completely new X-line portfolio, bidding adieu to the Z-line that has been shaping its Android strategy for a few years now. Top of the line here is the
Xperia X Performance
, and that's exactly the handset we are going to clash with Samsung's finest in the category – the
Galaxy S7
. Both fit in the 5" display realm, sport the latest Snapdragon chipset, have powerful cameras, and cost a similar amount, so which one takes the cake? Let's see...
Design
Fatboy X in metal against glass Slim Jim, not much of a water gun fight here
We aren't going to mince words here – while the new X-series is a departure from the familiar Sony Z design, it's not much of a change in form, just the glass back got replaced by other materials. The fairly chubby and rectangular X Performance has a back panel made of metal, but it rings somewhat hollow when you tap on it, and the keys all around the phone are shallow, with poor tactile feedback. The SIM card tray is all-plastic and rather flimsy, too.
The S7, on the other hand, is slim and fashionable in its glass-and-metal chassis, with sturdy, easy to feel and press buttons. It also fits much more comfortably in the hand, not only because it's slimmer, but also on account of the tapered backsides.
Despite that the fingerprint sensor is moved to the side of the Sony phone, embedded in the lock key, its screen-to-body ratio remains poor, and the 5" display barely occupies 67% of the front surface. That's largely thanks to the two front-facing speakers, which, let's face it, aren't going to produce much of a stereo sound at that spacing anyway. The
Galaxy S7
has a finger scanner that is housed in the home key beneath the display, and still returns way better screen-to-body ratio.
The Sony handset has an IP68 water resistance rating, meaning that you can dip it in up to three feet of water for at least half an hour. The same is valid for the Galaxy S7, yet it feels downright elegant in its thin glass-and-metal chassis, when compared to the X Performance.
Display
On par at the beach, more credible indoors – the Quad HD AMOLED takes the cake
pixel
density is more than enough for the screen diagonal. Samsung's 1440p Quad HD AMOLED screen is a bit of overkill for the
5.1
" size, but the more the merrier, we suppose.
Sony again went with very, very cold colors and way oversaturated greens for the screen's color balance. While it argues that this setup aids outdoor visibility, we'd rather have a more natural color mode to choose instead. The X Performance has a very good peak brightness of 547 nits, and the display is easily visible outside, with low reflections – a tad better than the Galaxy S7's panel.
Samsung's display, on the other hand, has a Basic mode that returns colors which are pretty close to the standardized gamut in terms of temperature and saturation. The default Adaptive mode goes on the cold and saturated side of the spectrum still, but not as much as the X Performance.
Display measurements and quality