Samsung Galaxy S6 vs LG G3
24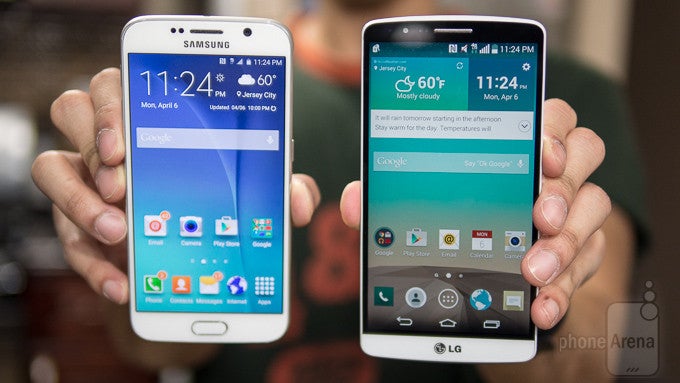 Introduction

Just a year ago, the

LG G3

was a new smartphone that seemed mighty impressive with its hardware parameters and attractive design. And while the G3 is still a great phone, the new

Samsung Galaxy S6

is in a league of its own, sporting a premium build and a unique combination of powerful internals that's far ahead of what LG could come up with in 2014. If you are interested in upgrading your LG G3 to the Galaxy S6, or have to choose between an expensive new GS6 and a discounted LG G3, look no further than this review. We'll compare the two devices in the important aspects of design, display, user experience, hardware, connectivity, camera, call quality, and battery life. Armed with this knowledge, you'll be able to make the right decision for you.
Design
The Samsung Galaxy S6 is a no-holds-barred premium device that combines the traditional Galaxy smartphone look with a top-notch glass and aluminum build. The LG G3 has just a simple plastic build that's of admirable quality, but certainly doesn't look and feel as impressive. Samsung poured a lot of attention in the S6's design, and made a reasonably sturdy smartphone, too, thanks to those Gorilla Glass 4 layers covering its front and back. Save for its semi-realistic metallic sheen, the LG G3 doesn't have anything to show in the way of luxury or damage protection, but its strong card is ergonomics. The big phone is easy to hold, thanks to its carefully chiseled back and sides.
Talking about ergonomics and sizes, the Samsung Galaxy S6 measures 5.65 x 2.78 x 0.27 inches (143.4 x 70.5 x 6.8 mm) at a weight of 4.87 oz (138 g), while the LG G3 is a bulkier 5.76 x 2.94 x 0.35 inches (146.3 x 74.6 x 8.9 mm) and a heftier 5.26 oz (149 g). The Galaxy S6 is more compact because its display has a lesser diagonal -
5.1
inches versus the LG G3's 5.5 inches, and it is lighter, although made of stronger materials.
Among the S6 and G3's most notable differences are the power and volume key placements. The GS6's hardware buttons are conventionally placed on the sides, while the latter's occupy its back panel. While there's nothing overly curious about the GS6's button placement - you most likely know it from other smartphones, getting used to the one on the LG G3 takes a while. And although it's comfortable for the most part, it's not always practical. Other important differences are the lack of microSD slot and interchangeable battery on the Galaxy S6. But the latter has a fingerprint sensor, which is useful for a fair bit of functionality that we'll have a quick look at later.
To sum it up, the Samsung Galaxy S6 is more compact, lighter, and of generally better design and build quality than the LG G3 – which is still quite an attractive smartphone that also comes with a larger 5.5-inch display, a microSD slot, and a removable battery.
Display
If Quad-HD resolution and gazing at over three million pixels simultaneously tickle your fancy, you are correct for looking up the Samsung Galaxy S6 and LG G3, as they both have great, extra high-resolution panels. The Galaxy S6 has a 5.1-inch Super AMOLED 1440x2560 screen with an extremely high
pixel
density of 577, making individual pixels nearly impossible to discern. The LG G3 has a 5.5-inch IPS LCD display with the same resolution, but a lesser pixel density of 538ppi which is a tradeoff for the increased diagonal.
When measured in Basic screen mode, the Galaxy S6's display boasts a color temperature of 6584 Kelvin, which is very close to the reference temperature of 6500K, where colors look neither too warm, nor too cold. As you can see for yourself, each color gradient matches the reference points throughout the chart, and the colors are almost textbook-like! In comparison, the LG G3's color temperature of 7099 Kelvins is farther off the 6500K we use as reference. Comparatively, colors on the LG G3 are generally fine, but colder than the Galaxy S6's, and a bit over-saturated. LG didn't go overboard or anything, but it's obvious that perfect color accuracy wasn't the prime objective.
In terms of brightness, the Galaxy S6 is adorned with the brightest Super AMOLED display to date, capable of up to 563 nits of maximum brightness. This means you won't have any trouble using this screen under bright sunlight. On the other side of the scale, the GS6 accomplishes an excellent minimum brightness value of 2 nits, which makes for easy bedtime reading. The LG G3's display, on the other hand, has a lower maximum brightness level of 455 nits, which means you can use it under direct sunlight or bright lighting conditions, but it may take some effort. And its acceptable minimum brightness level of 9 nits means you can use it in dark rooms without retina-searing experiences. although the screen should have been a bit darker.
Next, we'll talk gamma values. At a value of 2.11, the Galaxy S6's gamma response is relatively close to the reference value of 2.2, which means its display has adequate brightness response across the spectrum. We can say the same for the LG G3's display, which reports a gamma value of 2.26.
Display measurements and quality