LG G4 vs LG G3
22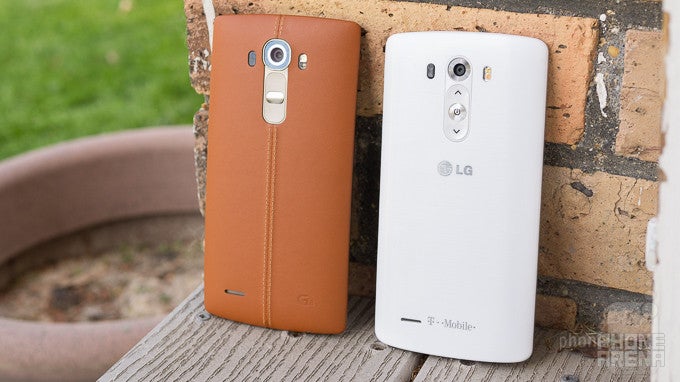 Introduction
Launched in May 2014, the
LG G3
was LG's strongest effort against Samsung's Android dominance at the time. An impressive upgrade over its predecessor, the
LG G2
, it was a competent device with a bustling specs sheet and clever, understated design. Perhaps most notably, it was the first globally sold smartphone by a major brand to ship with a Quad-HD resolution display, several months before ultra-high res screens became an industry trend. The G3 also incorporated an innovative laser auto-focus system, which made for a really fast-focusing camera, and a cool conversation piece. Lasers!
For all the great things going on about it, the LG G3 was not without its flaws, as it could not match what it delivered in display sharpness with screaming performance. But there was little LG could do at the time, other than taking advantage of the room for improvement and coming up with a better product next year. Thus, the
LG G4
was born – a smartphone that's considerably closer to accomplishing the company's true ambitions.
The LG G4 does contain all the innovation necessary to keep LG in business, but it couldn't address each of its predecessor's shortcomings. Thus, choosing between the two — especially since the LG G3 is being discounted nowadays — might prove a little harder for some. We'll try to make it easier for you by comparing LG's finest, reviewing all the important places where the LG G4 delivers a better experience than its predecessor, or doesn't quite justify the upgrade toll.
Design
The LG G4 doesn't look much different than the LG G3, unless you get it with a leather back. It's also taller, wider, thicker, and heavier.
If, for some reason, you weren't happy with how the LG G3 looked and felt, you probably won't be thrilled with the LG G4 either. It boasts the same general design characteristics, although with a few changes. Sharper lines substitute for the LG G3's rounded curves. There's also subtle arch to the LG G4's body, which LG added to shake up the design in its own peculiar way, and possibly make the smartphone fit more naturally in one's hand. However, the LG G3 is still a little more comfortable to hold and operate with one hand, because it has a smaller footprint.
If premium looks are what you're after, you can buy the LG G4 with a genuine leather back. Vegetable-tanned genuine leather certainly feels more exquisite than the diamond-patterned plastic back cover, which the LG G4's regular version wears to dinner. Still, both the LG G4 and its predecessor are predominantly plastic, and this holds true for the former's premium genuine leather variant, as in the end, the leather is merely glued to its removable plastic back panel. And as other similarities between the two go, they have their volume and power keys on their back panels, and also feature removable batteries & microSD card slots.
Other than that, the LG G4 is actually a small step back from the LG G3, as it has a worse screen-to-body ratio (72.46%), it's bigger (5.86 x 3.00 x 0.39in / 148.9 x 76.1 x 9.8mm), heavier (5.47oz / 155g), and thicker (0.30in / 9.8mm). Comparatively, the LG G3 has a 75.22% screen-to-body ratio, measures 5.76 x 2.94 x 0.35in (146.3 x 74.6 x 8.9mm), and weighs 5.26oz (149g). Obviously, both smartphones are really big, and neither lends itself to truly seamless one-handed usage. However, the LG G3 will cause a little less finger stretching, as the G4 is ever so slightly bigger.
Overall, LG did try to make the LG G4 its best-designed smartphone to date. But unless you really fall for the genuine leather look, it's difficult to discern the G4 as decidedly more attractive than the LG G3. Moreover, LG's design language looks dated nowadays, compared to the competition's sleek aluminum and glass builds. If you are looking for a "pragmatic" smartphone, rather than one you'll be emotionally attached to because of its lavish looks, LG has what you're after. But if you prefer the feel of metal, or if you're after water and dust protection too, you should cross LG off your list, and possibly head to Sony's Xperia flagships for their resistance against the elements.
Display
The LG G4's Quantum Display is no quantum leap over the LG G3.
Rather than outgun the competition with an even higher-res display, LG chose to stick with the 1440x2560 Quad-HD resolution and spend its time and money on improving its IPS LCD technology. The result is what LG calls a Quantum Display, and although it's not perfect, it is still better to look at than the LG G3's in some ways. For better or worse, though, color accuracy and brightness output aren't among them, as the LG G4 favors a cold, 8000K color temperature (bluish whites being a symptom), and its extended color gamut leads to purposefully overblown colors. Some folks actually like it this way, as saturated tones tend to catch the eye better than perfectly accurate ones. Still, with a color temperature of 7099K, the LG G3 provides a more natural look at reality, as it is closer to the reference value of 6500K and exhibits much lower Delta E color errors.
As for their brightness properties, the LG G3 & G4 reach, essentially, the same maximum brightness level (455 nits). That's still a fine achievement, but not only did LG fail to best itself over the course of a year, it also ranked below Samsung's excellent results with the Galaxy S6 & S6 edge, which reach 550 nits and above. At least the G4 is easier on the eyes in dark settings than the LG G3, thanks to its excellent minimum brightness output of 2 nits, whereas the LG G3 goes down to 9 nits. Although 9 nits can suffice, it's not better than the average minimum brightness level of smartphones today.
Finally, taking a look at the viewing angles chart shows the LG G4's improved display exhibits a fair bit less minimum brightness, color temperature, gamma, and Delta E deviations while being held at a 45-degree angle. This is good news for indoor, outdoor, and all kinds of general usage scenarios, as you don't have to hold the smartphone in a particular way to get consistent image quality. Although this isn't a major problem with the LG G3, its screen does get dimmer and more distorted when viewed at an angle.
In summation, the main thing the LG G4's screen has going over the LG G3's are the abundant color saturation and better viewing angles. Viewing the two phones together, it's only natural to be more attracted to the LG G4's screen, as it massages your retinas with vibrant, artificially sweetened colors. The LG G3 looks ever so slightly dim and restrained in comparison, but crank its brightness meter and you'll coax a pretty picture out of it too. Since both screens are generally quite nice to look at, and output equally sharp images with their pixel density of 538 pixels per inch, our advice is to go for the one your eyes like better.
Display measurements and quality
Recommended Stories