Samsung Galaxy S II Plus Preview
10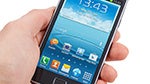 Introduction:
Released back in 2011, the
Samsung Galaxy S II
took the world by storm. Both critics and users liked it for a number of reasons, such as the great camera, thin, lightweight body, and capable dual-core processor, which is probably why the device eventually ended up in the pockets of over 40 million users worldwide.
Now – almost two years after the former flagship's introduction, a refreshed model has arrived. Referred to as the
Samsung Galaxy S II Plus
, it offers pretty much nothing new in terms of hardware specs, but comes with Andorid 4.1.2 Jelly Bean out of the box, along with the company's latest custom interface, which is packed with handy features. Obviously, the handset can't fit into the high-end category anymore, but it could potentially turn out to be a decent mid-range device offering good value for its money.
Before we begin our Samsung Galaxy S II Plus preview, we must note that the unit we have on our hands is just a prototype. In other words, it runs an early software build, which is still somewhat buggy, so we won't draw any final conclusions about the device yet. We can still take a good look at it, of course, and see what the smartphone is shaping up like, so join us for a ride on the Galaxy S II Plus and read along.
Design:
Instead of the curvy lines and rounded corners that Samsung's recent Androids are associated with, the Galaxy S II Plus exhibits a rectangular design, which it has adopted from its predecessor – the highly-acclaimed-yet-aging Galaxy S II. In fact, if it wasn't for the fancy paint job that the new model has been treated to, one would have a really hard time telling the two devices apart since their shape is practically identical.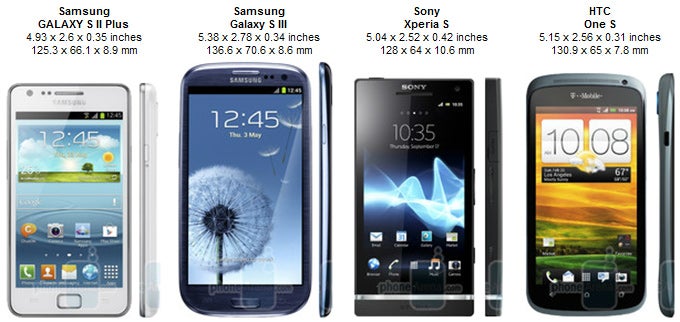 You can compare the Samsung Galaxy S II Plus with many other phones using our Size Visualization Tool.


But despite the obvious contradiction with the maker's current design principles, we don't really have anything against the appearance of the Samsung Galaxy S II Plus. The smartphone is both as slim and light as the mid-rangers it will be competing against, and a single thumb is enough to operate it efficiently once you get accustomed to its proportions. Besides, the device's Hyperglaze-inspired finish looks quite appealing, regardless of whether you pick its blue or white variant. There's one downside to it, however, namely that fingerprints tend to stick to the handset's shiny surface rather easily, but at least they are relatively easy to get rid of.
There's an excellent set of physical buttons present on the Samsung Galaxy S II Plus – all of them are well exposed and click nicely when pressed. The volume rocker is on the left side of the device while the lock key is on the right side so that both can be easily reached by lefties and right-handed folks alike.
Display:
The days when WVGA displays were cutting edge are far behind us, so the
4.3-inch, 480 by 800 pixel
panel on the Samsung Galaxy S II Plus can hardly impress us with its pixel density. Of course, the screen is very much usable, especially if those higher resolution displays haven't spoiled you yet, but traces of pixelation are indeed noticeable and the paragraphs of text in web pages are unreadable unless you zoom in. On the other hand, we quite like the display's accurate (for an AMOLED panel) color reproduction, with vivid, yet not overly exaggerated hues. Moreover, it shines really brightly so using the smartphone under the sun's scorching rays is actually not much of a hassle.
Recommended Stories